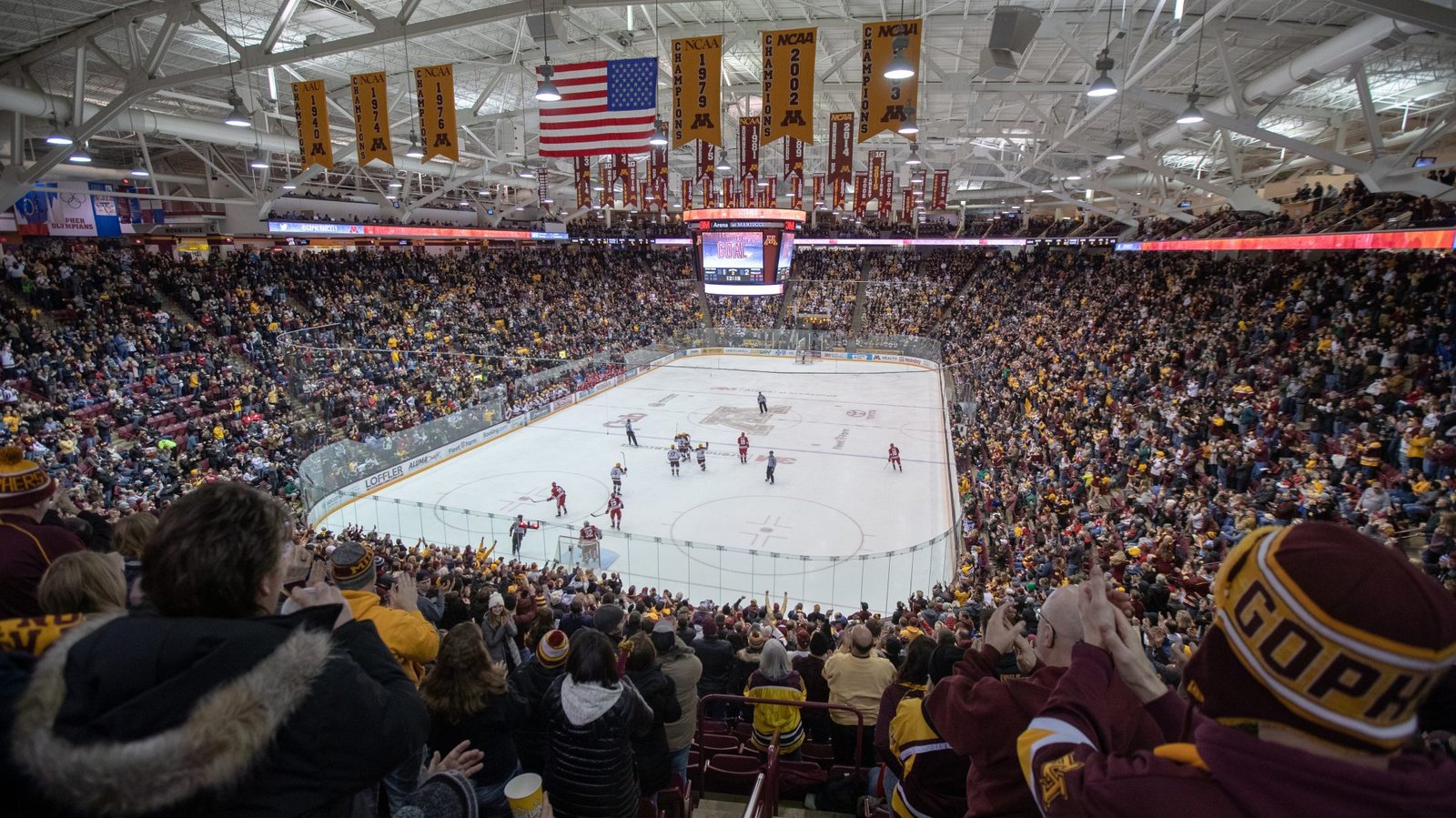 The numbers of tickets scanned grew from the 5,284 attending in 2018-19 to 5,799 in 2019-20, a ten percent increase.
Minneapolis, Minn. — The Minnesota men's hockey program was supposed to drop the puck on their 2021-22 season last weekend and welcome fans back to the rink with a pair of games at 3M Arena at Mariucci, but their opponent never made it out of Fairbanks. COVID related health and safety concerns grounded the Nanooks program in Alaska and the postponement of the series until January left the arena empty for one more weekend — a reminder of the pandemic still lurking after an uncertain 18 months.
During the 2020-21 season very few people got to see the Gophers in person because of pandemic precautions while the team rallied off ten consecutive wins to open the season, finished 24-7, won the Big Ten Conference Tournament and garnered a top seed for the NCAA Tournament. Gophers coach Bob Motzko admitted during recent media availability sessions that it has been awfully strange watching film of games from last season with empty rinks while prepping for this upcoming season. The team he hopes finally takes the ice against Mercyhurst this weekend is ranked No. 4 in the USCHO Men's Division I Poll and Motzko is looking to build on the momentum built heading into his fourth season as head coach at Minnesota.
"We're just getting started, but we have great enthusiasm, lots of returning players at key positions and great leadership," said Motzko. "We're in a good spot. We've got a chance to be a very good hockey team this year. It's going to be great to have fans back in our building. We're going to grow, our fans are going to grow as the season wears on, as we get through football season and get to hockey season."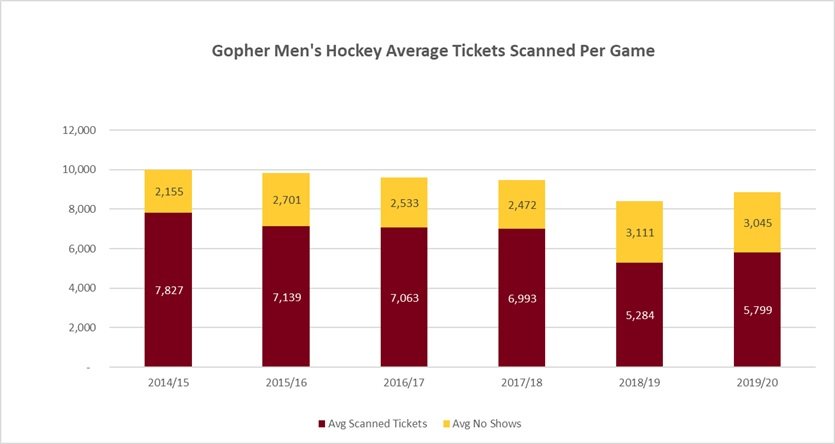 While Motzko is confident in his product on the ice, the fans have been cautious to show their confidence by making an investment to return to the building. Scanned ticket data acquired by GopherPuckLive since 2014 showed actual attendance numbers falling earlier than announced attendance figures would have suggested. The number of fans purchasing seats and not using their tickets averaged about 2,000 five years ago. That number of no shows has grown to nearly 3,000 the past two seasons when fans were allowed in the building.
Sensing diminishing passion with the hockey program after the 2018 season, University of Minnesota Athletic Director Mark Coyle hired Motzko. The change has made an impact on the Gophers on-ice performance as their return to the NCAA Tournament last year ended a streak of three seasons without getting a bid. Television ratings from last season also suggested interest in the program is on the rise. A Tuesday night Minnesota-Ohio State game was rated as the largest audience for a nationally televised regular season hockey game since the Big Ten Hockey Conference formed and garnered 165,000 viewers with a 0.6 rating. Ensuing games for the Gophers against the Wolverines in the Big Ten Conference Semifinals drew 110,000 viewers and their championship game against the Badgers drew 137,000 viewers.
Coyle has rewarded his men's hockey coach with a three-year contract extension that will keep Motzko behind the bench through the 2025-26 season. The contract which will pay the coach an average of $660,000 per year is pending Board of Regents approval, but the salary increase is just a relatively modest single digit raise from one year to the next.
Gophers Athletic Director Mark Coyle shared back in 2018 in a story for The Athletic that, "It's not other people's problems that people aren't coming to our games, it's on us to figure out how to get people to come to our games, and there's no doubt that it's a concern for us that we've got to figure out."
The modesty of the extension somewhat reflects the caution fans have shown coming back to the rink. Season tickets, once with a lengthy waiting list, have continued a steady decline over the past eight years despite price cuts made by the University. Club level seats have been reduced in cost by 13 percent since 2017, zone 1 seats have been reduced by 20 percent, zone 2 seats have been reduced by 22 percent, zone 3 seats reduced by 25 percent and zone 4 seats by 29 percent.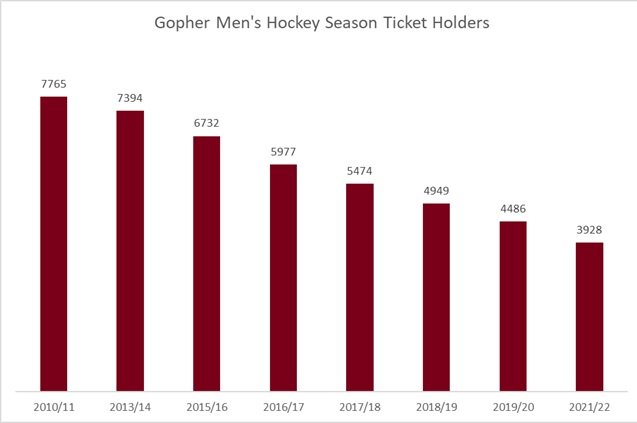 The marketing department is still working on selling season tickets for the 2021-22 season until conference play begins, but heading into the opening weekend they've sold 3,928 seats. That number continues a trend of almost double-digit declines in season ticket holders since selling 7,765 seats in 2010-11.
While the number of season ticket holders continues its decline, the actual number of fans coming to the rink reversed its trend in 2019-20. The numbers of tickets scanned grew from the 5,284 attending in 2018-19 to 5,799 in 2019-20, a ten percent increase.
Rivalry games against teams from the old, old WCHA were something fans clamored for on GopherPuckLive and the fans showed up for a couple of them. The game drawing the biggest crowd was against in-state rival Minnesota-Duluth on October 25, 2019 with 7,577 scanned tickets and the second biggest crowd came against North Dakota on November 29, 2019 with 7,249 fans in attendance.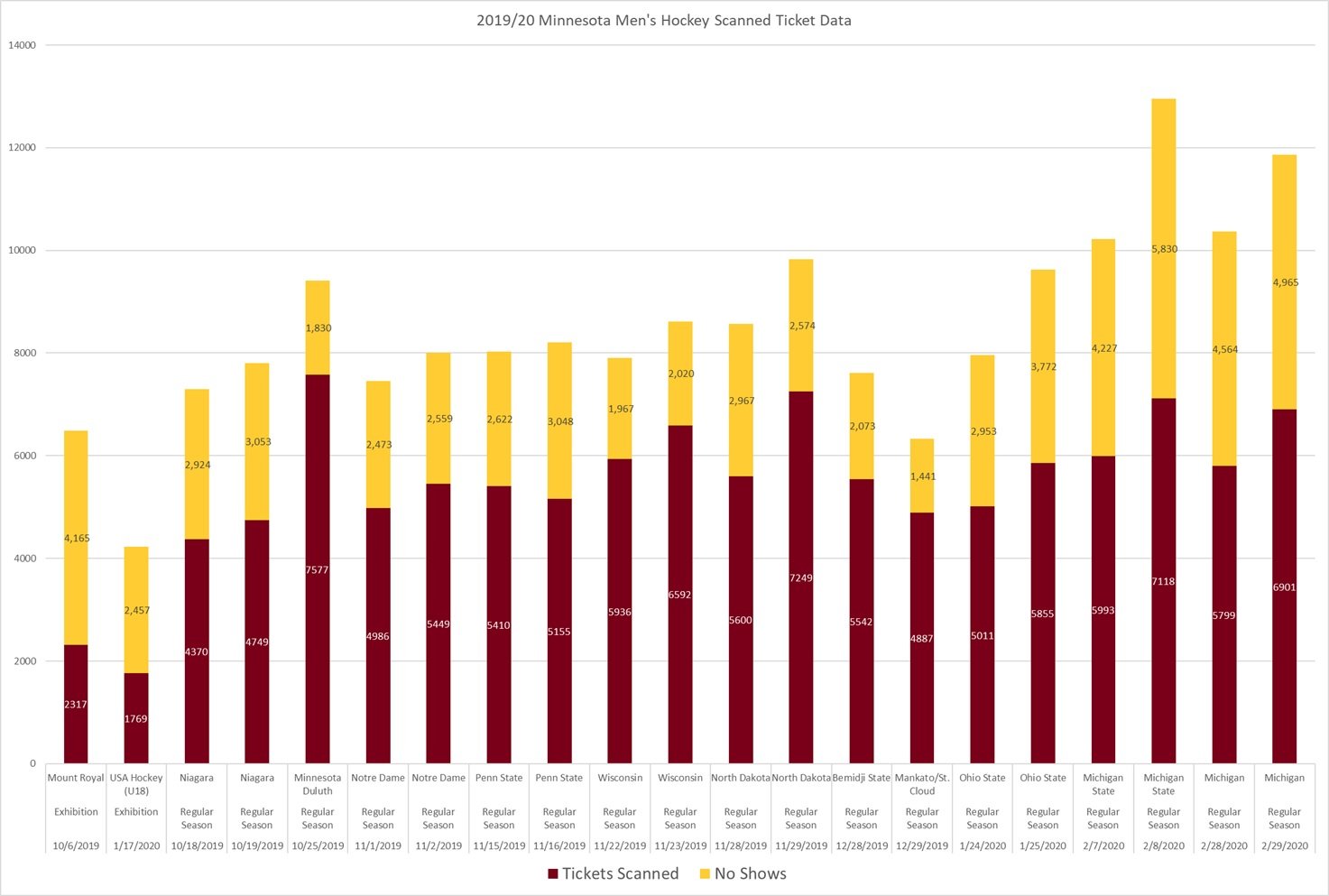 The biggest crowds for the Big Ten slate of games came as the season went down to the wire. Data showed 7,118 tickets were scanned for the Saturday February 8, 2020 game against Michigan State and 6,901 tickets were scanned for the Saturday February 29, 2020 game against Michigan. The Gophers ended up finishing in a three-way tie for second place and earned home ice for a quarterfinal series against Notre Dame. They went on to win that series in three games and were prepared for a trip out to Penn State before the season was cancelled.
The lowest attended games of the season were the season opener against Niagara on October 18-10, 2019 with just 4,370 scanned Friday and 4,749 scanned Saturday. Surprisingly their Sunday Mariucci Classic game against St. Cloud State was the next lowest attended game with just 4,887 tickets scanned for an in-state rivalry game — especially considering the afternoon matchup included Minnesota State and Bemidji State.
The decline in ticket sales have also had an impact on revenues for Minnesota. The athletic department once counted on men's hockey to be a contributor towards the entire unit's budget when revenues were $7,683,129 in 2013-14. That number has now fallen to $4,209,952 in revenues for 2019-20. The figure still ranks as the best in the state of Minnesota, but Minnesota Duluth has significant closed the gap for the two most recent years reported. The decline also meant that the Gophers men's hockey department operated in the red for the most two recent years reported.
Certainly concerns about COVID and mask wearing requirements could impact attendance to games for the upcoming season, but interest around the program will be something to watch in 2021-22. They'll have home games against in-state rivals St. Cloud State and Minnesota Duluth, and they'll be racing with Michigan's young roster stocked with first round picks in the Big Ten Conference all season long.
"I keep telling [younger guys], you know every game, just stepping out there in front of all those fans, it's unbelievable," said captain Sammy Walker. "I'm excited to have everyone back in there for sure, we're pumped up to just have fans."
2014-15 Scanned Ticket Summary
2015-16 Scanned Ticket Summary
2016-17 Scanned Ticket Summary
2017-18 Scanned Ticket Summary
2018-19 Scanned Ticket Summary
Note: 'Tickets Distributed' does not always directly correlate to announced attendance based on the ticketing policy implemented by the University of Minnesota.