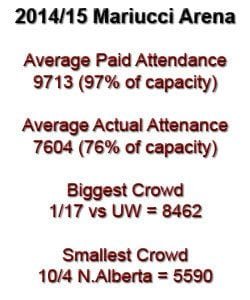 The Big Ten Hockey Tournament experienced dismal paid attendance and actual attendance this past weekend. The conference reported paid attendance as 25,933 for the five games, but anyone watching knew the actual attendance was a fraction of the reported numbers.
The University of Minnesota has never had a problem selling hockey tickets. Gopher hockey had a lengthy waiting list for season tickets for years and fans still have a strong appetite to see the Pride on Ice. Mariucci Arena's paid attendance was 97 percent of their capacity this season and had nine sellouts.
However, this season GopherPuckLive requested information detailing the number of tickets scanned for home games this season. The data showed Mariucci Arena's average scanned attendance was 76 percent of capacity and 78 percent of ticket holders actually made it in the building.
The arena's largest actual crowds came to see the Gophers play Wisconsin on January 17, 2015 (8,462), Wisconsin on January 16, 2015 (8,411), Minnesota Duluth on November 14, 2014 (8,404), Michigan on February 14, 2015 (8,147), and Notre Dame on November 7, 2014 (8,035).
The smallest crowds of the season were for the exhibition against Northern Alberta on October 4, 2014 (5,590), the exhibition against the USNDTP U-18 on November 21, 2014 (5,599). The smallest attendance for a game that counted was the Thursday game against Michigan State on February 26, 2015 (6,571) and was the only game under 70 percent capacity.
The University of Wisconsin released their numbers to The Cap Times and their average scanned attendance for 2014-15 was "7,507, down 451 from last season and down over 4,000 from the high-water mark in 2009-10… the average actual attendance was the second-lowest in the nine years available, while the percentage of no-shows (30.7 percent) was the second-highest in that time."
While the transition from the WCHA to the Big Ten impacted actual attendance for the conference tournaments, there was little difference in actual attendance for non-confence and Big Ten games at Mariucci Arena. Even with the low numbers for the Thursday night game against the Spartans, Big Ten games averaged 78 percent actual capacity while non-conference games averaged 79 percent capacity.