Senior Associate Athletics Director Tom McGinnis also addresses Big Ten expansion and specific efforts to improve fan experience with Gopher Hockey
Minneapolis, Minn. — The University of Minnesota consistently runs the top revenue producing men's hockey program in the nation and has racked up a college hockey record six consecutive regular season titles, but an average of 2,583 tickets per home game went unscanned this past season, dampening the atmosphere at Mariucci Arena.
Minnesota's 2016-17 home schedule was front loaded with dates against old rivals from the WCHA including games against St. Cloud State, North Dakota, and Minnesota State–yet the average number of tickets scanned per game only rose from 72 percent of tickets distributed last season to 73 percent of tickets distributed this season.
The largest total of tickets distributed this season was 10,469 for the Saturday night game against Wisconsin on February 25, 2017. The total was the third largest announced crowd at Mariucci Arena behind the record 10,587 against Michigan on November 6, 2004 and 10,495 for a February 15, 2014 game against Michigan. The largest actual crowd of the season was also that Wisconsin game with 9,050 tickets scanned–which is the most tickets scanned for a game over the past three seasons.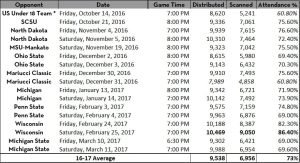 The lowest total amount of tickets distributed was 7,989 for the New Year's Eve Mariucci Classic championship game against Massachusetts. That game was also the lowest actual crowd of the past three seasons with just 4,858 tickets scanned, behind this year's USNTDP U-18 game's 5,241 scanned tickets and the 2014 exhibition against Northern Alberta's 5,590 scanned tickets.
The number of tickets sold for the early season rivalry games met expectations, even with single game seats for the North Dakota series selling for $100-$130, but the number of tickets scanned for these games is surprising. Data obtained for GopherPuckLive showed just 7,061 of the 9,336 tickets for the home opener against St. Cloud State were scanned, 7,615 of the 9,939 tickets sold for the Friday night North Dakota game were scanned, 7,464 of the 10,310 tickets sold for the North Dakota game were scanned, and then 7,042 of the 9,323 tickets sold for the Minnesota State game were scanned.
Revenue hasn't been a problem for the University of Minnesota since moving to the Big Ten for hockey as they have averaged $6,549,376 each of the past three fiscal years, tops among their peers, and neither has been the number of tickets sold. Minnesota recorded 95 percent capacity at 10,000-seat Mariucci Arena for 2016-17, placing Gopher Hockey behind Penn State (105.6 percent) and North Dakota (100 percent) for capacity and behind North Dakota (11,505) and Wisconsin (10,158) in terms of average attendance.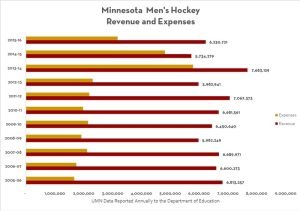 However, Gopher Hockey is trying to address concerns voiced by their fans and seen by a decline in season ticket sales from 7,394 in 2013-14 to 5,977 in 2016-17. School officials conducted a survey of season ticket holders in the fall of 2015 and implemented changes that were within their control.
"The biggest thing that people are just not excited about right now, and it's not a surprise to us, they're not as excited about Big Ten Hockey as they were the WCHA," said Senior Associate Athletics Director Tom McGinnis. "They really enjoyed seeing some of those rivalries that had developed over the years with some of the WCHA opponents."
Their customers told them that they wanted to see their Gophers play on Friday and Saturday nights, and they wanted to continue seeing opponents they were familiar with from the WCHA. Minnesota responded by signing North Dakota to a four-year scheduling agreement, signing Minnesota Duluth to a four-year series over five seasons, and they have St. Cloud State and Minnesota State on the schedule through at least the 2017-18 season. The University also delivered on maintaining their schedule of Friday and Saturday night home games, even shunning a potential move of a home game with Minnesota State for television purposes to keep their standard evening puck drop. The school has also tried to influence reducing the number of channels televising their games since realignment by keeping games to BTN and FSN as much as possible.
"We understand that's been a point of frustration for our fans. Unfortunately [the new conference alignment] is not something that we're going to be able to change, and we're part of the Big Ten," said McGinnis. "We're excited at the growth of the Big Ten and the things that are happening. Obviously the teams are getting stronger with three teams in the tournament this year, and we're adding a seventh team next season Notre Dame–certainly a very strong traditional program."
Big Ten hockey coaches are very interested in getting to eight teams logistically with an affiliate member according to McGinnis, but said the conference criteria will look at academics, athletic profile, geography and emphasized that all 14 members of the Big Ten have a say in affiliate memberships. Expansion will be a decision that happens at the presidential level for the Big Ten, and McGinnis said it'll be discussed during the league's hockey coaches meetings at the end of April and could possibly be on the agenda for Big Ten presidents this summer.
School officials are pursuing ways to enhance the fan experience according to McGinnis. They hosted an event this season before the Saturday Wisconsin game for their longest tenured season ticket holders and recognized Harold Koppy who has had tickets since 1953 on the video board during the game. Other initiatives coming are more information about who will be on the schedule when season ticket renewals are sent out in May, efforts to maintain the collegiate environment during games, and working with their food vendor Aramark for new options in concessions.
Gopher Athletics will also be rolling out their new Gopher Loyalty Program which will provide opportunities for Gopher supporters to engage with coaches and student athletes like playing 18 holes with Head Men's Golf Coach John Carlson or pre-game access to the Gopher football team tunnel and implementing a fan advisory board that will be finalized by the end of April, and meet in May to collaborate with athletics on new ideas.
Note: 'Tickets Distributed' does not always directly correlate to announced attendance based on the ticketing policy implemented by the University of Minnesota.