The trendy thing to do this season has been writing hot takes on the atmosphere at Mariucci Arena since the formation of the Big Ten Hockey Conference. Star Tribune's Rachel Blount authored an article calling the Big Ten" a buzzkill for Minnesota fans." Andy Greder wrote this season that the "gap is widening between the Big Ten and the NCHC" for the Pioneer Press. And of course Cory Zurowski wrote in City Pages about the "lightly spackled congregations witnessing struggle."
Fans also voiced their opinion this season by not showing up to watch the Pride on Ice win their fifth consecutive regular season conference title. The average number of tickets scanned at Mariucci Arena has fallen from 9,062 in 2013-14, to 7,604 in 2014-15, to 7,139 this season according to data obtained by GopherPuckLive. The numbers mean that nearly 28 percent of tickets distributed went unused this season, or an average of 2,723 tickets per game.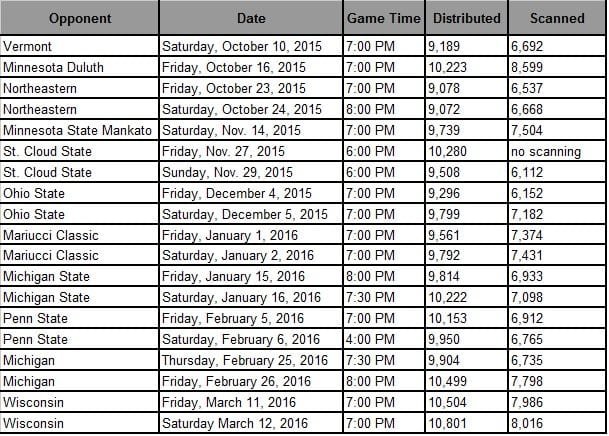 While the University of Minnesota may have an issue getting their fans to show up, they have had few issues finding buyers. Despite season ticket sales falling from 7,394 last season to 6,732, the arena was at 98.2 percent capacity and Minnesota will likely continue to be the national leader for revenue by a men's hockey program.
Last season, Minnesota men's hockey took in $5.73 million in revenue outpacing Wisconsin $4.78 million, Penn State $3.68 million, Providence $3.30 million, Boston University $3.28 million, Minnesota-Duluth $3.20 million, Colorado College $3.17 million, North Dakota $3.12 million, Nebraska-Omaha $2.99 million, Michigan $2.98 million, St. Cloud State $2.88 million, and Boston College $2.78 million according to data available from the Department of Education.
Looking into the details of the ticket usage shows that while actual attendance declined six percent this season, Minnesota's ticket distribution increased from 9,713 to 9,862. The largest number of tickets distributed this season were 10,801 tickets for the regular season finale against Wisconsin on March 12, 2016, 10,504 for the March 11, 2016 game against Wisconsin, and 10,499 for the February 26, 2016 game against Michigan. The least amount of tickets distributed were 9,072 and 9.078 for games against Northeastern on October 24, 2015 and October 23, 2015.
The largest actual crowds at Mariucci Arena this season came to see the Gophers play Minnesota Duluth on October 16, 2015 (8,599), Wisconsin on March 12, 2016 (8,016), Wisconsin on March 11, 2016 (7,986), Michigan on February 26, 2016 (7,798), and Minnesota State on November 14, 2015 (7,504).
The smallest actual crowds of the season were for the Sunday game against St. Cloud State on November 29, 2015 (6,112), Ohio State on December 4, 2015 (6,152), Northeastern on October 23, 2015 (6,668), Northeastern on October 24, 2015 (6,668), and Vermont on October 10, 2015 (9,189).
Todd Milewski usually provides some ticket data for our rivals to the east and the picture there was pretty bleak. Through the first 16 regular season games this season, the average for fans in the seats at Kohl Center was 6,088, down 19 percent from last season. Their scanned ticket data showed 31 percent of tickets purchased or distributed for games went unused; and for the nine previous seasons it was 26 percent.
Note: 'Tickets Distributed' does not always directly correlate to announced attendance based on the ticketing policy implemented by the University of Minnesota.