Minneapolis, Minn. — Bob Motzko's first season behind the bench for the Gophers started off hot with a tie and win against in-state rival Minnesota-Duluth, but then the rollercoaster dipped with losses to North Dakota in Las Vegas, being swept by Minnesota State and then dropping home games to St. Lawrence and Ferris State putting them in a PairWise Ranking prison with a 5-6-4 record and losses to the 59th and 57th team in the ratings.

The team rallied enough in the second half of the season by being the only team to sweep eventual league champion Ohio State on the road and getting a win over Notre Dame in their conference season finale to get home ice in the first round of the Big Ten Tournament. Their coach said he had a good feeling about his team and was optimistic headed into their series with Michigan.

While his team took care of business that weekend by winning the Friday night game 3-2 in overtime and then winning the second game while in complete control 4-1, the viral story from the last 2018-19 games at 3M Arena at Mariucci was the attendance. The announced numbers from the post-season games were 1,825 for the first game and 1,911 for the second with scanned numbers of 1,590 and 1,555 respectively.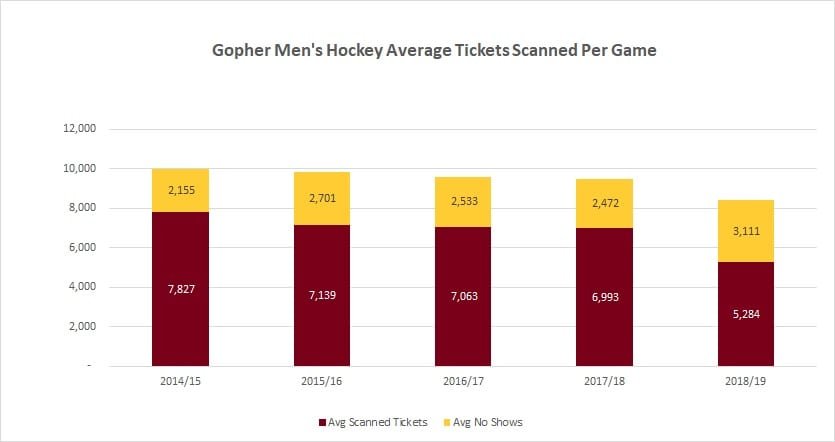 The games were not included as part of the season ticket package as they had been in previous years when home sites were used for conference tournaments and a $20 ticket negotiated with the conference to be under the season average price was not enough to entice a crowd to show that night.

"The narrative turned in the playoff series, that was where it really turned negative, we've got a big building, there are 10,000 seats out there, we have to do our job as a hockey team to get people proud of what we're going to do," said Motzko. "The [fans] have got to be patient, let us grow with this, they're not going to be disappointed."

While Minnesota made a head coaching change to heat up interest in the Pride On Ice, fans were cool all season regarding Gopher Hockey. Season ticket sales were down 10 percent from the previous year's 5,474 to 4,949. Average announced attendance for regular season games in 2018-19 was down nearly 14 percent from the previous year's 9,752 to 8,396. Scanned tickets for games in 2018-19 were down 24 percent from the previous year's 6,993 to 5,284.

There were moments where the fans did show up to the rink to cheer on their team as Minnesota set a venue record announced attendance of 10,686 for their January 26, 2019 game against Wisconsin and a season-high 8,229 tickets were scanned. But there were also weekends like the regular season finale against Arizona State were announced attendance totals dipped under 5,000 and scanned totals of 3,357 and 4,176 for the games marked the lowest numbers for a regular season game in the last five years GopherPuckLive has obtained this data.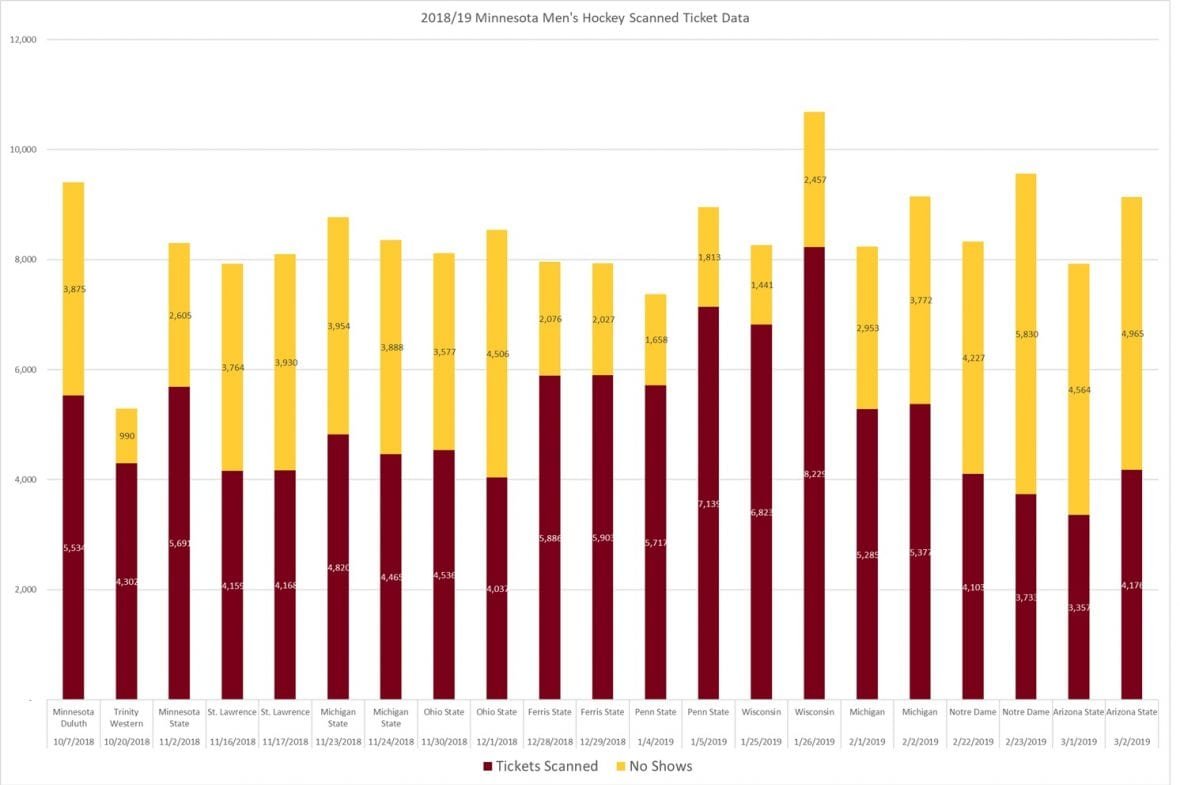 While the numbers are significant declines for Minnesota, they still ranked third in the nation for average announced attendance according to figures tracked by USCHO.com behind North Dakota and Wisconsin. Minnesota also ranked third for FY 2018 in revenue at $5,209,420 according to data provided to the US Department of Education. Rankings for FY 2019 are not available yet, but Minnesota submitted a revenue total of $4,302,407 in their report, their lowest amount in the past 15 years..

The attendance numbers have bounced back a little bit in Motzko's second season with the Gophers. Through the first half of the season Minnesota average announced attendance was 8,283 with scanned totals averaging 5,733. The Gophers have three series left in their regular season schedule as Ohio State, Michigan State and Michigan come to Minneapolis.

2014-15 Scanned Ticket Summary

2015-16 Scanned Ticket Summary

2016-17 Scanned Ticket Summary

2017-18 Scanned Ticket Summary

Note: 'Tickets Distributed' does not always directly correlate to announced attendance based on the ticketing policy implemented by the University of Minnesota.