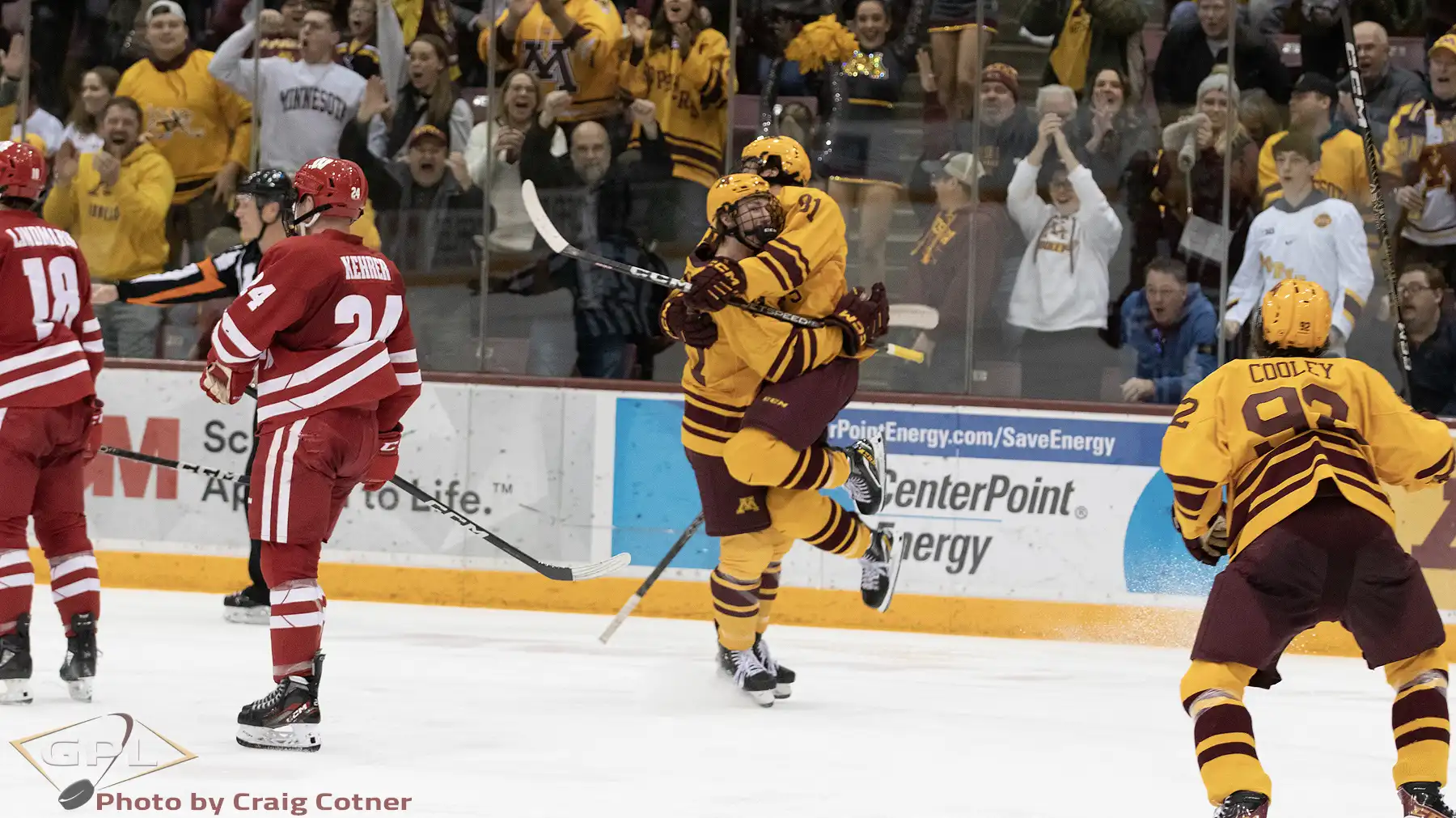 Minneapolis, MN – For the sixth-straight Big Ten game, the Gophers have emerged victorious.
The Minnesota Gophers (13-3-1-2 Overall, 9-2-0-0 B1G) scored early and often on the Wisconsin Badgers (6-10-1-0, 1-8-0-0), putting up four goals in the first period and never looking stressed in an emphatic 7-1 victory.
Logan Cooley got the Gophers on the board just 4:01 into the game, weaving through Wisconsin's defenders before backhanding the puck into a dislodged net. The referees called it a goal on the ice as the Badger defenders knocked the net off just prior to the puck going into the net.
Jaxon Nelson put Minnesota up 2-0 a few minutes later at 7:23 on a one-time slapper from the mid-slot. Wisconsin put up their only real fight of the game at 9:28, when Charlie Stramel scored on the powerplay to draw within one.
The Badgers took a penalty late in the first, and Minnesota took advantage, with Bryce Brodzinski wristing the puck past former Gopher goalie Jared Moe (now playing for Wisconsin) to put Minnesota up 3-1. 29 seconds later, Matthew Knies found Logan Cooley on a breakaway to give the Gophers a big 4-1 lead heading into the first intermission.
The second period was more of the same for Minnesota, with Rhett Pitlick and Ryan Chesley scoring to put the Gophers up 6-1.
Aaron Huglen finished out the scoring for the Maroon and Gold, with a third-period breakaway goal to put the Gophers up 7-1.
Justen Close got the win between the pipes for the Gophers, improving to 11-5-0 on the season.
The entirety of the Gopher top line (Knies, Cooley, Snuggerud) have eclipsed the 20-point mark, with Jackson LaCombe (19) and Jaxon Nelson (18) close behind.
The win maintains Minnesota's five-point edge over Penn State atop the conference, as the Nittany Lions beat Notre Dame Friday to advance to 22 Big Ten points compared to Minnesota's 27. Michigan State sits third with 20 points after a big win over rival Michigan this evening, with Ohio State in fourth at 15. Michigan and Notre Dame, preseason favorites alongside Minnesota, are a distant fifth with just nine total conference points, while Wisconsin dwells in the basement of the conference standings at just three points. Anything can happen in hockey, but it's difficult to see a path to the conference championship at this point for anyone other than the top three.
The Gophers also held onto the top spot in the Pairwise rankings after Friday's contest, currently with a .090 lead.
Minnesota closes out the first half of the season Saturday against the same Badgers.