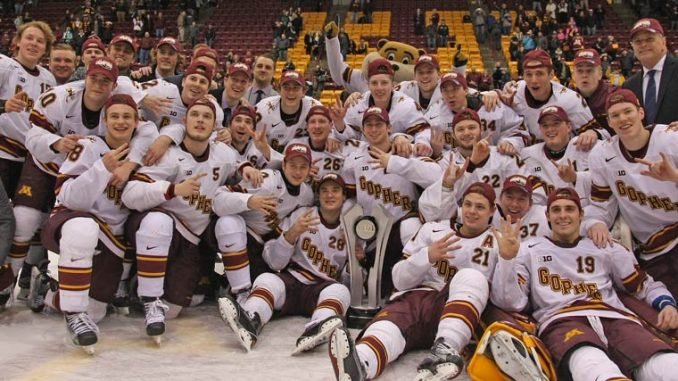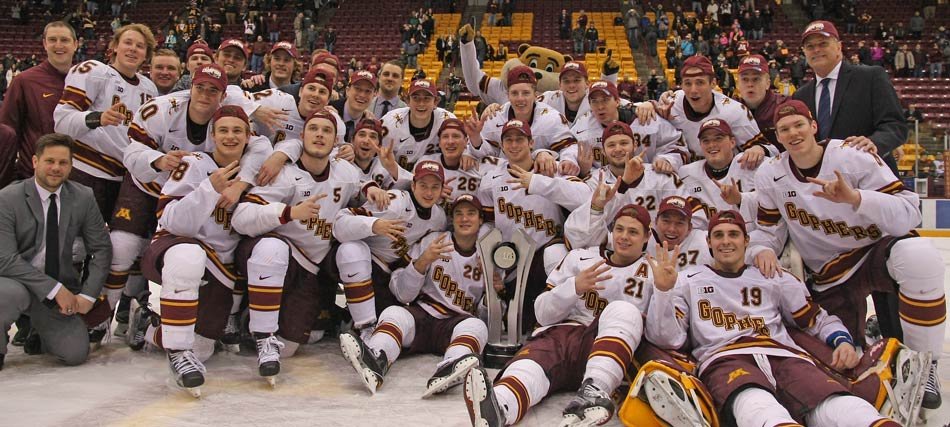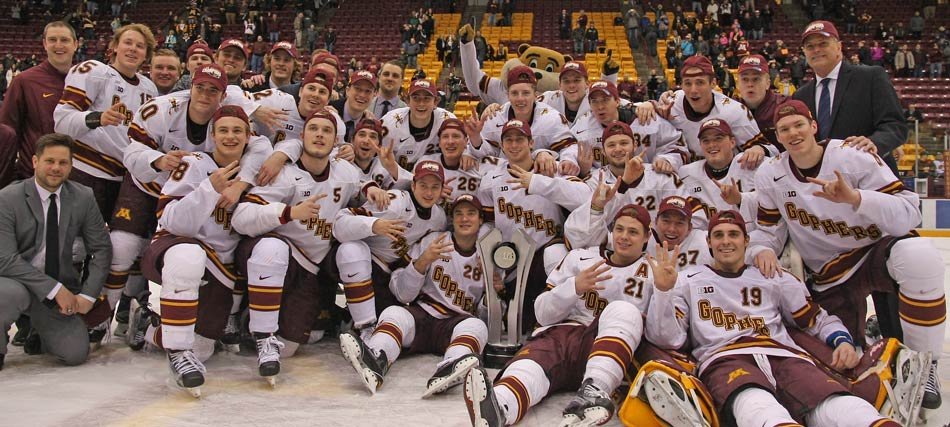 Minnesota's 4-0 Victory over Michigan State gives them at least a share of the B1G Title
Six Consecutive Conference Championships Sets NCAA Record
Minneapolis, MN – Don Lucia's feeling following the Gophers' victory over Michigan State?  "Relief.  Spoken like a true coach!"
Lucia might have been relieved, but his players were nothing short of ecstatic following their 4-0 win over the Michigan State Spartans (7-23-3 Overall, 3-14-2 B1G).  The victory clinched at least a share of the Big Ten Conference championship for the fourth straight season.  Combined with their two wins in the final two seasons of the WCHA, the Gophers have now won six-straight conference titles, setting a new NCAA record.
The Gophers (23-10-2, 14-5-0) scored the first goal of the game at 7:52 of the first on a Jack Sadek shot from the point as a powerplay expired.  Sadek added his second of the game (and third of the season) on a blast from the point at 16:36 of the first.  "I don't think I've ever scored twice in a game in my life!" Sadek uttered sheepishly after the game.
After an uneventful second, Minnesota would tack on another pair of goals late in the third.  Darian Romanko scored his second of the season off of a great pass from linemate Jack Ramsey at 11:31 of the final frame.  Ryan Collins added a last-minute tally with an absolute cannon from the point.  That would round out the scoring, with Eric Schierhorn earning the shutout in a 4-0 victory.
After the game, Lucia talked about these players leaving a legacy here at the University of Minnesota.  "When these players bring their kids back to the arena and look up at the banners, they can say 'I was a part of that.'"  Jack Sadek made a similar comment: "Old Gophers will come back and look at this [stretch of championships].  Six conference championships is something else."
The Gophers may not be playing for anything in the conference race Saturday night, but they are still playing for NCAA tournament positioning.  When asked whether he would change up the lineup significantly, Lucia said that he would make one change: inserting senior forward Mitch Rogge.  "Mitch has been a great program guy.  It's hard to come to practice every day and be in the weight room and never get rewarded.  He's going to play [Saturday night]."  Other than that, though, it was business as usual: "We're playing for NCAA seeding, so we're playing to win."
Lucia also mentioned that he's hoping to have junior forward Mike Szmatula back by next weekend: "The plan is to have Mike have a good week of practice starting Monday.  There's no question he makes our team better, especially at the center position."
Saturday will be the last game on home ice for seniors Justin Kloos, Jake Bischoff, Vinni Lettieri, Taylor Cammarata, Connor Reilly and Mitch Rogge.  The senior class won four Big Ten conference championships, one Big Ten playoff championship, went to three NCAA tournaments, and made it to the NCAA title game in 2013-2014.  They'll look to win their last game at Mariucci Saturday.
Sadek said Lucia had strong words for his team about the importance of Saturday's game: "Don said 'Saturday night is a must-win.'"
Hopefully the team can send the seniors out in style.
Go Gophers!
Post Game Celebration (raw video mounted on top of an DSLR, so it is not very steady)
[facebook https://www.facebook.com/GopherPuckLive/videos/1038459512925322/]