The Big Ten Hockey Conference Title race could be decided by the end of Friday night if Minnesota gets three points with a win over Michigan State at Mariucci Arena. The win would extend the Gophers conference title winning streak to six consecutive and allow coach Don Lucia to pocket another $30,000 bonus check.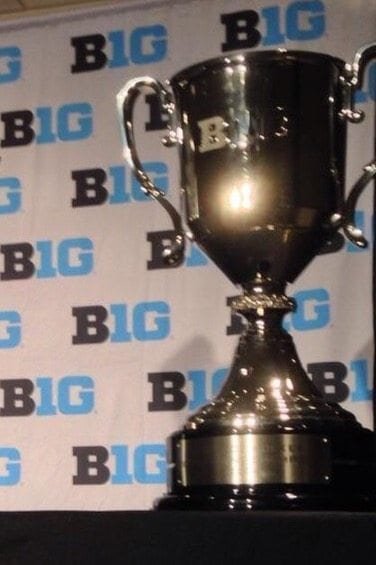 The head coach has gotten used to collecting some extra money on top of his $350,000 base salary, and his assistants will get some extra money as well. Associate head coach Mike Guentzel makes a base salary of $151,795 and earns an eight percent bonus or $12,144 for a regular season title. Assistant coach Grant Potulny has a base salary of $105,747 and will also get an eight percent bonus, which translates to an extra $8,460. The coaches can also receive bonuses if they win a conference tournament title, it's $15,000 for Lucia, five percent base salary or $7,590 for Guentzel, and $5,287 for Potulny.
Minnesota has already locked up a postseason bid according to College Hockey News Pairwise Probability Matrix which means Lucia has assured himself at least a $15,000 bonus, a two percent or $3,036 bonus for Guentzel, and a $2,115 bonus for Potulny. The postseason bonus gets bigger for each coach if the team advances in the tournament, but do not accumulate as previously reported by the Star Tribune in February 2017.
Lucia can get $30,000 for a regional final, $50,000 for a frozen four, and $75,000 for a national championship. Guentzel can get a 15 percent or $22,769 for a regional final, 17 percent or $25,805 for a frozen four, and a 20 percent or $30,359 for a national championship. Potulny can get $2,115 for a regional final, $15,862 for a frozen four, and $21,149 for a national championship.
The other incentive in the Gopher hockey coaching contracts include one percent bonus to Guentzel $1,518 and Potulny $1,057 for any player winning the Hobey Baker, or being named first team All-American. The final incentive for assistant coaches is $500 if the team has a GPA over 3.2.
The bonus schedule for assistant coaches is fairly standard across all University of Minnesota athletic department contracts and represent funds Mark Coyle surely isn't unhappy trying to account for in his $112 million athletic department budget. The University of Minnesota is the national leader in revenue associated with its men's hockey program at $6.585 million ahead of University of Wisconsin's $4,797 million, University of North Dakota's $4.502 million, Boston University's $4.447 million, Colorado College's $4.413 million, and Penn State's $4.411 million.