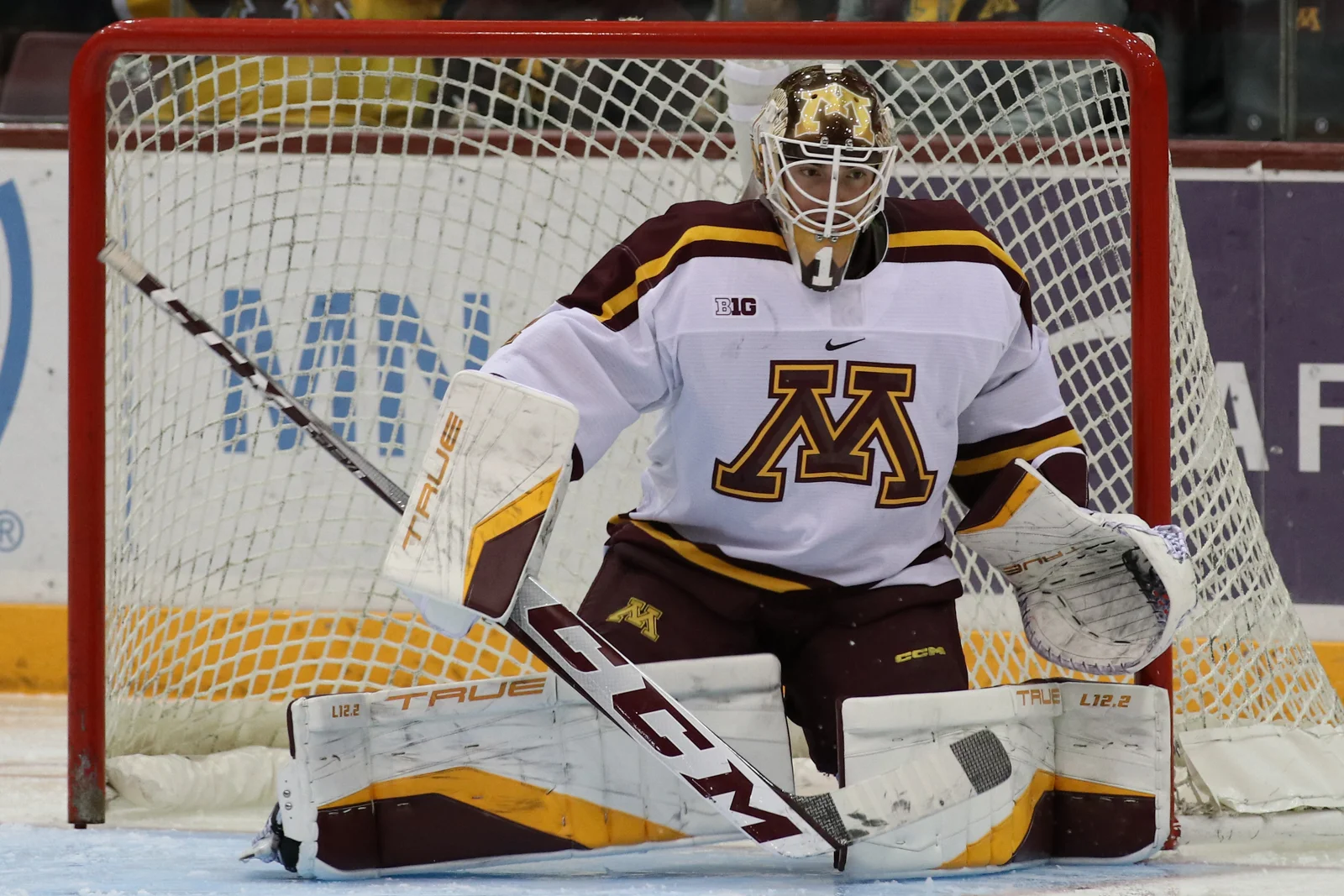 Minneapolis, MN – Friday night, Justen Close's shutout bid was ended with less than a minute to spare in a 4-1 victory.
Saturday, the team made sure that nothing got past them.
Behind another strong team effort, the Gophers (7-3-0 Overall, 3-1-0-0 B1G) shut down Notre Dame (4-4-2, 1-2-1-0) to win 3-0 and complete their first weekend sweep since the first weekend of the year against Lindenwood. Close earned the shutout with 21 saves on the night.
It was another scoreless first period between the Fighting Irish and the Golden Gophers, which isn't surprising given Notre Dame's highly structured gameplan.
Minnesota finally broke through in the second period, with Jaxon Nelson scoring the eventual game-winning goal off a nice pass on the half-wall from Bryce Brodzinski. Earlier in the sequence, Brock Faber was hit high by a Notre Dame player, and after review the referees gave the Irish a five-minute major for contact to the head.
On the ensuing power play, Matthew Knies scored to put the Gophers up 2-0, and the two-goal lead was a comfortable one throughout the rest of the game.
Logan Cooley added an empty net goal with just seconds remaining to finish out the scoring at 3-0 in favor of Minnesota.
All in all, a very successful weekend for the Marooon and Gold, who never looked like anything other than the better team on the ice throughout the two games. Minnesota outshot Notre Dame 54-25 Friday and 31-21 Saturday (including 26-10 through the first two periods), all while allowing very few quality scoring chances against Close, who only allowed one goal on 46 total shots on the weekend.
The sweep gives the Gophers 9 league points, tied for second place with Ohio State and one point behind surprising Penn State, who took four out of six points from Michigan this weekend with a win and an OT loss.
Up next for Minnesota is a Thursday/Friday series against that same Nittany Lions team. After that, the Gophers are on the road for three straight weekends before returning home to face Wisconsin right before the holiday break.