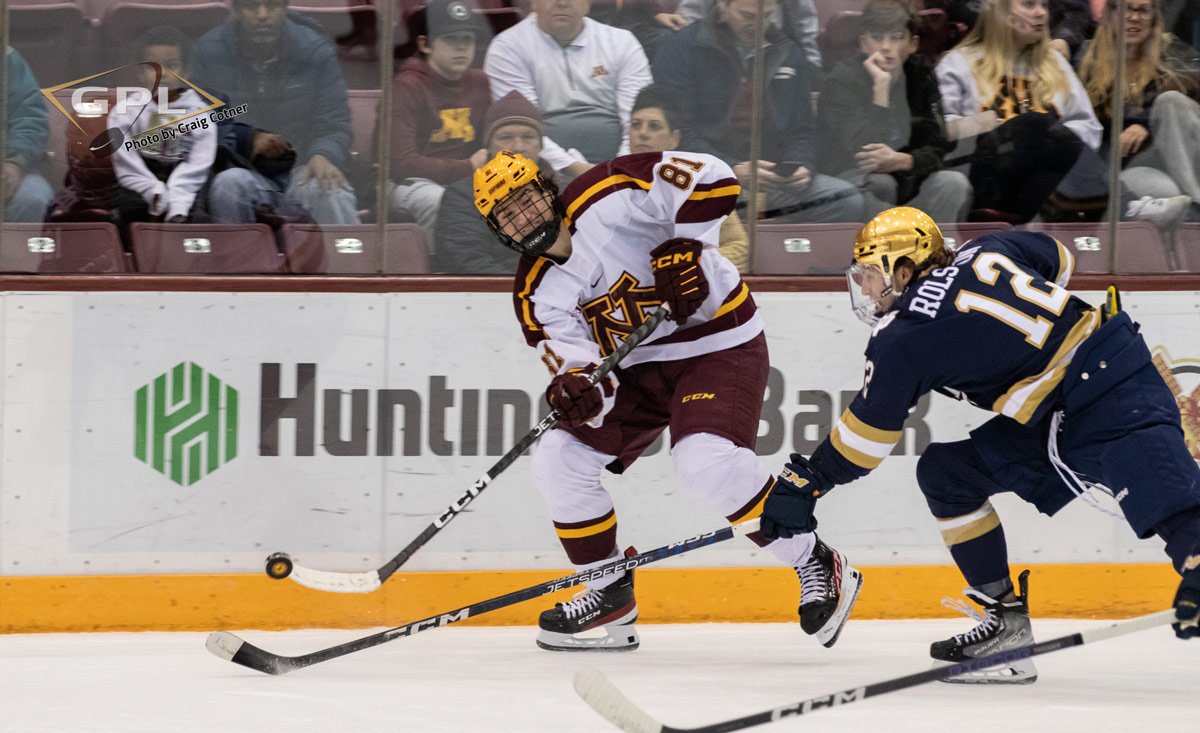 Minneapolis, MN – In the six years since Notre Dame joined the Big Ten conference, they've built up a reputation for playing structured hockey. Under coach Jeff Jackson, the Irish play low-scoring, defensive, one-goal-game hockey in which the aim is more about preventing the other team from scoring than it is about scoring themselves. Playing against Notre Dame, sometimes it feels like if you could just get one you'd break the dam.
Friday night, the Gophers found a way to break the dam, and the flood followed.
After a cagey opening 20 minutes which saw no scoring, Minnesota (6-3-0 Overall, 2-1-0 B1G) got that first goal early in the second, and then broke it open later that period, scoring twice in the second and twice in the third to down the Notre Dame Fighting Irish (4-3-2, 1-1-1) by a 4-1 score.
Despite a Jimmy Snuggerud penalty shot chance in the first period, the action really started in the second. The Gophers were able to get the all-important first goal against Notre Dame at 7:30 of the middle frame, when Mason Nevers snuck into the slot and beat Irish goalie Ryan Bischel on a one-time wrister off a nice feed from below the goal line by Jaxon Nelson.
The turning point of the game was a Notre Dame powerplay later in the second period. Aaron Huglen took a slashing penalty at 12:50, but it was Minnesota's Matthew Knies scoring shorthanded on a breakaway which put the Gophers up 2-0 and more or less put the game out of reach.
Snuggerud avenged his penalty shot miss by scoring twice in the third period, both times off of nice primary assists by Knies, to give the Gophers a commanding 4-0 lead late in the game.
Notre Dame spoiled Minnesota goalie Justen Close's shutout bid with less than a minute left to make the final score 4-1 in favor of the Maroon and Gold.
The win moved Minnesota up to 6 points in 3 Big Ten games, three behind Penn State and Ohio State, who are tied for first place with nine points each.
Snuggerud's two goals were his seventh and eighth of the season, putting him two ahead of Knies for the team lead in goals scored. Jackson LaCombe assisted on Snuggerud's first goal, and has now registered at least one point in every Gopher game so far this season. LaCombe's 11 points are tied for the team lead with Snuggerud, one point ahead of Knies. Minnesota's top six defensemen have combined for 32 points in nine games this year.
The Gophers and the Irish battle again Saturday night, with Minnesota looking for their first series sweep since beating Lindenwood the first weekend in October. The puck drops at 7PM.