Duluth's Parker Mackay Scores 1:45 into Overtime to Down Minnesota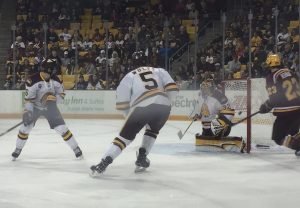 Duluth, MN – Heading into this college hockey season, many fans and prognosticators gave the Minnesota Gophers a good shot to advance to the final weekend of the season and be playing for the national championship at the Frozen Four.
It's only October and April is still many long months away, but Minnesota failed its first big non-conference test in pursuit of their sixth NCAA title. Despite 2-1 and 3-2 3rd period leads, the Gophers (0-1-0) dropped the season opener in overtime to the Duluth Bulldogs (1-0-0), 4-3.
UMD got on the board first at 7:56 of the opening period, when Mikey Anderson put the Bulldogs ahead 1-0 on a 5-on-3 powerplay.
The Gophers started to look better as the game wore on, and got on the scoreboard as the second period wound down.  Tommy Novak tied the game at 13:26 (assist to Tyler Sheehy), and Scott Reedy scored on the powerplay at 18:16 (Casey Mittlestadt and Rem Pitlick assisting), to put Minnesota up 2-1 heading to the 3rd.
Duluth came out firing in the third stanza and showed why they were ranked #6 in the preseason poll, tying the game at two-each just 23 seconds into the period on a Riley Tufte powerplay goal. The Gophers re-took the lead at 3-2 at 3:09 when Jack Ramsey scored on a one-timed shot from the mid-slot (assists to Ryan Norman and Darian Romanko), but Duluth came right back to tie it just 40 seconds later with Joey Anderson taking advantage of a Gopher turnover and putting the puck past Eric Schierhorn at 3:49.
The Gophers had plenty of chances to score the decisive goal late in the final frame, but the horn sounded with the teams tied at 3-3, so Minnesota and UMD went to overtime to settle it. In the extra session, Parker Mackay put a bouncing puck past Gopher goalie Eric Schierhorn at 1:45 to win the game for UMD.
The loss is the Gophers' 8th straight defeat at the hands of UMD. Their last win against the Bulldogs came in the Icebreaker in 2014. Minnesota is 1-9-1 in their last 11 contests against Duluth.
The Gophers will still be looking for their first win of the season Saturday when they face off against Union in the Icebreaker's 3rd place game. The puck drops Saturday afternoon at 4:00.
Go Gophers!