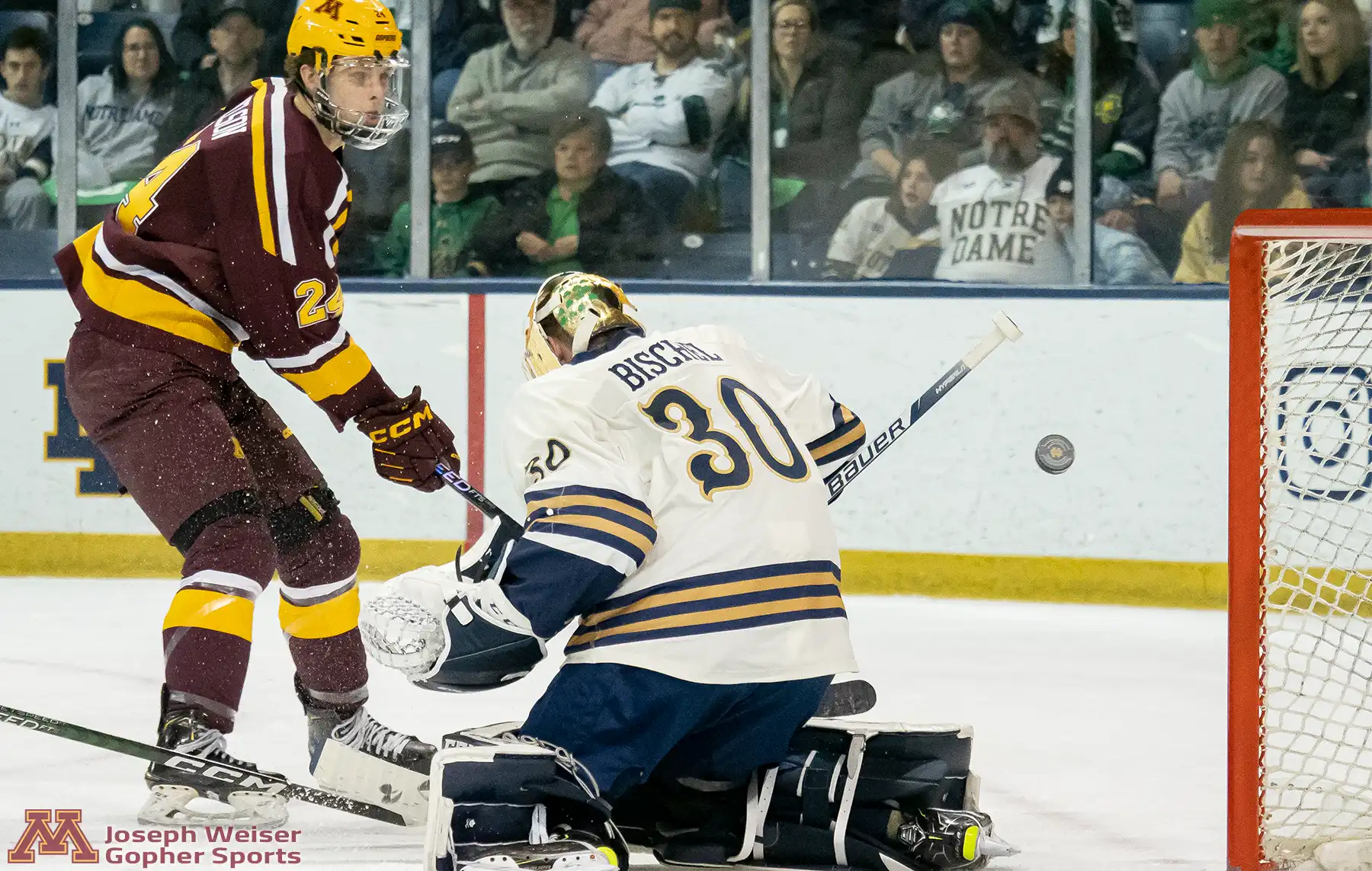 South Bend, IN – It's been a slow start to the second half for the Gopher offense.
After two total goals last weekend against St. Cloud State, Minnesota's high-flying forwards were once again quiet Friday night against Notre Dame. The Gophers needed a late extra-attacker goal from Jackson LaCombe to tie it up at 2-2.
Although the Gophers (14-4-2-2-1 Overall, 10-2-0-1 B1G) lost the shootout, they still earned a valuable point in the Big Ten standings, advancing their tally to 31 total. Notre Dame (9-10-1-0-3, 4-6-2-1) earned two points to move up to 17 total in fifth place.
The Fighting Irish got on the board first, 1:56 into a powerplay and 15:18 into the opening period. Justin Janicke's backdoor shot beat Justen Close to put the Irish up 1-0.
The Gophers answered right back a minute later, when Mason Nevers found a bouncing puck in the crease and shoved it past Notre Dame goalie Ryan Bischel to tie the game 1-1.
ND went up 2-1 midway through the second period on a Trevor Janicke goal. From there, Notre Dame did their Notre Dame thing, doing their best to lock down in the defensive zone and limit Minnesota's chances.
They almost did it, too. It took the Gophers until 19:36 of the third with an extra attacker to score the game-tying goal, when Jackson LaCombe uncorked a slapshot from the right point that found the back of the net to tie the game at 2-2.
The Gophers dominated the overtime period, putting four shots on net and one by Jimmy Snuggerud off the post. However, they weren't able to solve Bischel in the 3×3 session, and the game ended in a tie for Pairwise purposes. Each team earned a Big Ten point, and the teams went to a shootout to earn the extra point. ND's Ryder Rolston scored for the Irish, while all three Gopher shooters were stoned by Bischel.
Ohio State beat Michigan Friday night and MSU beat PSU in overtime, so Minnesota's 31 points are now seven ahead of second place Ohio State's 24. PSU is next with 23 points, while MSU is fourth with 22. Surprising Michigan is a distant sixth with only 12 total points in the league.
The two teams face off again tomorrow at 5PM central time. The game can be seen on Peacock, and heard on AM1130 / FM 103.5.