Minneapolis, Minn. – Pre-season speculation is underway in college hockey and a Big Ten Hockey Coaches Poll predicted a fourth consecutive regular season title for the Gophers. The coaches also noted Justin Kloos, Jake Bischoff, Leon Bristedt and Eric Schierhorn on the Big Ten Watch List.
Minnesota has won all three conference titles in the latest version of the Big Ten Hockey Conference, and the last two of the old version of the WCHA. If the Gophers win another conference title for their sixth consecutive, then they'll best Boston University's five-year streak from 1993 to 1998.
The coaches poll put Ohio State, Michigan, Penn State, Wisconsin and Michigan State behind Minnesota in their predicted standings. Other players named to the Big Ten Watch List included Michigan forward Alex Kile, Michigan State forward Mason Appleton, Ohio State defenseman Josh Healey along with forwards Mason Jobst and Nick Schilkey, Penn State defenseman Vince Pedrie and forward David Goodwin, and Wisconsin forwards Luke Kunin and Grant Besse.
Kloos returns to Minnesota for his senior season as captain and the active leading scorer in the Big Ten with 107 career points. One of the Gopher's alternate captains for the 2016-17 season will be Bischoff, who posted his best season last year with 18 points and gained experience running the first power play at the end of the season.
Bristedt is the team's leading returning goal scorer after tying early departure Hudson Fasching with 20 last season. Schierhorn was the big surprise last season starting all 37 games last season and garnering Big Ten Goaltender of the Year, First Team All-Big Ten, and Big Ten All-Rookie honors.
Golden Nuggets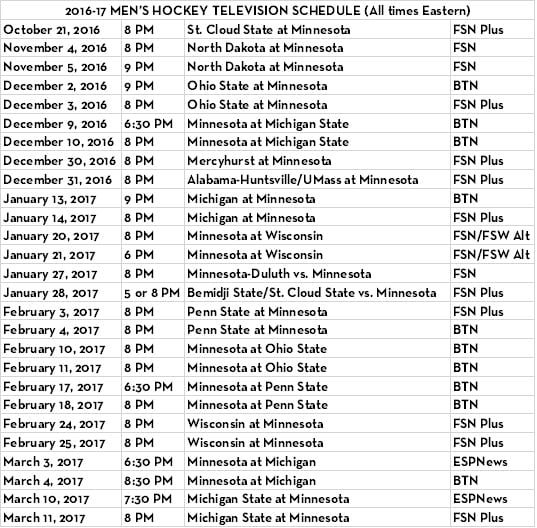 The initial television schedule was released Monday and the Gophers have 15 games scheduled on Fox Sports North, 10 games on Big Ten Network, and two on ESPNews. Minnesota does not control television rights for six of the seven games not scheduled to be broadcast this season. The sole regular season home game not televised, Minnesota State on November 19, was kept at at 7 PM start for season ticket holders rather than moving the time around for television.
Minnesota posted its roster last week and freshman numbers were announced; defenseman Ryan Lindgren #5, forward Luke Notermann #11, forward Joey Marooney #12, forward Rem Pitlick #15, defenseman Ryan Zuhlsdorf #20, defenseman Tyler Nanne #29. Also transfer forward Mike Szmatula will change from #12 to wear #9.
Connor Reilly was named an alternate captain, joining Kloos and Bischoff as players returning in their leadership positions on the team.
Notable offseason gains in weights include sophomores Jack Sadek up 14 lbs, Tommy Novak up 13, and Jack Ramsey up 11. Also Ryan Norman is coming into the season 19 lbs lighter than last season. The sophomore was asked to cut some weight in the first months of the season in 2015-16 before he'd see any game action and he's kept trim coming into 2016-17.
USCHO released their first media poll of the season and Minnesota came in at #13 after finishing last season unranked. Conference rival Michigan was ranked #11 and the entire rest of the conference appeared in teams receiving votes. The Gophers will player nine games against ranked teams in their first slate of non-conference games including a series against #1 North Dakota, a road game against #5 Boston College, a home and home against #7 St. Cloud State, a road game against #15 Northeastern, a road game against #16 St. Lawrence, a home and home against #19 Minnesota State. Minnesota also will face #6 Minnesota-Duluth in the opening game of the North Star College Cup.