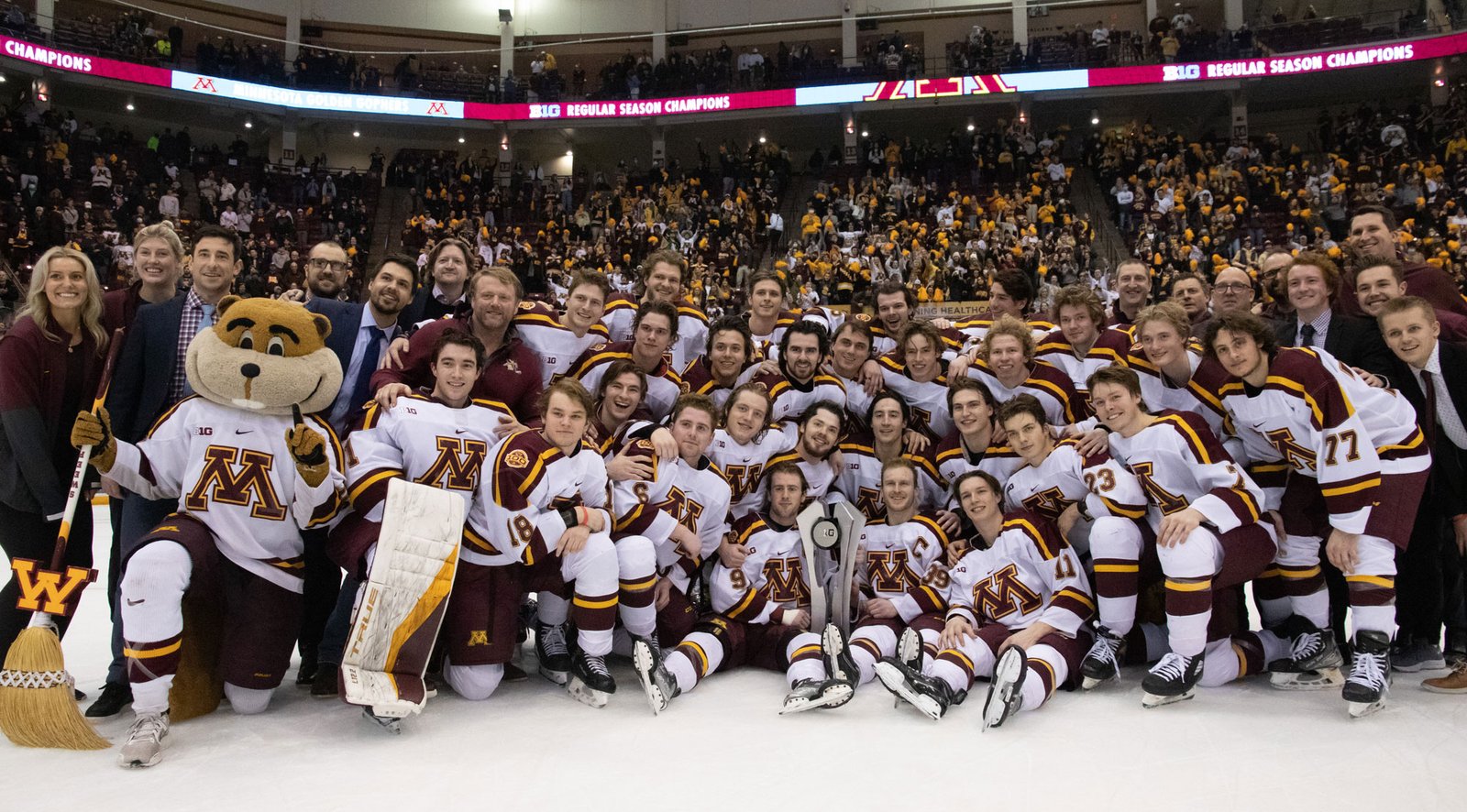 Minneapolis, MN – For the first time since 2017, the Minnesota Gophers are Big Ten regular season champions!
The Gophers (21RW-9RL-2OTW-2OTL Overall, 17-4-1-2 B1G) won their last eight regular season games and got a little help on the final weekend from Notre Dame, who swept the Michigan Wolverines at home, to emerge at the top of the conference table on the final day of the season.
The Badgers (7-20-2-2 Overall, 5-14-1-3 B1G) never were able to get anything going, frustrated by Minnesota's sound defensive and neutral zone play all weekend.
Wisconsin actually came out looking like a team with something to prove, and got a puck past Justen Close early to go up 1-0. However, the goal was disallowed due to goaltender interference, and that momentum shift ended up being the turning point in the game.
Shortly after, the Gophers got goals from Ben Meyers and Tristan Broz 21 seconds apart in the first to go up 2-0 at the first intermission.
Bryce Brodzinski scored on the powerplay to make it 3-0 after 2, and then Minnesota poured it on in the third. Goals from Sammy Walker, Mike Koster, Matthew Knies, Rhett Pitlick, and Grant Cruikshank put the cherry on top of the sweep and the title for the Gophers, who shut out Wisconsin in back to back games for the first time since the 1930s.
The title gives the Gophers a bye in the first round of the Big Ten playoffs, which means that they play next on Saturday, March 12th. They will face the lowest-remaining seed after the first round of the playoffs. If all higher seeds win, it will be Ohio State traveling to Minneapolis for a one-game set to advance to the conference title game.