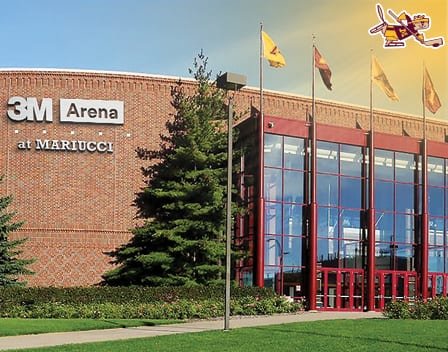 Minneapolis, Minn. — Seeking new revenue streams to fund their $169 million athlete village, the University of Minnesota announced a 14-year, $11.2 million sponsorship agreement with 3M on Monday.  The Gopher hockey facility will now be known as 3M Arena at Mariucci, and funding from naming rights will directly support construction of the new Athletes Village.
"I feel like we're enhancing our program, we talk all the time, we're such a visual element of the institution, and when you can align yourself and your program with a company like 3M and what it means not only to the state of Minnesota, but worldwide, what a great opportunity," said Minnesota Athletic Director Mark Coyle.
The University's Nothing Short of Greatness Campaign is now at $92 million in contributions for the facilities that will provide practice facilities for football, basketball, and strength and conditioning, sports medicine areas, training table, leadership center, and academic areas for the hockey program and other gopher sports.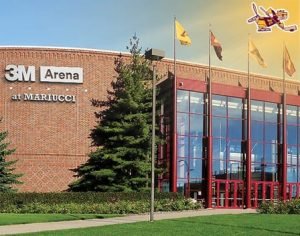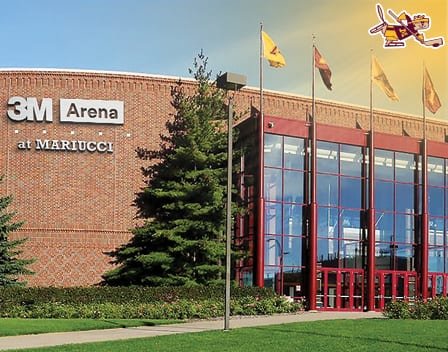 "We've got to give our student athletes a better opportunity to be better students and better athletes–and we need to do that through facilities," said Lou Nanne, the campaign's chairman. "We need to raise money to do it and we can't expect to get from the state or government, so we have to go out and do it."
3M's deal will contribute $800k per year in payments due January 1 and July 1 each year of the agreement, more than double the amount other institutions secured in rink naming rights deals such as Minnesota-Duluth's $6 million over 20 years with AMSOIL (AAV $300k/year), to Bemidji State's $2 million over 10 years with Sanford Health (AAV $200k/year), and to Minnesota State's $2.1 million over 20 years with Verizon (AAV $110k.year). The University's last naming rights deal for TCF Bank Stadium generates $1.4 million per year in a $35 million contract over 25 years.
Nanne said that the deal with 3M was two years in the making before Monday's announcement.
"I'm very fortunate that Inge Thulin, the CEO of 3M, and our wives have a great relationship. It all started when I took Inge and his wife to a game one night, said Nanne. "Inge is a big hockey fan, and I just said we got to explore looking into a partnership because you love hockey, we love hockey, 3M is so involved in this community, and nobody knows how big they are at the University."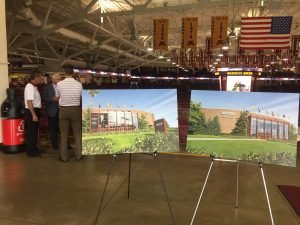 3M has given $94 million to the University of Minnesota over 90 years with academic scholarships, outreach campaigns, capital campaigns, and notes 1 in 5 of their top 100 executives at the company are UMN alumni. The rink will get 3M branding leading up to the season and 3M CMO Paul Acito said fans will see his company's products not only highlighting the 3M brand but also paying tribute to John Mariucci.
"When somebody says we're going to Mariucci, everybody knows where they're going–that's never going to change," Nanne said.
Coyle added that it was important for John Mariucci to still a part of this facility, and remain heavily recognized in this facility.
The 'Godfather of American Hockey' was an All-American defenseman for the Golden Gophers and led them to an AAU National Championship in 1940. He went on to an NHL career with the Chicago Blackhawks and then returned to Minnesota stacking his team with home-grown players in lieu of older, more talented Canadians like other college teams of the era. His Gopher teams finished as runner-up in the NCAA tournament twice, and a third-place finish during his 13 seasons as head coach.
Mariucci's beliefs grew the game in Minnesota, contributed to 11 Minnesotans earning silver medals at the 1956 Olympics where he was the head coach, the eight Minnesotans who won gold in the 1960 Olympics, and the 12 Minnesotans who won gold at the 1980 Olympics coached by Herb Brooks.
Gopher Hockey started playing in a building known as Mariucci Arena in 1985 when the ice rink was within Williams Arena. When they moved into their new building in 1993, the name came with them.
"Our father and grandfather was a life-long Minnesotan, and would have been thrilled to see 3M showing so much support for the University and for men's hockey," said John Mariucci Jr., speaking on behalf of the Mariucci family. "To have 3M, one of Minnesota's most respected and well-known brands, be a part of the rich history of Gopher hockey and the Mariucci legacy is exciting. We are happy that 3M and the U felt it was important to continue honoring our father and grandfather's legacy and kept the Mariucci name tied to the arena. It's a privilege for our family to be so closely associated with two of Minnesota's most recognizable and important institutions."
When Duluth signed their deal with Amsoil, they provided an external sign on the building, on-ice advertising, the use of a suite, 12 tickets and six parking passes. 3M will receive a suite with 20 tickets, 10 premium season tickets, 15 parking passes, four all access media passes, and two media parking passes. They signage will include brushed steel on the exterior main entrance, side of rink, front lawn, and could include roof signage at a later date. Branding inside the rink will include a center ice logo, on-ice logos on each side of the blue line, a backlit logo on all sides of the scoreboard, another backlit logo in the arena, and time on the video boards. The deal also includes suite level naming rights, dasher board ads behind each goal, and first rights for Zamboni branding.
Other interesting clauses include 3M can request Don Lucia, or the current head coach, to speaking engagements two times per year during the terms of the agreement, 3M has access to a high-traffic location in the arena during games to promote or display their products, and can use the facility two times each year for events.
"It's kind of the nature the way things are today, especially when you want athletic departments that are self sufficient," Lucia said. "We're so used to Xcel Center, Target Center, TCF Bank Stadium, that's the way it is now. I think people understand, alumni understand, that it's just the way of 2017 that you're going to have naming rights to venues."
"I remember touring with 3M here this winter, a lot of them had season tickets to our games, I think we have a pretty good brand with Gopher Hockey that they wanted to be associated with and we're proud of that."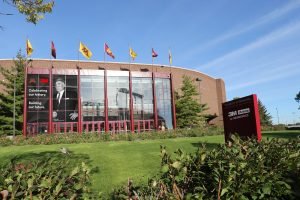 The Gopher men's hockey team will play its first games at 3M Arena at Mariucci on Oct. 1, an exhibition against Alberta, and then on Oct. 13 and 14 to open the Big Ten season against Penn State.
"We're just so thankful to have a corporation like 3M come out and partner with us here at the University and be part of Mariucci–which is the iconic name," Nanne said. "People realize Mariucci is a big name in Minnesota, but people should realize that Mariucci is a big name in the country, in my estimation no one has done more for American hockey than John Mariucci, he deserves to be recognized the way he always has been."