Power play goals, scrums, comebacks, overtime and a very loud arena.  "That had a little bit of everything" said a fairly happy coach Lucia, post-game.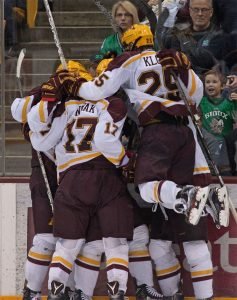 In a game that many fans of both programs had been looking forward to for years, the Gophers and Fighting Hawks did not disappoint.  A back and forth – and wildly entertaining affair – that saw the Gophers rally four separate times to tie the game, including twice with less than six minutes remaining, ended in a 5 – 5 tie that not many are likely to be disappointed by.
From the outset, the Gophers were on their toes and on the puck.  Their speed is fairly evident on the big surface – the Hawks didn't necessarily have trouble with it, but over the first twenty minutes the Gophers were challenging the Hawks with a more aggressive style than we've seen here lately.
But, North Dakota did pop out to a 2 – 0 lead thanks to a nice screen and then a nice skate-off-the-ice tip in.  Both goals were great plays by the Hawks.  The first goal was from the point to Schierhorn's right, and floated through two players tied up in front of him.  The seconds was tipped in by Austin Poganski with a really crafty play by lifting his skate  off of the ice and getting a tip-in that way.
The Gophers didn't let down much.  They used their speed to stay on pucks and eventually were able to gain puck possession in the North Dakota zone.  Ultimately they netted two power play goals – both off of good puck movement.  Took a little while on each to get open enough to generate shots from the point but a rebound goal by Vinny Lettieri and a lofting goal by Steve Johnson (to his own surprise) tied the game and most certainly gave the team some confidence and reward for their work.
"You take a punch early, with two pucks go in on three shots, you get a little shell shocked a little bit, but I mean our first period was really good" said Lucia.  "Guys played a good, smart efficient game, and they were able to come back right to the end."
The second period saw everything even out quite a bit but the Gophers still did an admirable job on the defensive side, holding the Hawks to seven shots in the period.  North Dakota got more aggressive in their own end and flustered the Gopher power play (unlike the first period) and ultimately it was tied due to a couple of excellent saves by Hawk goalie Cam Johnson.
The third period was where things really took off.  Six goals total, first round picks finally showing themselves and two late rallies by Goldy.
"I think we expected it to be…pretty intense" said Tommy Novak.  "Just, you can go back and watch YouTube videos on a bunch of things" concerning the rivalry, which was a common thread for everyone that spoke after the game.
Brock Boeser, rumored to be playing with a hand/wrist injury (and verified when he took his glove off on the bench) got it going when he whiffed on a pass from behind the net but got enough wood on it to slide it past Schierhorn, who flat out struggled & fought the puck all night.
Tyler Sheehy evened things up before Tyson Jost put the Hawks up with eight minutes to go.  Jost, who was invisible for two periods, really showed off his speed and talent in the third period, by walking through at least two Gophers and easily deking out Schierhorn for his first of the year.
"Elite players are going to make you pay when you make a mistake" said Lucia, preferring to slant the angle that way instead of focusing on some one-on-one battles that his defensemen lost.
But the Gophers wouldn't be down long.  Just a few minutes later, Brent Gates slammed home a shot from the slot and popped his jersey as he jumped into the glass next to the UND bench.
The Gophers were 38 – 36 on face-offs tonight but lost a few at the end of regulation and it almost cost them.  Jost won it clean with two minutes to go, back to Tucker Poolman at the point.  He skated clear to the net and his wrist shot alluded Schierhorn and it appeared another loss was in the cards.  But Lucia pulled Schierhorn for an extra attacker and just 42 seconds later, Novak found himself in the slot all alone and blasted a pass from Justin Kloos past Cam Johnson for the final goal of the night.
"I think that's when we are playing our hardest [with an extra attacker]…we gotta be able to play that hard when we have a lead, also." Said Tyler Sheehy.
The Gophers gained a power play with 1:45 to go in OT but couldn't get anything through.
The crowd was great (even with all of the empty seats), and it was just a fantastic college hockey atmosphere.  Should be a repeat of this tomorrow night; it's likely that this relatively young and inexperienced Gopher took advantage of playing the first of these games at home vs. in North Dakota but as Lucia noted "this is a game we can grow from".   The rematch is at 8PM on Saturday.