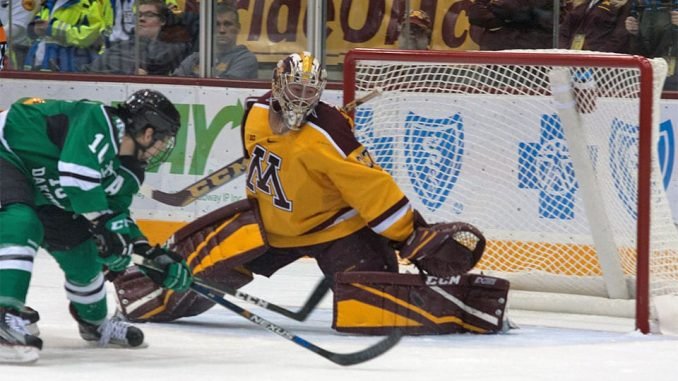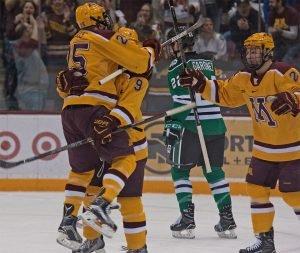 Minneapolis, Minn — Ryan Lindgren and Tyson Jost scrapped along the boards as the seconds ticked down Saturday and 10,310 fans stood in applause at Mariucci Arena as the first weekend of a rivalry renewed came to a close with a 2-0 Minnesota victory.
The #13 Gophers (4-2-2) got a bounceback shutout performance from goaltender Eric Schierhorn, and goals from Mike Szmatula and Vinni Lettieri in the victory over the #3 Fighting Hawks (5-2-1).
"[I felt] terrible after last night's game, our team puts up five at home, and we only give up 22 shots… we should win the game," said Schierhorn. "We out chanced them, we outplayed them, we out blocked them. We did everything. I didn't really do my part so it wasn't a good feeling."
Schierhorn has struggled a few times with Minnesota on Friday nights, but he's always responded well the next game. Saturday against North Dakota was no different as the sophomore kept the Fighting Hawks at bay during a couple of flurries in front of him. Last year's Big Ten Goaltender of the Year shut down North Dakota on numerous odd man chances especially at the end of the second period.
Schierhorn entered the game with 3.06 goals against average and a .875 save percentage, but made 33 saves on Saturday including one on a penalty shot to Brock Boeser to earn his fifth career shutout.
"Today was a special one, he bailed us out a couple times, that was big for us," said Szmatula. "We just build off of it every time he does it. Number one star of the game, no doubt about it."
Szmatula got the Gophers an early lead by scoring a power play goal just nine seconds into the man advantage. Tommy Novak won the draw to Jake Bischoff, and the puck came into the corner for Szmatula, who carried it across the top of the crease to tuck it into the far corner for his fourth goal of the season at 10:34.
The Gophers added a second goal 12:01 into the second period after Lettieri won an offensive zone face-off. The puck came back to Jack Glover, across to Steve Johnson for a point shot, and a big rebound was sitting for Lettieri to backhand over North Dakota goalie Cam Johnson for his fourth goal of the season.
"Tonight I thought we got into people a lot more, this is probably the most physical weekend we've had all year long and that's probably part of the rivalry and how we had to play this weekend," said Don Lucia. "If you're going to be effective on a consistent basis you've got to play through people."
Special teams also played a big role in the weekend as the Gophers killed off 7 of 8 chances and delivered when it counted. The Gophers were a man down with seven minutes remaining in the third period. North Dakota controlled the offensive zone right from the opening face-off during the opportunity, but Minnesota kept their shape, blocked shots, and never allowed the Fighting Hawks to work the puck across the ice.
"I think it's just Coach Guentzel back there telling us what to do. He's so smart back there, we all buy in and when we work as a unit of five including Eric, I like our chances," said Szmatula. "We wanted to make sure we blocked more shots, it just comes down to the will to win. Penalty kill is a huge part, I know penalties have gone up this year so we got to be especially tight on the penalty kill."
Schierhorn said he focused on simplicity with his game coming into Saturday, noting that's what's made him successful and Minnesota and that he was trying to do too much coming into this weekend. However, the goalie said the shutout didn't just belong to him.
"That was an absolute team effort. The shutout, it's a team shutout, it's not my shutout," said Schierhorn. "We had an absurd amount of blocks tonight, guys were selling out, guys did everything right, we executed our game plan to a T."
The rivalry weekend ended with the Gophers on a four game streak without a loss getting a win and tie against ECAC Clarkson and St. Lawrence and now a win and tie against NCHC North Dakota. Minnesota is off next weekend before a home and home against the WCHA's top team #10 Minnesota State and then a Hockey East trip to Northeastern and #5 Boston College.
"Now we have a week off to kind of catch our breath, we've had a tough stretch, we're 4-2-2, probably in a position to maybe had one more win, but at the same time we've only had 3 home games, we're back on the road for 3 of the next 4 game segment," said Lucia. "We just want to continue to take steps. You play an outstanding team like North Dakota and how hard they compete, it forces you to play a little bit higher level too–I think they certainly brought out the best in us this weekend."