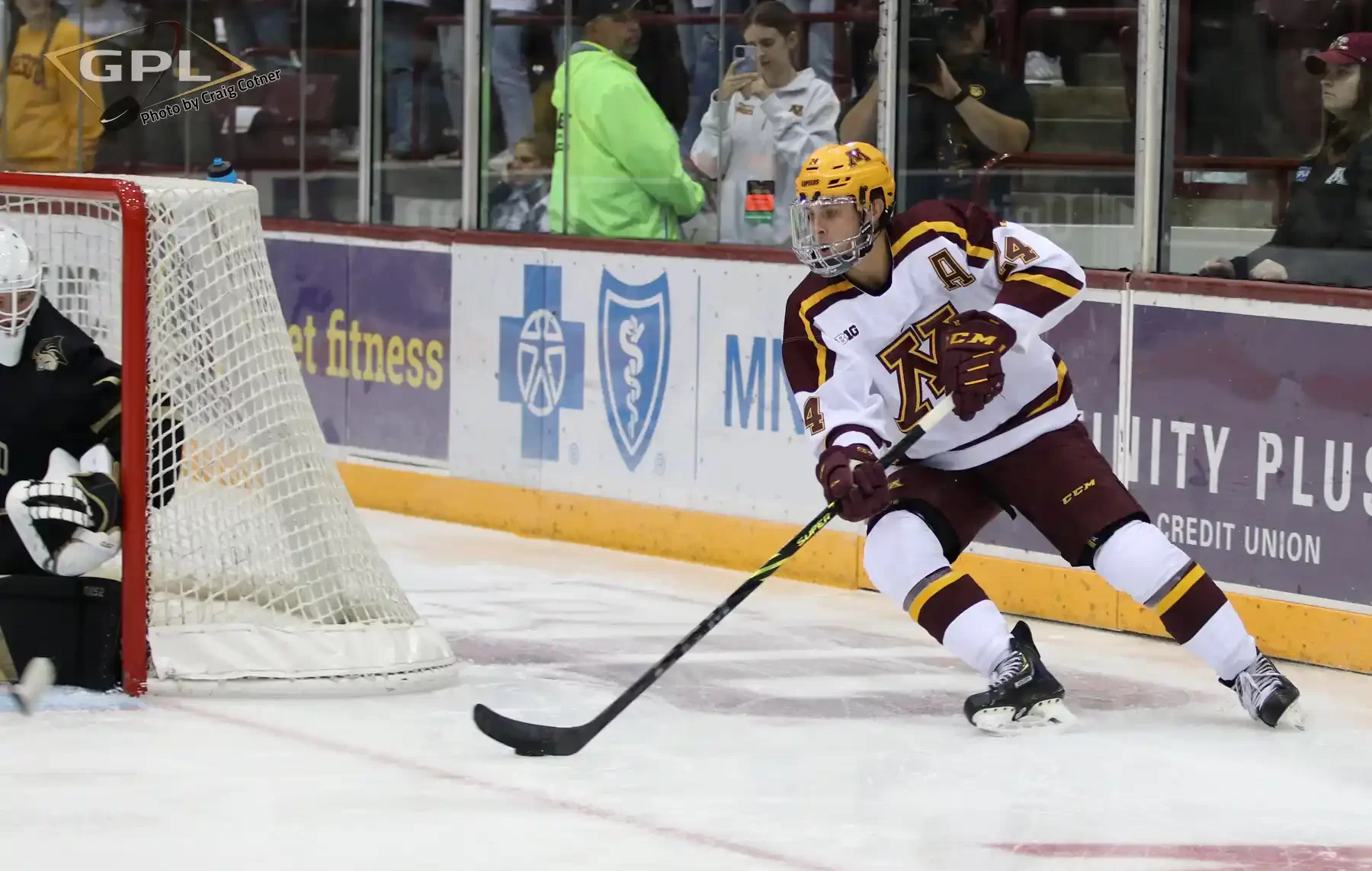 Minneapolis, MN – Coming into the season ranked #1 or #2 in all the polls, expectations are high for this year's iteration of Gopher Hockey.
As well they should be.
In head coach Bob Motzko's fifth season at the helm of the University of Minnesota hockey program, it looks like the team is finally taking on his image. The Gophers lost a lot from last year in Hobey Baker finalist Ben Meyers, thirty-seven year captain Sammy Walker, all-world goalie Jack LaFontaine, and rink rat Blake McLaughlin, not to mention several other guys with prominent roles.
However, the story of the 22-23 Gophers will be defined by who stuck around.
Minnesota returned the entirety of its best-in-class defensive corps from last year, including US Olympian Brock Faber. The Gophers also welcomed back Matthew Knies, another Olympian, while adding a star-studded freshman class highlighted by #3 overall pick Logan Cooley.
They all donned the 'M' for the first time this season Saturday October 1st, in a 4-0 home sweep of D-1 newcomer Lindenwood. The Lions did not look out of place on D-1 ice, but Minnesota's talent was overwhelming over the course of 60 minutes. Justen Close, last year's surprise goaltending story, looked every bit the part of this team's starter in the affair, making 16 steady and solid saves to earn the shutout. Jaxon Nelson scored the team's first goal of the year, while Knies picked up his first of the season and Cooley scored twice.
Saturday's game was a bit more interesting from a neutral perspective, with Lindenwood scoring their first D-1 goal and generally showing a bit more push. The Lions came back from 1-0 and 2-1 deficits to actually take a 3-2 lead at one point. After Minnesota scored twice to regain the lead at 4-3, Lindenwood again scored to tie the game at 4-4 in the third period. Two more third-period Gopher tallies put Minnesota in the win column at the end of the game.
Gopher freshmen Connor Kurth and Brody Lamb got their first Gopher goals in the game, while Knies scored his second of the year to tie for the team lead with Cooley. Frequent message board punching bag Bryce Brodzinski scored the game-winning goal, and his skating looks improved this season from this writer's perspective. Goaltender Owen Bartoszkiewicz earned his first Gopher win after joining the team mid-year last year (and not seeing any ice time). He stopped 27 of 31 shots.
The Gophers have a large freshman class this year, and it looks like many of them will play prominent roles. Cooley lined up alongside first-round pick Jimmy Snuggerud, and a bevy of other freshman forwards (Kurth, Garrett Pinoniemi, Lamb, John Mittelstadt, Charlie Strobel) looked good in the weekend's contests. Even with the returning blue-line depth, the Gophers started a couple freshman defensemen in Cal Thomas, Ryan Chesley, and Luke Mittelstadt – all three looked like they could contribute as the team grows over the course of the year.
Minnesota next faces off next against Minnesota-State Mankato this upcoming weekend in a Friday / Saturday home-and-home series. The Mavericks have ended the Gophers' season each of the last two years, using stifling defense and opportunistic scoring to smother the Gopher attack. Mankato lost 7-2 in an exhibition game against Nebraska-Omaha on Saturday, but their official season kickoff will be against the Gophers.