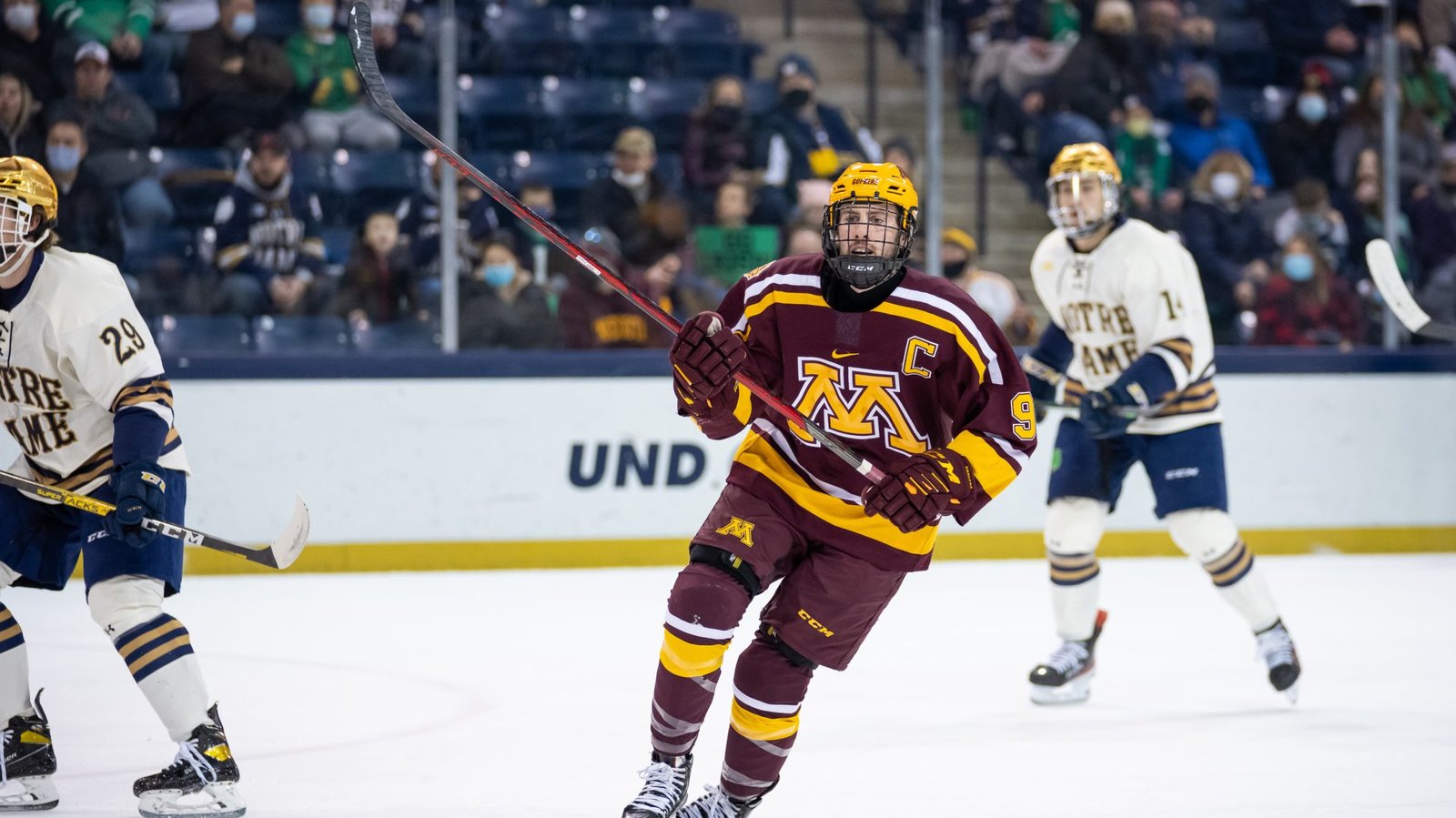 Gophers have games in hand with Buckeyes, but key upcoming series will have huge implications for conference race and best chance to make an impact to their PairWise Ranking during rest of regular season
Minneapolis, Minn. — Players coming into the locker room to start a crucial February stretch of Gopher Hockey noticed a new message on the team's white board last week, 'We Have What We Need.' Storylines throughout January focused on goaltender Jack LaFontaine signing an NHL contract with Carolina and their three Olympians Ben Meyers, Brock Faber and Matthew Knies missing at least six upcoming games while playing for USA Hockey in Beijing. Assistant Coach Garrett Raboin wrote the phrase reminding everyone that even with the unexpected departures, there was still plenty of talent in the room to lead them where they want to go.

Their head coach doesn't keep a league standings board in the locker room or show their PairWise Ranking as a constant reminder of what's at stake, but surely everyone in the room knew they were chasing Ohio State and Michigan in the Big Ten and an unsteady first half positioned them on the bubble for making the NCAA Tournament with a No. 11 spot in the PWR. How they handled the situation would be heavily decided by how the freshman took advantage of the extra ice time and how Justen Close played between the pipes.

"We know all the freshmen are very talented players and we know our talent will show and obviously with the Olympic guys gone we'll have more opportunities to show that. I think everyone in our team is a building block and we have everything we need," Rhett Pitlick said after the team's Friday 4-2 win over Michigan State.

"[The phrase on the board] really stuck and all the boys in the locker room love it, especially Bob. And I think it's true. We do have everything we need in the locker room and no matter if we're missing some guys, we still have guys that can step up. So I think we all have puzzle pieces that kind of fit and adjust."

The Gophers got the offense their coach hoped was coming during a must win series over the Spartans. Pitlick, Aaron Huglen and Tristan Broz got three of the team's goals Friday. The freshman provided energy all weekend and showed mature games that made their coach perhaps a bit more comfortable giving out more responsibility.

"Even without the Olympics, we needed all five [freshmen] to be big parts of our offense. That's one thing early in the year, I didn't single them out, you had to read between the lines, and I can say it now. We lost 40 goals and almost 50 with the three kids that we lost. We needed those freshmen to take the lion's share of it. And they are taking the lion's share of it," said coach Bob Motzko.
"All of them, they're strong, they're fearless. What happened [earlier in the year] was they weren't feeling confident because they weren't scoring and now they're past that uncomfortable level so they look comfortable out there."
Pitlick and Huglen in particular have shown an ability to play a 'ground game' where they can possess the puck for extended periods of time crucial to success as the season gets closer to March. Against the Spartans, Pitlick showed off his ability to create space with tight turning escape moves to lose defenders, Huglen showed his strength at using his body to protect the puck and Lucius displayed the playmaking that will someday flourish as a center in college hockey.
The Gophers have been very reliant on their 'Nine Line' of Meyers, Knies and Chaz Lucius for much of the season. The trio have scored 28 of the team's 94 total goals this season, Meyers is the team's best center in the face off circle and Meyers/Knies were often the first pair of forwards thrown out to kill penalties. Missing them means other players need to fill in the gaps and Motzko emphasized that not only we need what we have, but that we need what we have.
"Everyone's got to pull their share of the weight for this thing to keep moving forward. I think it's fun for them to get added responsibility in games whether it's penalty kill or power player or even in the lineup. It's true, we got enough good players here to keep winning… and we need wins right now to stay in the NCAA tournament. We're fighting for our lives right now."
Defenseman Carl Fish is another player who has stepped into added responsibility and tallied three assists over the weekend setting up both game-winning goals in the Michigan State series. The sophomore was named the Big Ten's Third Start of the Week after the performance, just one of many embracing the 'We Have What We Need' mantra.
"It's not just on me to step up. The opportunity is there and instead of having three guys fill those roles, I think everybody on the team combined are going to fill those roles," said Fish. "It's a team thing. We're not really looking for three guys to step up and do their job for them. It's kind of 'we're gonna play as a team and fill them all together as one.'"
"When the guys left for the Olympics, we were losing three big time roles in our lineup and we've had guys jump in and fill in their roles and we've been playing like that… we don't need any superstars. uou don't need anybody to try and step up and be a superhero. We play our game, no matter who's in the lineup, and we get the win."
The other bright sign for the Gophers was seeing consistency from their captain Sammy Walker against Michigan State. As their captain has performed, so have the results in the win loss column this year. During their 17 wins this season, Walker is +15 with 10 goals and one assist. During their 11 losses, Walker is -6 with just one goal and three assists.
Walker has always been at his best when using his elite speed and acceleration. It was on display often against Michigan State and he was finally able to get his first power play point of the season after scoring on a delayed penalty 29 seconds earlier.

"When we're getting on the scoreboard, I'm using my speed, we're playing fast, we're using our energy, getting on pucks and causing turnovers," Walker said. "That's kind of what we need to stay with and what is gonna work well."

Minnesota will need to have everyone contributing this weekend with the road trip to face Ohio State in a key series that could allow the Gophers to rise to No. 8 in the PWR with a sweep or fall to No. 13 in the PWR if they get swept. Their coach knows they're in for a real test and will need everyone pulling their weight to have a chance at success.

"They're one of those teams that don't beat themselves," said Motzko. "They're patient, they play ping pong. They don't look for the kill, they wait for it. They're methodical in their game. They have a lot of UMD in how they play."