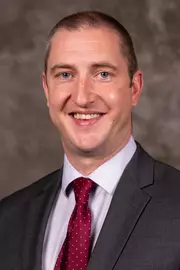 Jeff Winslow joined the Athletic Medicine staff at the University of Minnesota in 2007.  Jeff was appointed Assistant Athletic Director/Head Athletic Trainer for Olympic Sports in 2021.  Prior to that, Winslow served as Head Athletic Trainer for Olympic Sports from 2018 – 2021, as an Associate Athletic Trainer from 2016-18 and as an Assistant Athletic Trainer from 2007-16.
Since 2009, Jeff has had clinical oversight of the Men's Hockey program and Hockey Cheer Team. From 2007-09, Jeff provided athletic training services to the Men's and Women's Cross Country and Track & Field teams.
Jeff attended Winona State University in Winona, MN and graduated in 2005 with a Bachelor of Science degree in Exercise Science with an Athletic Training emphasis.  He then worked as a Graduate Assistant Athletic Trainer at Syracuse University and graduated with a Master of Science degree in Exercise Science in 2007.
Winslow is a Certified Athletic Trainer (ATC) and MN State Licensed Athletic Trainer (LAT).  He is a member of the National Athletic Trainers Association (NATA), the Great Lakes Athletic Trainers Association (GLATA) and the Minnesota Athletic Trainers Association (MATA).  Jeff is proficient in Upper and Lower Body Active Release Techniques (ART®),  holds certification in Graston Technique® M1 & M2, Blood Flow Restriction training (BFR) and is a Certified Strength and Conditioning Specialist (CSCS) through the National Strength and Conditioning Association (NSCA).  Jeff has presented at numerous local and international conferences/symposiums.
Jeff, a St. Paul, MN native, currently resides in Lake Elmo, MN with his wife, Holly, and two children, Isaac and Lucy.