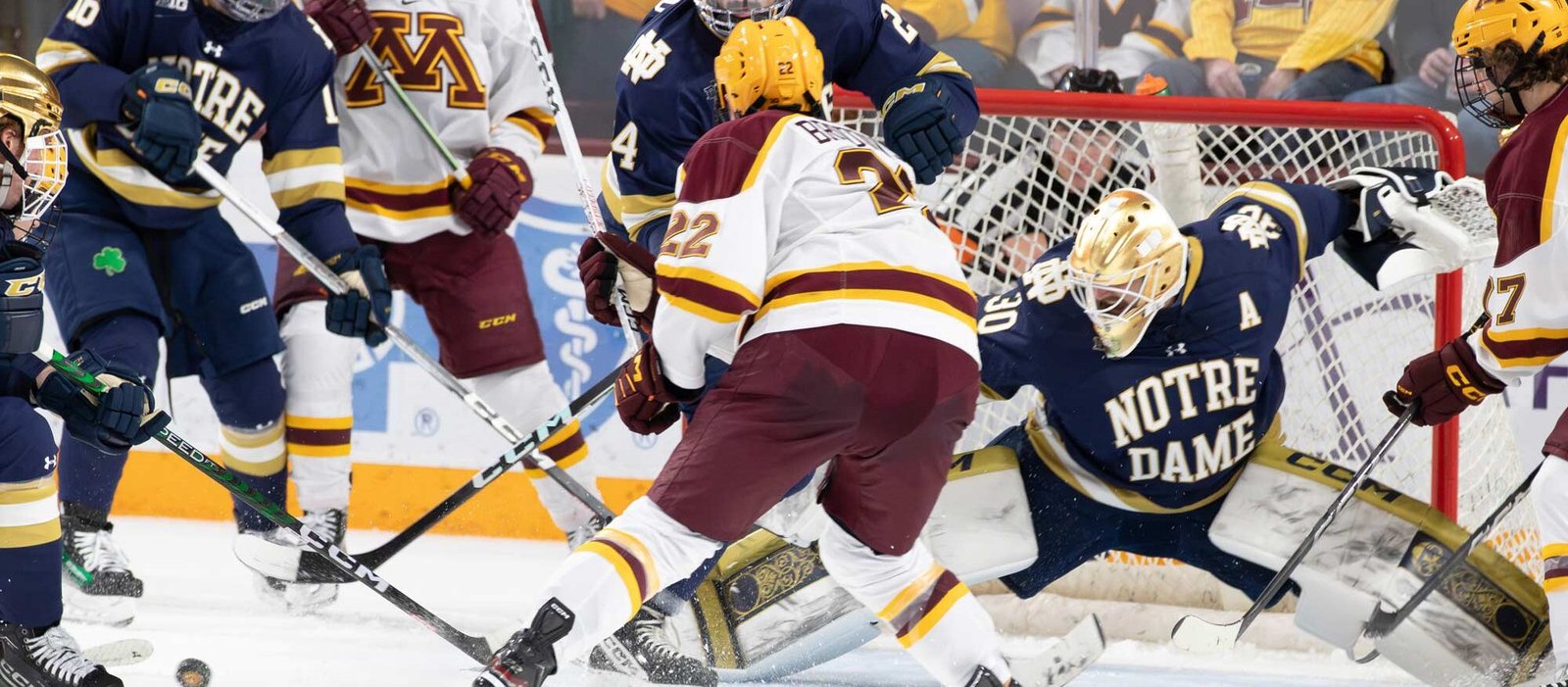 Minneapolis, MN – Behind 33 saves by 1st Team Big Ten goaltender Ryan Bischel alongside a bevy of blocked shots, the Notre Dame Fighting Irish spoiled the homecoming for the Minnesota Golden Gophers (5-4-1 Overall, 1-3-0-1 B1G), taking the lead in the 3rd and never letting go to win Friday's contest by a 4-2 margin.
Minnesota was giftwrapped a golden opportunity early in the first, when two Notre Dame players went to the box within the first few minutes of action. Unfortunately for the Gophers, despite good quality chances, they could not take the lead on the man advantage.
Minnesota did strike first, going up 1-0 on a Rhett Pitlick rebound goal. Notre Dame responded just a few minutes later to even it up at 1-1 after the first.
The Irish took their first lead of the game on the first shift of the second period, stealing the puck behind the Gopher net and wrapping it around to beat goalie Justen Close to go up 2-1. Minnesota tilted the ice in their favor throughout the period, generating tons of quality chances, and finally dented the twine to tie the game at 2-2 on a Jimmy Snuggerud power play goal with less than five minutes remaining.
Notre Dame would end up victorious, though, as Minnesota miscues continued to mount in the final frame. The Irish scored on a great mid-air pass catch by Drew Bavaro, as the Irish forward knocked the puck to his stick and fired a one-timer through the five-hole all in one motion.
ND tacked on an empty net goal to win the game by a 4-2 final margin.
The two teams square off Saturday night in the series finale, with Minnesota looking to avoid going 0-4 in their first four Big Ten home games. The puck drops at 7PM.