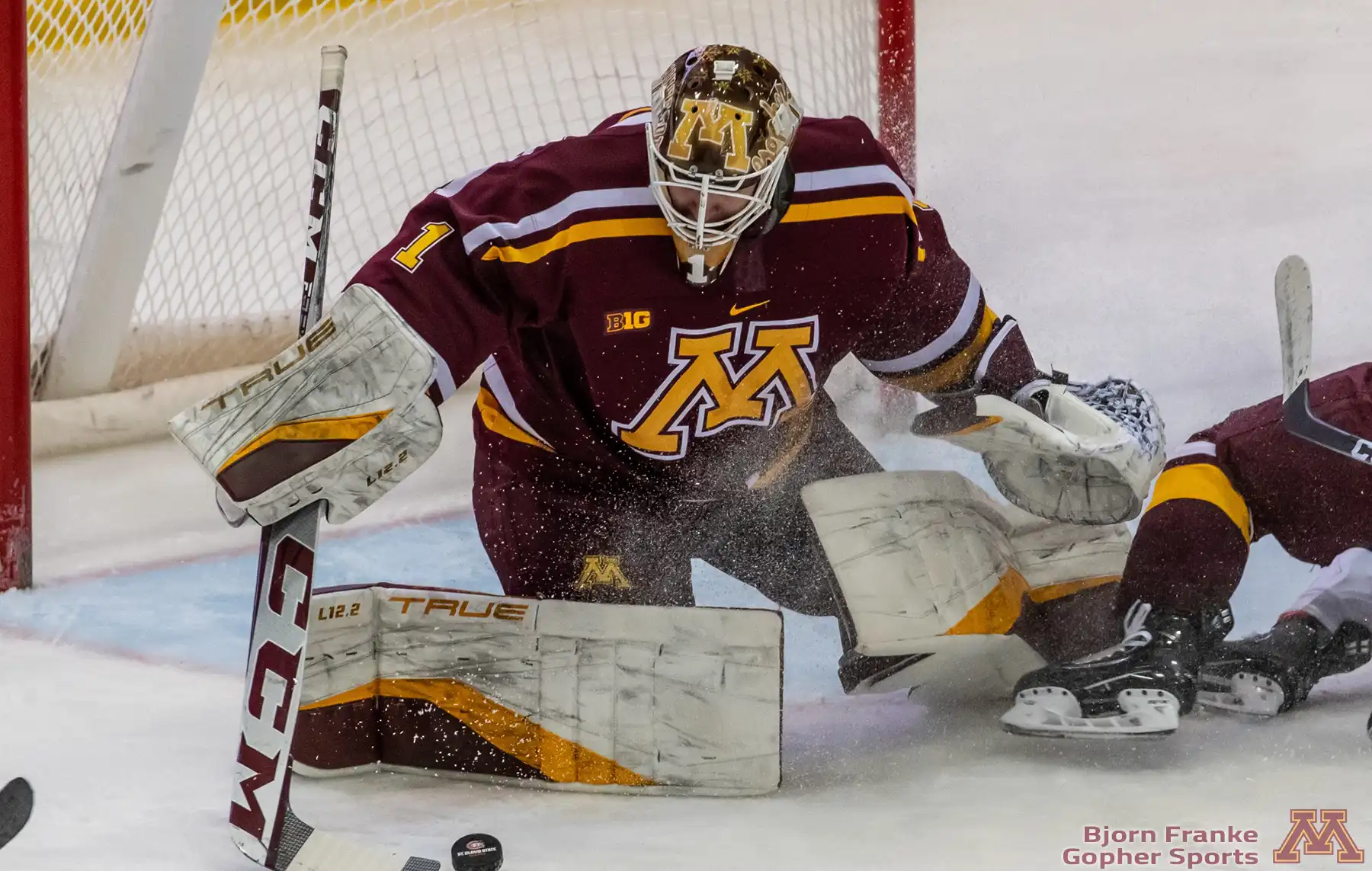 St. Cloud, MN – In the first of two heavyweight bouts, St. Cloud delivered a haymaker.
The hometown #4 Huskies (14-4-1-0 Overall, 6-3-1-0 NCHC) rode a second period goal all the way to victory, tacking on two empty netters at the end to beat the visiting #3 Gophers (14-4-1-2, 10-2-0-0 B1G) by a 3-0 score. It was the first time this season the Gophers had scored less than two goals in a game, perhaps a sign that Minnesota is shaking off the rust of the holiday / World Juniors break.
An evenly-played game throughout, Minnesota couldn't get much offensive flow going throughout the contest. SCSU netminder Jaxon Castor was strong throughout, stoning an early Gopher chance from Logan Cooley and otherwise doing what he needed to do to keep the puck out of the net.
In what must have been an emphasis from the coaching staff, Minnesota continually fired long-bomb passes out of their own zone, rarely connecting and often losing possession in the process. It was an unwelcome departure from the Gophers' typical strong breakout game, and the Maroon and Gold didn't enjoy their transition rush offense quite as much as usual.
The Gophers actually did get on the board first in the second period when Jaxon Nelson deflected a Ryan Johnson shot past Castor, but the puck was tipped in with a high stick so the goal was waived off.
The only real goal of the game came on a Minnesota mistake at the offensive blueline. On an offensive-zone faceoff, Cal Thomas got caught in no-man's land with a puck high in the zone. The St. Cloud forward pushed the puck past Thomas and was off to the races. Minnesota's defense was able to direct the rushing Husky behind the net, but an against-the-grain pass back out front eventually found SCSU's Aidan Spellacy, whose deflected shot from point-blank beat Gopher goalie Justen Close glove-side to give the Huskies a 1-0 lead.
That lead would hold up the rest of the game, despite two Gopher powerplay chances in the final half of the contest and a flurry of quality scoring opportunities with the goalie pulled.
St. Cloud tacked on two empty net goals to make the final score 3-0 in favor of the Huskies, with former Gopher Grant Cruikshank scoring the third goal of the game to punctuate what must have been an emotional night for him.
Despite the loss, Minnesota maintains their #1 overall position in the Pairwise rankings, while the win jumps St. Cloud up to #3.
The series heads back to the Twin Cities Sunday, as Minnesota and St. Cloud square off in the rubber match at 3PM. The game can be seen on Bally Sports North, streamed on BTN+ and Bally Sports+, and heard on 1130AM and 103.5 FM.