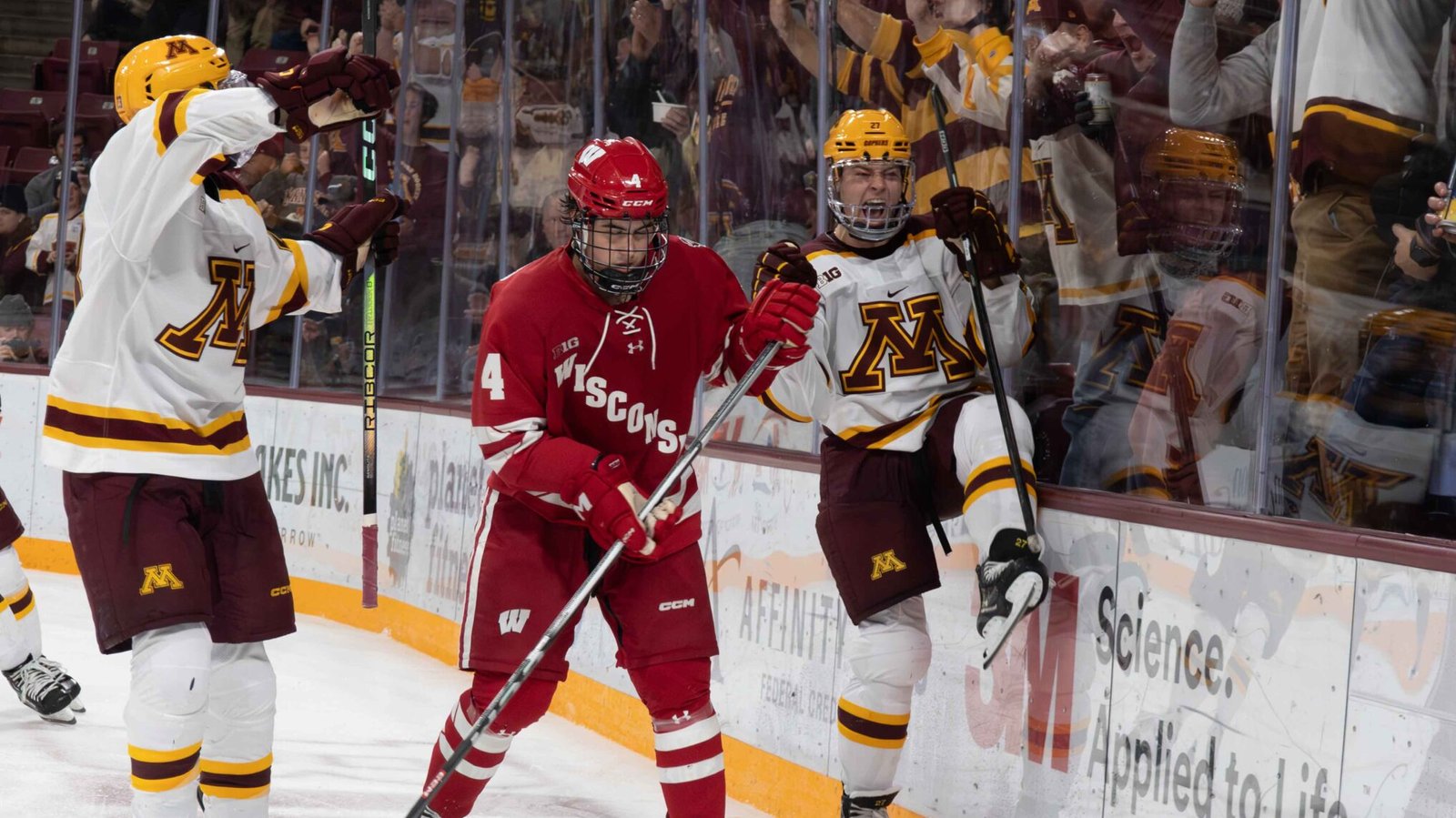 There have only been four Big Ten conference games played so far this season, but it's a little odd to see Wisconsin on top of the league standings to start the season. The Badgers came to Mariucci and left with all six points by sweeping Minnesota last weekend.
"Guys… it's October," said Wisconsin coach Mike Hastings. "It's big. I'm happy for people back in Madison and our followers, but at the end of the day, Monday will come and Michigan's coming to town. It's not going to get any easier."
The other Big Ten series played so far ended up with Michigan getting four of the points from their series with Ohio State. Those results mean Minnesota is at the bottom of the league standings and won't get a chance to improve on that place until after their series with Minnesota Duluth.
"For me to overanalyze, it's a waste of time," said Minnesota coach Bob Motzko. "I've only had a few teams in my entire career that have started a year on top of it and last year happened to be one of them. Every team's got to re-establish their mantra, they have got to re-establish how it's done and for the most part until last Thursday we were fine."
Motzko said if his team wouldn't have bounced back with a better effort in the second game with Wisconsin, then he would have been a little concerned. However, it was apparent that his team responded the right way after a 76 clip film session Friday morning of their 5-3 loss and just came up a little short in a 3-2 loss.
Snuggy Sniping School
While Jimmy Snuggerud didn't tally any points against Wisconsin he leads the team with five goals scored and 24 shots on net. The sophomore had his lowest output of the season with one shot on net from three attempts Thursday and responded with six shot attempts Friday that all tested the goaltender.
Snuggerud is often seen on the ice after practice ripping one-timers and getting his reps in whenever he can.
"It varies in the summer and in the season a lot, but in practice I probably get around 150, 200 shots off and then after practice, I try and stay out there 30 minutes shoot around for 100 more," said Snuggerud. "I think I probably shoot 300 to 400 pucks a day… I think it adds up to a lot, maybe 2500 pucks a week just kind of ripping it and trying to dial in that shot."
Shooting all those pucks means he goes through about four or five sticks a month and his stick of choice right now is the CCM FT6 and he updated his curve a couple weeks ago opting for a blade that's a little bit more on the ice.
Recruiting Update
While the season is underway, recruiting is the lifeblood of a college hockey program and never stops. Motzko added two new players to the list of verbals recently when Leo Gruba and Erik Pȧhlsson announced their commitments on instagram.
Gruba at 6' 2" is not quite as tall as some of the recent commits, but the Hill Murray HS product is atop the USHL scoring leaders with Fargo right now in his third year of junior hockey and flipped his commitment to Minnesota after previously being tied to St. Cloud State where his dad went to school.
Erik Påhlsson wasn't always sure the college path was going to be the right fit for him, but the center leads USHL forwards in scoring with Dubuqe and he'll turn 20 next April.
The Gophers have 15 players who have verballed to play at 3M Arena at Mariucci, but it's unclear just how many will be on campus next season. Beckett Hendrickson signed his NLI last year and Owen Bartoszkiewicz said his plan is to come back next season as well. The National Letter of Intent signing period for 2024-25 starts on November 8 and should clarify which players intend to be attending the signing institution for the upcoming academic year.
Koster Returns to Lineup
Mike Koster is ready to start his senior season on the ice this weekend against Minnesota Duluth. The assistant captain has shown growth each season scoring 12 points as a freshman, 14 points as a sophomore and 29 points last season on a very deep Gophers blueline. Motzko is anxious to get him into the lineup because of the smarts, skill, patience, poise, directing traffic and ability to shoot the puck that he adds to the team.
"Our power play is not resembling a good power play, we have guys pressing, we're hurrying shots, we're not shooting when it's there. We're not in the groove," said Motzko. "I can tell you with Mikey back, it looks a little different this week when you put a senior out there. We have some work to do on the power play."
Minnesota's power play is 3 for 15 so far this season, but went 0-4 against Wisconsin and didn't look very good with only three shots on net during the advantage.
Lines in Flux
Motzko shook up the lines a little bit during the series with Wisconsin elevating Jimmy Clark and Charlie Strobel into more prominent roles. Clark centered a line with Brody Lamb and Rhett Pitlick and scored a game tying goal early in the third period Friday. Strobel played Saturday on the left wing on a line with Jaxon Nelson and Mason Nevers after scoring a goal on Thursday night.
"We got things changed around. I have no idea what the lines are," said Motzko. "That's partly on [the players] and it's partly on [the coaches]. We've got to figure it out together and I told them in a way that you got to take responsibility for this too. The good thing is, I don't know if it really matters… we're pretty deep and once we get going, we'll figure it out."
Clark has been a suprise to the linuep this season to many. He was one of the late adds to the roster after Logan Cooley decided to turn professiona, but his celebration after the goal against Wisconsin might have reflected how he isn't as surprised as the rest of us.
Neck Protection
The death of Adam Johnson last week sparked a lot of conversations in the hockey world about if players should be wearing neck protection going forward. Most hockey players haven't grown up wearing anything to protect themselves in vulnerable spots from skate blades, but then again not many old time players grew up wearing helmets or face shields that are common sense today.
Minnesota has ordered neck protection for its players according to Motzko and they're going to promote it to them. Ultimately the decision to put on that extra layer is going to be up to the players.
"I just don't wear it because it's not very comfortable, but if it ends up being something that they decide needs to happen, then I think everyone will be fine with it," said Nelson. "Hockey is a high speed sport and freak accidents like that happen. It's not something I really think about, but obviously it's in the back of my mind."