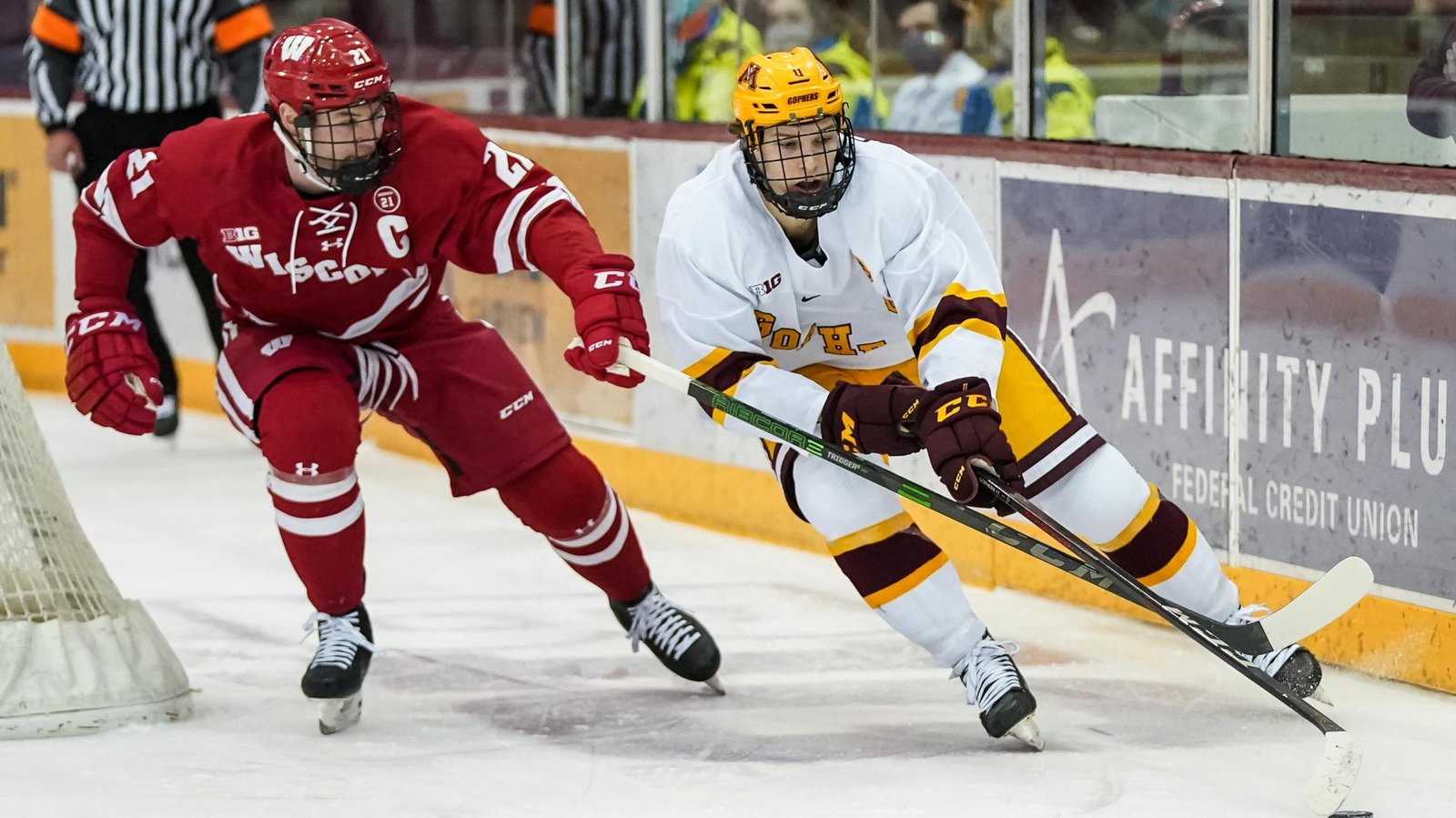 Minneapolis, Minn. — Starting the season with ten straight victories raised optimism for Gopher Hockey this year. Coach Bob Motzko had a veteran roster that showed down the stretch of the pandemic shortened 2019-20 season that they were starting to understand the style of play preferred by their coach and it seemed like banners were possible if COVID didn't derail the college hockey season.
Instead, after getting swept 1-4 and 1-8 to Wisconsin, the coach is trying to make sure his season doesn't get derailed by a drop in performance.
"My first reaction is we've got to keep the ship even keeled right now. We just came off a high streak, now we're at a low streak," Motzko said after Saturday's loss. "Let's get back to even keel because we know how good we can be."
The coach followed that up on his radio show Monday by explaining the Gophers are not a high caliber offensive group despite scoring 30 goals over four games against Arizona State and Ohio State, but they have enough to be successful if they play with more honesty in their game.
The question looming for Minnesota in their series against Notre Dame is, 'what does an honest game look like?'
Sophomore forward Jonny Sorenson said his team needs to have energy, speed, two guys on the puck, three guys in one shot and players with legs moving on the forecheck to be effective. When they're off their game forecheckers guys flyby the battle and fail to stop on pucks. He admitted that against Wisconsin there was too much of the latter and they saw it in film before starting their week of practice.
The Gophers quickly fell behind 2-0 starting Saturday's game when Jaxon Nelson aggressively chased Tarek Baker into the corner his first shift drawing a five minute major boarding call and then Ben Brinkman got caught cross checking later in the period. Putting Wisconsin on the power play was not in the game plan, but it was the slippage to detail and response to the adversity that drew Motzko's ire.
Throughout the game, forwards didn't engage on the forecheck and gave Wisconsin easy breakouts. Just one minute into the game you can see an F1 cheating to cut off a reverse which puts his F2 into a situation where he now gets caught below the circle and F3 isn't even in the shot to help on the forecheck. The play results in an easy entry for Dylan Holloway who clearly took advantage of these situations all night long to tally five points.
The legs are moving for the first two forecheckers coming into the zone, it's just a lack of detail that was there during the first stretch of the season and can cost you when playing against better competition. If the Gophers are going to be successful going forward they need to play honest in these situations and work as a unit when putting the puck in deep.
Looking back at the film from Wisconsin and a few other series show times where there is a disconnect between what they're being coached to do and executing it well. This possession is short lived because the puck is thrown into the corner, one player maybe makes a physical play and then the support just isn't there with a flyby F2 and an F3 not close enough to make an impact.
An essential part of successful forcheckers is being on time for the dance — it's too easy here for the Badgers getting the puck out of their zone on both of these chances.
When Minnesota has fallen behind against Notre Dame and Wisconsin, possessions have been short lived because players start to force plays that are not there or have a low percentage of being successful. As forwards rush up the ice, putting it all on them skating through the opponent rarely will be productive and just force them to head back to the defensive zone.
Motzko this week didn't directly respond to if players had a 'yellow light' on making fancy plays, but rather players can make fancy plays after hard work where they can create some chaos. 
"The fanciness comes out when you're playing hard. You make your best plays when your blood's pumping and you're moving your legs and your physical, that's when you get into it," Motzko said. "When you're not into it, you're not catching passes quite as crisply, you're not burying pucks when you got open nets and that's the only way to play the sport. And for the most part, you know, we've been pretty good this year, but when we haven't been pretty good, there's been an arrow pointing to that part of our game."
Drilling down the message meant hard skate on Monday as Motzko shared with the media that his players owed the program something after their performance.
"That's not one you forget," Motzko said. "We have to wear that one. We owed the program an hour and Monday we had to pay back the program."
"Our forwards in some of those games, especially at home, have to do a better job of taking more of a leadership role in how we want to play. I put in a little finger point right now to our forward group. When things haven't gone well and you watch the film, you can't hide from it."