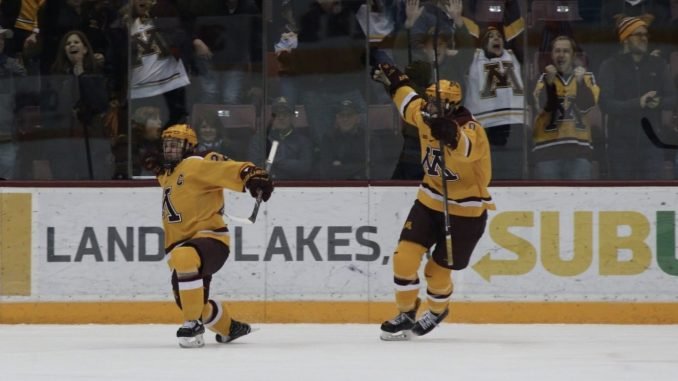 Pitlick Scores Seventh Goal, Sheehy Finds Fourth Goal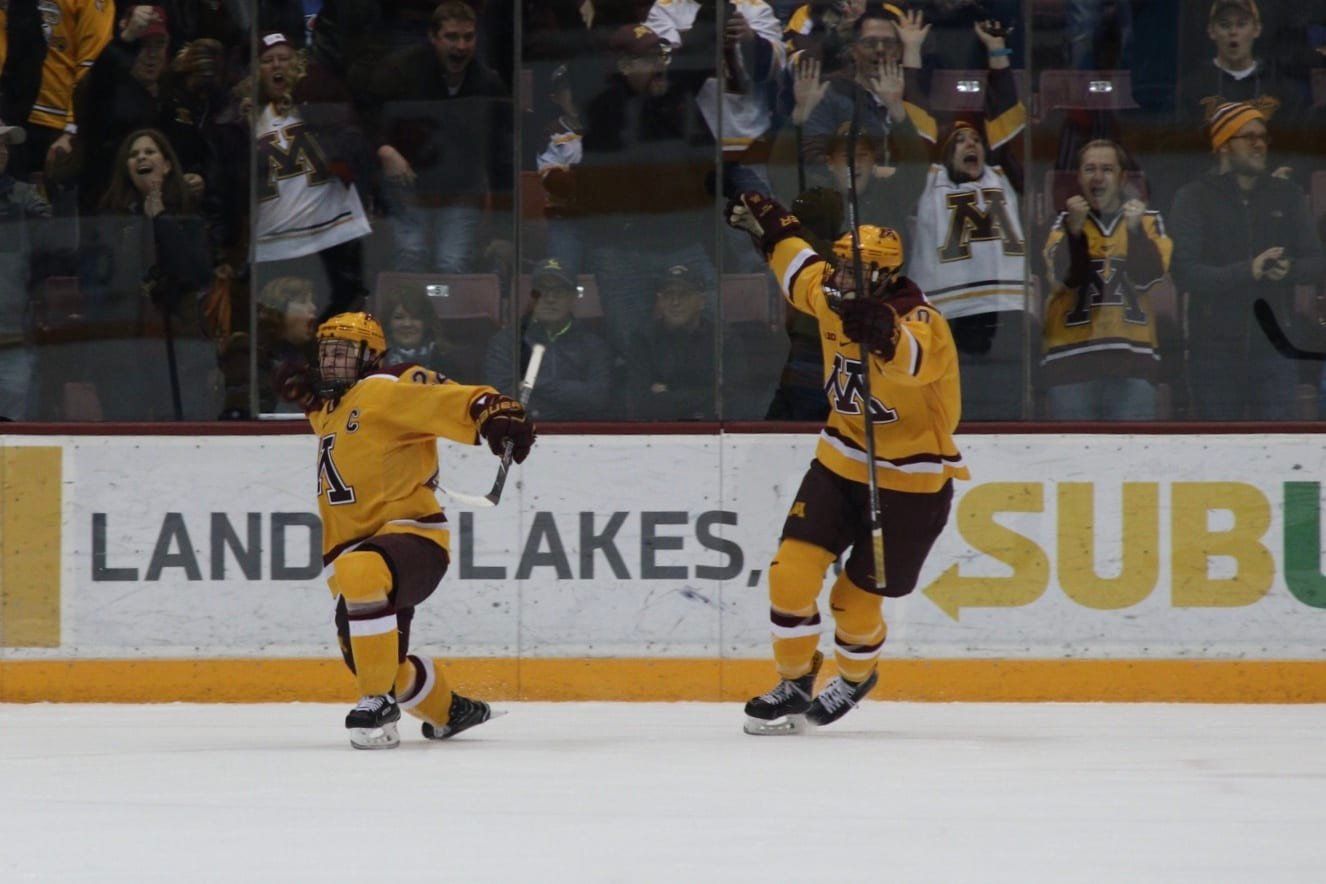 Minneapolis, Minn. — Harvard goaltender Merrick Madsen made Minnesota anxious Saturday as he stonewalled the Gophers for over 54 minutes, but late goals by Rem Pitlick and Tyler Sheehy earned No. 7 Minnesota the sweep in front of 8,845 at 3M Arena at Mariucci.
Madsen made 48 saves on the night, looked comfortable, challenged shooters with his 6' 5" frame the whole night and it took 50 shots for the Gophers (9-4-1, 3-2-1-1) to get the win.
"It took a rebound to go in, and then it took a backdoor where the goalie had no chance," said Gophers coach Don Lucia. "We didn't beat him clean on a shot tonight, but that's the way he was playing."
Madsen carries a career 2.09 GAA and .924 save percentage as he continues his senior season and is a big reason the Crimson were in the Frozen Four last season and were picked to be ECAC champs this year.
Gopher Power Play
Minnesota has struggled a little bit on the power play this season converting at just under 15 percent (8-54) coming into Saturday, but got a key goal in overtime from Sheehy 35 seconds into overtime.
The key to the goal was a possession play between Casey Mittelstadt and Pitlick, getting the puck away from the Harvard penalty killers over to Brent Gates Jr. Once Gates Jr. got the puck he made a pass across the crease to Sheehy on his off-wing attacking the back post.
"That one felt good, that was one of my favorite goals I've scored," said Sheehy. "Just because I think we deserved to win tonight. Coming out with anything less than a win, would have been kind of unacceptable."
The board battle was a key win for Minnesota as Pitlick admitted he had made some turnovers on previous power plays, and allowed them for their best scoring chance of the night.
"Unfortunately the last goal we don't give him a chance to make a save, we got a little bit aggressive, maybe could have had a little better stick position." said Harvard coach Ted Donato. "They've got great players and they make great plays, they're an excellent team, well coached, play with a lot of energy. When they scored that first goal, they certainly took advantage of the momentum."
Heavy Shifts
Over the course of the season, Lucia has been looking for his team to play Gopher Hockey. It's a style that requires clean first passes, sustained pressure, and lots of shots. So far this season Minnesota has only topped 30 shots in three games during a win over Union 2-0 with 36 shots, a win over Penn State 6-3 with 32 shots, and a 4-5 OT loss to Michigan with 31 shots.
"I liked the pace we played at, the relentless attack tonight," said Lucia. "Our D did a good job keeping the puck going up the rink to our forwards, we got to some loose pucks."
Sheehy said they knew playing against Madsen meant they needed to get as many shots on goal as they could, and he was aware they haven't gotten over 30 shots many times this year. With some much Gopher possession, Harvard only managed 16 shots on Eric Schierhorn.
"Anytime you have the puck as much as we did, we were playing a heavy game in their zone–they're not going to get too many opportunities," said Sheehy. "Coach even said before the game maybe we should start counting how many heavy shifts we have during the game, I think that was a point of emphasis going into the weekend."
Schierhorn wasn't untested though and to make a few big saves in limited action, including one on Edina native Henry Bowlby in the third period.
"I think it's no secret that every kid in Minnesota, has a twinkle in their eye for the U and they should but for a guy like Henry to be able to come in, play well, and score a goal each night is pretty special," said Donato. "Obviously I think he would've liked it to be in a better outcome–I saw him have the chance there late in the third, where he broke in, he came back to the bench and I think he said, I really would've liked that one."
Pride on Ice?
Attendance is down this season with announced crowds averaging 8,118 so far this season, but Saturday's crowd was the biggest of the season so far and saw entertaining hockey.
"The fans behind us it was great game, great turnout tonight, everyone was into it mind, body, spirit, it was a cool win that's for sure," said Pitlick. "Tonight and North Dakota last year, I think those two are definitely up there as the best crowds/atmospheres we've had in my time here."
Lucia said it was a good weekend against a good quality opponent,
"it was good hockey. I like playing teams like Harvard, they play the game the right way," said Lucia. "They play hard whistle to whistle, not much stuff after, they play a good skating game, and our fans had a very entertaining weekend of hockey."
The Gophers extended their series history to 24-7-0 against the Crimson, but the two schools are certainly ones that could see each other again in the playoffs.
"I think we have a lot of a respect for them, they are year in and year out one of the best programs in the country and I think they play hockey–it's not a tough guy competition, It's two teams that want to get up and down the ice, and make plays," said Donato.
"It was an entertaining game for one that was only 2 to 1, as much as it was a tough pill to swallow, it's a good learning experience for us to play in this kind of environment. It's something that we hope to have the opportunity towards at the end of the season. Whether it's in the beanpot for us, ECAC championship, or anything beyond that, you have got to be able to play in front of a hostile fans and be able to bend and not break. We did it for a lot of the night, but not good enough."
Next Weekend
Not that Lucia has next weekend's series circled on the calendar or anything, but when talking about takeaways from the weekend, he was quick to point out the tough six-game conference schedule ahead starting with the Big Ten's top team in the standings Notre Dame. The Fighting Irish have won all four of their conference games this season and are 10-3-1 on the season. Friday's game is a 6:30 start on NBCSN and Saturday's game at 6:00 will be streamed on the NBCSN app.