Grand Forks, ND –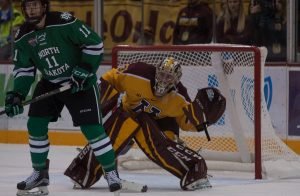 Eric Schierhorn stood on his head, stopping 34 of 35 shots as the Minnesota Gophers (3-2-0 overall, 1-1-0 B1G) eked out a 2-1 win over the North Dakota Fighting Hawks (3-2-0 overall, 0-0-0 NCHC).
The 10-minute game has been a constant mantra for head coach Don Lucia in the young season, but the Gophers did not seem to be all that prepared in the first ten minutes of this contest.  UND led the shots 9-1 at the 10-minute mark, and it looked like the game may be heading toward another Friday letdown.
However, Schierhorn was sharp, keeping the Hawks off the board and keeping the Gophers in the game.  Minnesota was able to get the all-important first goal of the game at 11:00 of the first period, when Rem Pitlick took a Casey Mittelstadt pass through the center of the ice and beat Hawks goalie Cam Johnson to put the Gophers up 1-0.
Minnesota ended the first period down 11-10 in shots, but North Dakota turned up the offensive pressure in the second and third, outshooting the Gophers 24-8 in the final 40 minutes.
Gopher goalie Eric Schierhorn was on form all game, turning aside chance after chance launched at him by the Hawks.  North Dakota had three powerplay chances in the second, and a combination of stout defense and strong goaltending kept the home squad stuck on zero goals through the second stanza.
The teams entered the third with Minnesota continuing to hold a slim 1-0 lead, and the next goal was critical for both teams.  Schierhorn kept the puck out of the Minnesota net, and the Gopher offensive attack was able to convert on an odd-man rush.  Steve Johnson fired a wrister on a Rem Pitlick 3-on-2 pass, and his laser got past Johnson to give Minnesota a two-goal lead with just under eight minutes to play in the 3rd.
North Dakota would respond – Rhett Gardner scored on the powerplay at 13:40 to draw the Hawks within one goal at 2-1.  The rest of the game was a frenzy, as North Dakota pressed to get the tying goal.  With Johnson pulled, the Hawks could not get another past Schierhorn, and Jack Ramsey blocked a UND slapper with seconds remaining to seal the game for the Gophers.
The Gophers are now 1-2 on Fridays, and 2-0 on Saturdays.  Minnesota looks to add to their unbeaten Saturday streak as they face off against North Dakota again Saturday night.  The game is not televised in the Twin Cities, but is on the iHeart Radio network, and can be streamed (for a fee) on NCHC.tv.
Go Gophers!