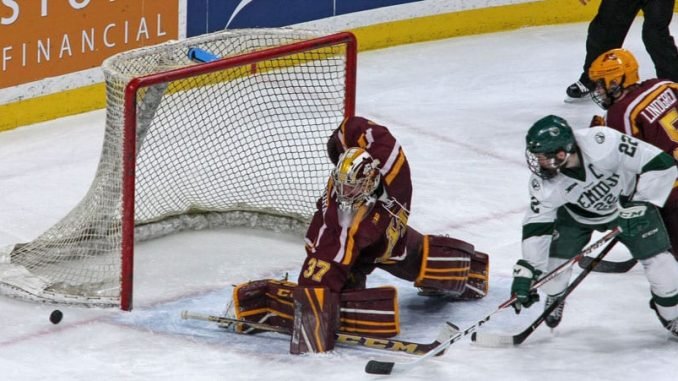 St. Paul, Minn. — While watching the Gophers first three pairs of defensemen give up three consecutive breakaways, Don Lucia had visions of Vince Lombardi yelling what the hell is going on out there. Fortunately for Minnesota, Eric Schierhorn knew exactly what was going on out there as he stopped all three chances and made 25 saves for his fourth shutout of the season in a 4-0 win over Bemidji State in front of 11,098 in the North Star College Cup.
"That was a game he gave us an opportunity because I don't know if we forgot the game started at 4:05 or what," said Lucia. "He made some critical saves there and allowed us to settle in."
#6 Minnesota (15-7-2, 6-2-0-0) got depth scoring from Leon Bristedt, Ryan Norman, Taylor Cammarata, and Justin Kloos in the win over the WCHA's top team #20 Bemidji State (16-11-3, 16-4-2-2). The win was only their second regulation win in the four years of the North Star College Cup and came after losing their seventh straight to #2 Minnesota Duluth the night before.
"The message [before the game] was these guys are top of the WCHA, it's looking like anything can happen, but it's looking like they're going to win their league, so that helps us in the Pairwise," said Schierhorn. "We knew it was important regardless of that it was 4 in the afternoon and we weren't playing a championship, we still knew it was a big game."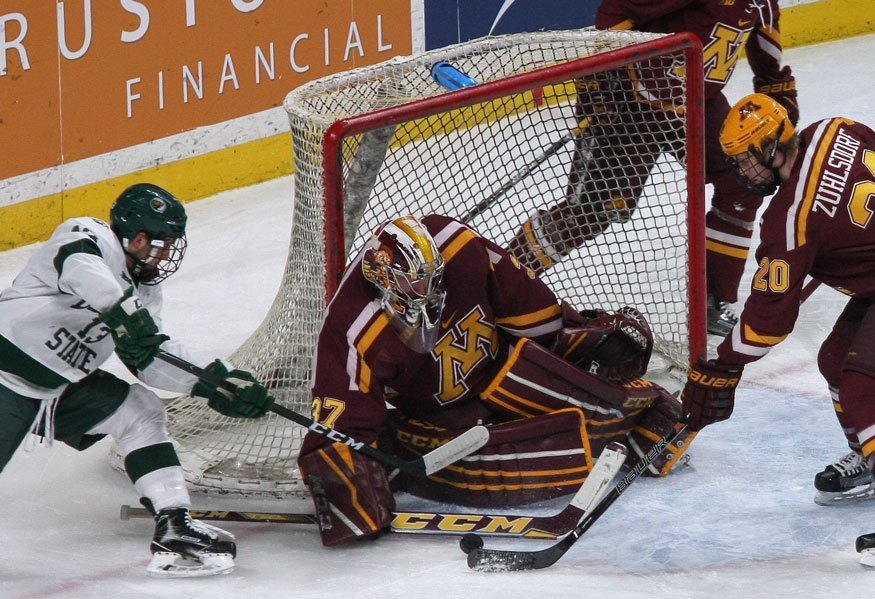 Unlike last season the Gophers have put themselves in great position for the Pairwise Rankings heading into the stretch run of league play. They have wins over teams in all the major conferences including Hockey East leader Boston College and WCHA leader Bemidji State.
"Even though we were disappointed not to win last night, we played against a good team, games like that will make us better in the long run, and they will," said Lucia. "Now we have to go back to work, back in the Big Ten, we did much better non-conference this year against a good quality slate of teams and puts us in a much better position."
Minnesota is still figuring how how best to piece together their lineup without injured center Tom Novak. Lucia said he really liked the Darian Romanko line all weekend, that it was good for Cammarata to get an important goal for the team, and that Joey Marooney needs to be in the lineup next weekend because he brings an element of speed up front.
Despite the early mishaps, the Gophers found a couple of different ways to get scoring including Bristedt's goal on the rush, Norman's goal coming from sustained pressure with the defense getting involved in the cycle, Cammarata filling some empty space for a look on the power play, and a quick empty net goal by Kloos after Tyler Sheehy forced a turnover to clear the zone.
Minnesota turns ahead to six consecutive weekends of conference play starting with Penn State at home on February 3 and 4. The Gophers are tied with Wisconsin for the Big Ten lead with 18 points, were 7th in the Pairwise after their game, and are looking ahead to the rest of the season after their final game in North Star College Cup history.
"It's been a rough couple years here at the tournament, but I think we ended off well today," said Cammarata. "Obviously Duluth is a very good team, we gave them a good fight, as we move on to the end of the season we are looking forward to playing them again hopefully."the season we are looking forward to playing them again hopefully.
Full Post Game Video
[facebook https://www.facebook.com/GopherPuckLive/videos/1004396809664926/]