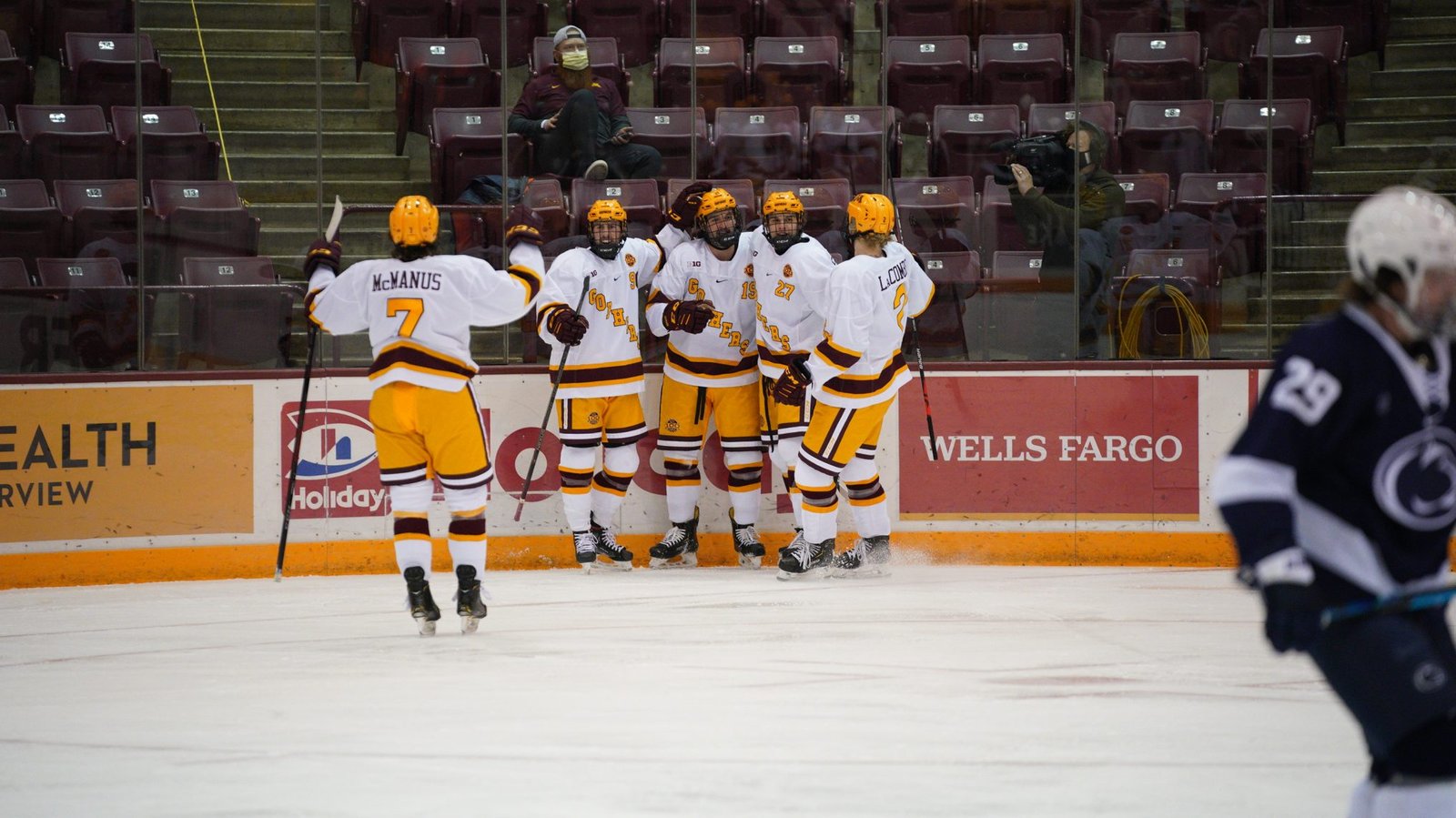 Minneapolis, Minn. — If Minnesota is going to take the next step as a program, then they're going to need to see some of their top players make the transition from good to elite. Gophers coach Bob Motzko hopes that his junior captain might be one of the players ready to make that leap.
"Our biggest challenge here is we have an entire group of guys who have to take that next step," Motzko said. "Everybody knows Sammy Walker and McLaughlin and Ranta and McManus… last year those guys had good years, but they've got to take that next elite step. They've got to go from 30 points to 40 points, that's where we're at in the development process."
Walker scored 10 goals and 26 assists his freshman season en route to being named the Big Ten Freshman of the Year. He scored 11 goals and 19 assists as a sophomore and was an All-Big Ten Honorable Mention. The last All-American forwards for Minnesota were Rem Pitlick who scored 21 goals and 24 assists in 2018-19 and Tyler Sheehy who scored 20 goals and 33 assists in 2016-17.
When Minnesota takes the rink, it's hard not to focus on No. 9 playing and hard not to think Tampa Bay might have gotten one of the steals of the 2017 draft with their seventh round pick when seeing Walker's speed and offensive skill on display.
Walker's 2020-21 season got off to a good start as one of the players leading the way with Minnesota sweeping Penn State during 4-1 and 3-2 wins. It was a weekend that was an especially feel good moment for the home locker room at 3M Arena at Mariucci since it came against a program that's had their number lately. The Nittany Lions carried a 10-1-2 record in recent games against the Gophers dating back to February 2018.
Motzko took note of his second year captain having one of his better nights in the face off circle during game one on Thursday, as Walker won 11 of 18 draws. Starting play with control of the puck was something that often worried Motzko when putting out Walker during his first two seasons.
"My first year here, we didn't have him take draws in the D zone a whole lot. We really put them out only in the offensive zone," Motzko said. "If you guys remember, I hardly ever could use Sammy taking draws. We would use their line on the fly a lot of times, and now he's getting important face offs in the D zone or offensive zone."
It was a steep learning curve for Walker learning just how difficult faceoffs in the Big Ten could be for a young center. He had plenty of experience taking draws as a center in high school for Edina, but only had limited USHL junior experience with Lincoln and Sioux City before starting college. It was a slow process as Walker went 41.4 percent on draws his freshman year and fell behind Tommy Novak, Brent Gates J., Tyler Sheehy, Rem Pitlick and Darian Romanko in the pecking order for draws.
During Walker's sophomore season, Motzko mostly leaned on Ben Meyers who was a multi-year veteran USHL center for key faceoffs, but Walker improved to 49.1 percent on draws and was even better as the season went forward. Walker has progressed even more into this season and knew it was going to be a key for him to take the next step as a player.
"As a center, [face-offs are] a huge part of the game. If you're good on draw that just means that your team has the puck more," Walker said. "And that's really something that I focused on in the offseason because I knew that I would have that big role of winning draws–big draws on the powerplay or in the D zone, on the PK and faceoffs are a huge part of the game."
Walker said that while centers need quick hands to be successful in the dot, you also need the strength to overpower guys. During the series with Penn State, Walker was able to win some draws quickly with his hands and stayed with opportunities when quick wins didn't come easily by using his body and strength to win possession.
"It depends on who you're going against," Walker said. "It's reading the guy you're against and seeing what they're doing and, and how you can counter that."
Success in the face-off circle was a huge emphasis for Minnesota heading into the series with Penn State and Motzko was pleased with their performance as Walker went 11 for 18 on draws. Still, the coach couldn't help notice that Walker got a little frustrated as the game played out and made a lineup adjustment for game two on Friday sliding Brannon McManus onto his right wing. Of all the players in the room, McManus might be one of the players most at ease lightening the mood and might be a good personality to mix with Walker and McLaughlin.
"If Sammy is frustrated, so is McLaughlin. And if they're both going, then they both have got that little spark and they just feed off each other," Motzko said. "I thought both of them [Friday] had a much better feel about their game. And then for Sammy to score a goal like that, that's like filling the gas tank up. You score a goal, you've got a full tank of gas, you're ready to go and always to get your first goal of the season–you get that off your shoulders, now you're ready to roll."
Walker scored his goal in the dying seconds of the first period by converting a stretch pass from Matt Staudacher and tallied an assist in the second period on the power play by breaking up a Nittany Lion shorthanded chance to start a rush the other way. The assist came off a defensive play that sometimes eluded Walker as a younger player.
"That's Sammy and [McLaughlin] becoming great defensive players," Motzko said. "You're watching Sammy become an upperclassman right now and his leadership come through… and there's more to come."
Walker was a minus eight player last season for the Gophers and during a tight Big Ten conference focused season the competition will be a challenge every night as a top line player. Time will tell if he's made the leap to being an elite player or if he just took advantage of a young Penn State team, but he'll get quick answers as Minnesota will face No. 9 Ohio State this upcoming series and then trips at a tough Michigan State team and then a very talented No. 6 Michigan before break in this shortened season.