St. Cloud, Minn.–The Gophers got great starts against the Huskies this weekend by getting early two goal leads each game, but St. Cloud State was able to rally both times for 6-5 and 3-2 wins over the maroon and gold.
#7 Minnesota (2-2-0) got goals from Jack Ramsey and Taylor Cammarata in the first period, but #14 St. Cloud State (2-2-0) answered with three consecutive goals by Jack Poehling, Jacob Benson, and Mikey Eyssimont in front of 5,222 at the National Hockey Center. The loss was Minnesota's 14th in their last 15 games against their in-state rivals–their only victory in that span was a 4-0 win over Minnesota State on November 13, 2015.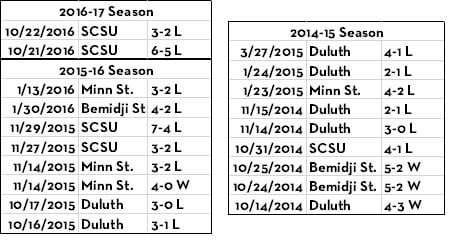 "We were in pretty good shape there, but you got to be able to win third periods," Don Lucia said in his post-game to Wally Shaver and Frank Mazzocco. "And this weekend we lost the third period each night."
The late game losses have added up to both the players and fans following the Gophers. Minnesota dropped four games last season while tied or ahead during the third period in losses to Minnesota State on January 31, to Bemidji State on January 30, to St. Cloud State on November 27, 2015, and to Minnesota State on November 14, 2015.
Vinni Lettieri said at media availability this week that they "don't like to look at the past, it's a new year, new players. We're starting off fresh and we're just worried about us and our identity is as a team."
Minnesota got better goaltending Saturday night from Eric Schierhorn as he made 30 saves in the loss and gave his teammates even a chance to hold on to their lead by making numerous saves on odd-man rushes. Yet it was a power play goal against that cost the Gophers the game for the second consecutive night when Eyssimont was able to walk in from the half wall and wrist one into the near upper corner at 13:00 in the third.
"They scored their goal on the power play when they had their chance and that was the difference in the game," said Lucia.
The Huskies got their late power opportunity when Lettieri was mistakenly called for a tripping penalty that was actually a St. Cloud State player getting a skate caught on the back of the net. The phantom call ended a Gopher man advantage, and led to Eyssimont stepping out of the box to score the game winner.
Minnesota did have a late power play opportunity to tie the game in the last two minutes, but couldn't find a way to get one past Zach Driscoll who made 29 saves, 27 more than the night before when he came on in relief, to get his second victory of the weekend.
Minnesota was 3 for 9 on the power play this weekend and both units threatened St. Cloud State all weekend. The Gophers even had a power play goal waved off when the referees determined on review that Mike Szmatula interfered with Driscoll at the top of the crease when Tyler Sheehy tucked the puck in off a Jake Bischoff one-timer that hit the end wall.
The Gophers continue their non-conference schedule headed to New York to play Clarkson on Friday, Oct. 29 and then St. Lawrence on Saturday, Oct. 30. The Golden Knights tied #15 Providence 3-3 Friday and then defeated #5 UMass-Lowell 4-3 on Saturday. The #13 Skating Saints dropped both their weekend games to Providence 6-3 and UMass-Lowell 5-2.