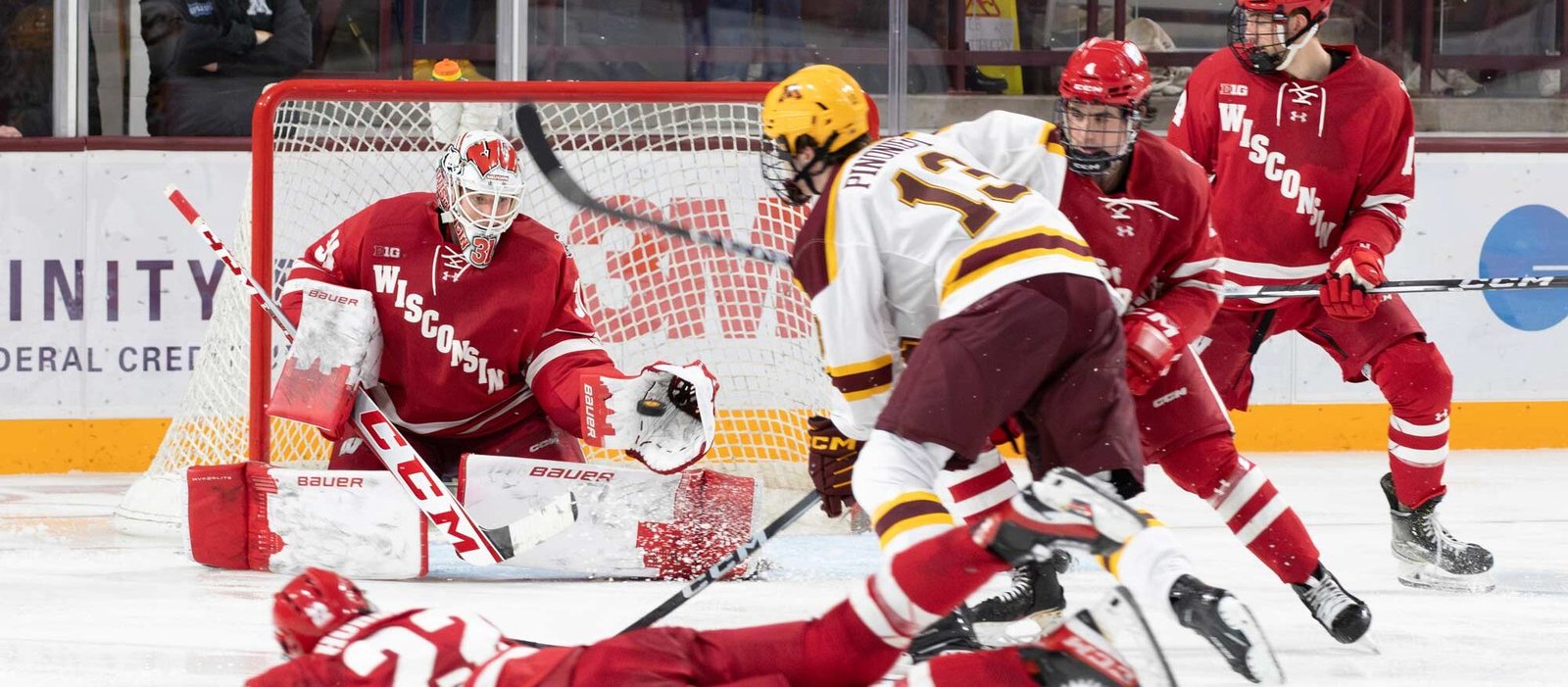 Minneapolis, MN – When the #1-ranked Gophers scored 15 seconds into the game, it seemed like it might be a romp.
It ended up being one, just for the visitors.
Minnesota (3-2-0 Overall, 0-1-0 B1G) didn't get anything going after the first-shot tally, looking sloppy and sluggish and generally inferior to an improved #14 Wisconsin (6-1-0, 1-0-0) in a 5-2 defeat. The win was UW's first over the Gophers under new coach Mike Hastings, who has his team ranked just three weekends into the season.
Jaxon Nelson's tip-in goal at 15 seconds of the first period really was one of the very few high points in this game for the Gophers, who gave up the lead almost immediately on a Mathieu De St. Phalle powerplay strike at 1:38. Former Gopher commit Cruz Lucius put the Badgers up 2-1 midway through the first on a seeing-eye wrister from the point.
The Gophers looked like they might have some life in the second, when Charlie Strobel scored his first goal in the Maroon and Gold at 9:59 to tie the game at 2-2. However, Wisconsin was the better team all night, and their offensive pressure finally broke the dam, scoring twice in 1:02 late in the second to take a commanding 4-2 lead heading into the third.
Minnesota couldn't get anything going against a strong Badger defense in the third, and it was in fact Wisconsin that extended their lead with Lucius' second goal of the night at 15:03.
Wisconsin's Kyle McClellan stopped 22 of 24 Gopher shots in the victory, while Justen Close surrendered five goals on 34 total Badger shots in a losing effort.
The two teams square off for the rubber match of the series Friday night. The 8PM game can be seen on BTN, streamed on Fox Sports, and heard on AM1130 / FM 103.5.
Postgame Video