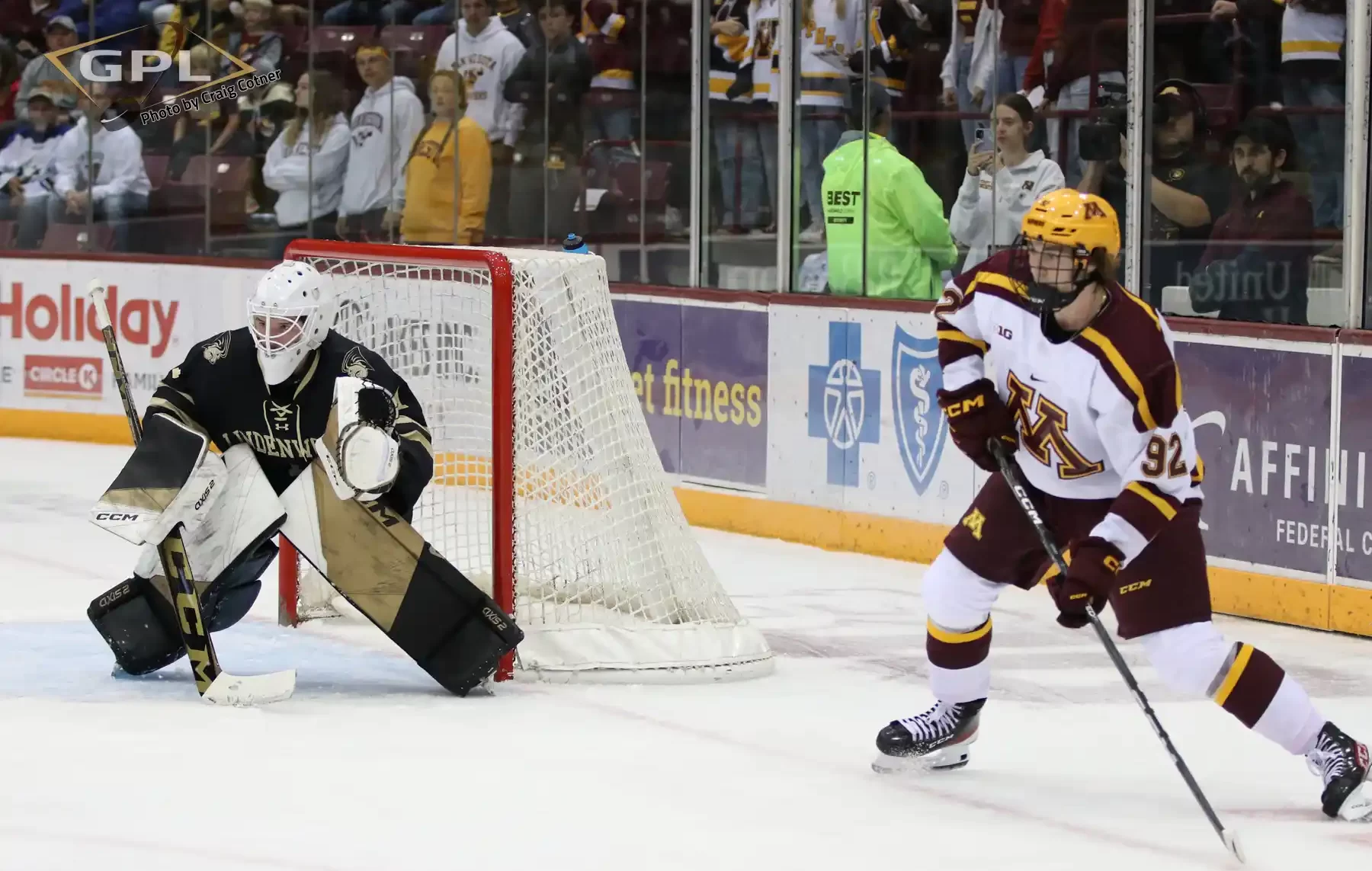 Minneapolis, Minn. — When the University of Minnesota men's hockey program decided it was time to make a change in leadership behind the bench, it wasn't necessarily because the team was losing the majority of their games, it was because they were losing the wrong ones. The Gophers seemed to struggle on the biggest stages and the losses during the postseason and the losses to the other in-state programs were adding up.
Now as Gophers Head Coach Bob Motzko's fifth year is underway, there are signs that the program is trending in the right direction. Minnesota returned to the Frozen Four last season, their first appearance there since 2014. The program added banners as Big Ten Tournament Champions in 2020-21 and as Big Ten Regular Season Champions. The program recruited a top class of freshman for the 2022-23 season according to College Hockey News and the pipeline of talent looks flush for future years.
While programs cannot make big statements in October, a home and home series against Minnesota State is an opportunity to make an opening argument. The Mavericks have had the Gophers number the past couple seasons winning eight of the last ten matchups with Minnesota, including two season ender games at the Frozen Four in Boston, Mass. last season and NCAA Regional in Loveland, Colo. the year before.
The losses and especially the last two to the Mavericks have many Gophers fans pondering if anything is wrong with their Pride on Ice, but Motzko is focused on the next chance and his process.
"Do I take anything out of it, the fact that two years in a row we got knocked out by Mankato? We've got to keep getting our crack at it. That's what we have to do," said Motzko.
"I want to be playing our best hockey at the end of the year. I think we've been doing that, all four years I've felt we were playing our best hockey at the end of the year and we'll keep taking licks at that thing. I don't take anything out of it like we've got to tweak something to be better. We're there and sometimes you've got to tip your hat to the team that knocked you out and let's make sure we do our darndest to get back to that spot again."
University of Defense
Certainly getting another chance to get to that spot, motivated defensemen Brock Faber, Jackson LaCombe and Ryan Johnson to turn down professional opportunities to take another run and the upcoming weekend with Minnesota State is a chance to show they aren't going to throw away their shot.
"It's going to be a competitive week for sure," said Faber when asked how he's helping 11 new freshmen prepare themselves for an in-state rivalry weekend after sweeping Lindenwood. "Obviously, this is one that's been circled on the calendar since the Frozen Four last year. The freshmen understand they're here for a reason, they paid close attention the year before they came in, so it's definitely one we're looking forward to but we're gonna need our best if we want to get another sweep this weekend."
What their best looks like is a work in progress with so many new skaters and one of the challenges with the group is how to set the defensive pairs, distribute special team ice time and figure out how to get the most out of their talent. Motzko shared during his season opening radio show with Wally Shaver that he honestly wasn't sure if any of Faber, LaCombe or Johnson could be counted on to return this season based on his experience with early departures and he had three freshmen Luke Mittelstadt, Ryan Chesley and Cal Thomas that were ready to make the jump to college hockey and they probably would have lost them to another school if they hadn't brought them on board.
"We're gonna make some decisions back there, but there's no question it's a deep D corps. I'm not sure I've had a D corps that deep in my career and if I stayed in this thing another bunch of years, I don't think I'd ever have it that deep again," said Motzko,
"It's just deep with character too and that's the other thing I think we're proud of is the three guys that chose to come back believe in the program and they believe in what we're doing. It's kind of crazy, I'm kind of known for forwards and offense and we've got to be known as a good defensive team this year."
The initial plan so far is for seven defensemen to dress each night and each of the seven defensemen are going to see regular playing time. The staff knows that with this strategy, guys are going to be playing in different pairs over the course of the game so every day in practice they are having defensemen play with a different partner by design.
The ice time distribution also means that Faber might see a little less ice time than the 30 plus minutes a night he got to play last season. How much less than 30 minutes? "Just a little," said Motzko with a grin.
The hope is that the returning B10 Defensive Player of the Year will be a more effective player with less time on ice as he'll have more energy, stay fresh mentally and won't have the whole weight of the world on his shoulders. Perhaps that reduced ice time allowed him to be more involved offensively against Lindenwood as he got a goal and two assists Saturday after scoring two goals and 12 assists in 32 games last season.
Growing Pains
Headed into the second series of the season, Motzko knows that there is a lot of coaching ahead for his team as their systems are still being installed and special team units are still being pieced together — especially the penalty kill. Last season, the Gophers leaned heavily on Ben Meyers and Jaxon Nelson to start almost every short handed situation and then would toss out high pressure killers Sammy Walker and Blake McLaughlin to finish off the kill.
"For the last two years, those were our top four killers. Last year we could almost teach our penalty kill on the chalkboard with a film session, we wouldn't have to work it in practice," said Motzko. "We are working all new penalty killers right now except for Nelson in the key roles and it might take a while for that to happen."
So far the penalty kill forward pairs have included Nelson, Mason Nevers, Aaron Huglen, Bryce Brodzinski, Matthew Knies and Garrett Pinoniemi. Motzko is a little leery about putting too many penalty kill minutes onto the plate for Knies right away, but he did lean on him with Huglen as a forward pair to close out the Lindenwood game as the team gave up two goals while short handed during the night.
If Minnesota has penalty issues this weekend, then they will certainly be tested. Minnesota State returns a veteran roster that has a history of success on the power play. Their special teams unit was second in the nation in 21-22 scoring at 27.3%, third in the nation in 20-21 scoring at 27.4% and third in the nation in 19-20 scoring at 27.2%. It's certainly a weekend that Motzko doesn't want his penalty killers finding their legs because they are still getting used to their new roles, and would rather place a bigger focus on shift length discipline and avoiding taking penalties.
"All we talked about were two things with our team right now. Mistakes are gonna happen inside our play, but we had way too long of shifts. We had guys really trying to press the offense with too long of shifts and then bad penalties," said Motzko. "And those are two things that I don't have drills for long shifts and penalties… that's the inner chemistry, culture we have to address."
Young Guns
One aspect of the roster that was expected to be an important piece this season, but also unknown was how quickly the freshman forwards would start producing offense. If the first weekend was any indicator, the wait won't be long.
Logan Cooley was the Big Ten's No. 1 star of the week and the Gophers leading scorer after potting two goals and tallying two assists. Connor Kurth and Brody Lamb each scored their first goals of the season on Saturday with confident shots on the rush. Jimmy Snuggered attempted 19 shots over the two games with five making their way to the net. Charlie Strobel tied for the team lead with four shots on goal Sunday.
"We've seen it in practice, this group can shoot the puck," said Motzko. "They're gonna get lots of points in their career. It's really a special class. They're just young. We're going to need some time for this thing to gel."
One of the most encouraging aspects of the freshman play wasn't just the shooting and scoring that popped on the scoresheet, it was the hunger and pressure to win loose pucks for second chances to stand out on film. Midway through the second period in a 3-3 tie game, Rhett Pitlick, Cooley and Snuggerud got to work in the offensive zone. The trio combined with Faber to apply heavy pressure in the Lindenwood zone and that effort allowed Faber space to contribute to the offense with his first goal of the season.
"It seems like we're always the first person on the puck and whether or not it seems like they can get to the puck first. Like we always make it there," said Pitlick. "We're definitely a speedy line. I think just playing off our instincts and our skills from our whole life is what comes out during the game."
Pitlick knows that this weekend it'll be different as the Mavericks play a physical game and his advice to his linemates is to just stick to their game.
"There's gonna be many ups and downs but as long as you just kind of stick to your game, our flow and our skill will come out," said Pitlick. "Maybe at the beginning it's making some chips, not as much skill plays at the beginning, but then after a while, once we get used to it, then our skill can come out."