Minneapolis, Minn.–After a four-year cycle, the North Star College Cup is no more, as fan apathy towards college hockey in Big Ten and National College Hockey Conference era stubbornly persists.
"Institutions had hoped the tournament would appeal to more fans, however, the interest level has not grown over the last four years as we had hoped," said the University of Minnesota in a release.
The event drew paid attendance of 28,906 and 28,715 during the first two tournaments, but a failed attempt at increasing sales for the 2016 NSCC by holding the event on a Saturday/Sunday instead of a Friday/Saturday drew only 23,584. So institutional administrators decided they'd rather play it safe by "rewarding their fans with games at their home venues."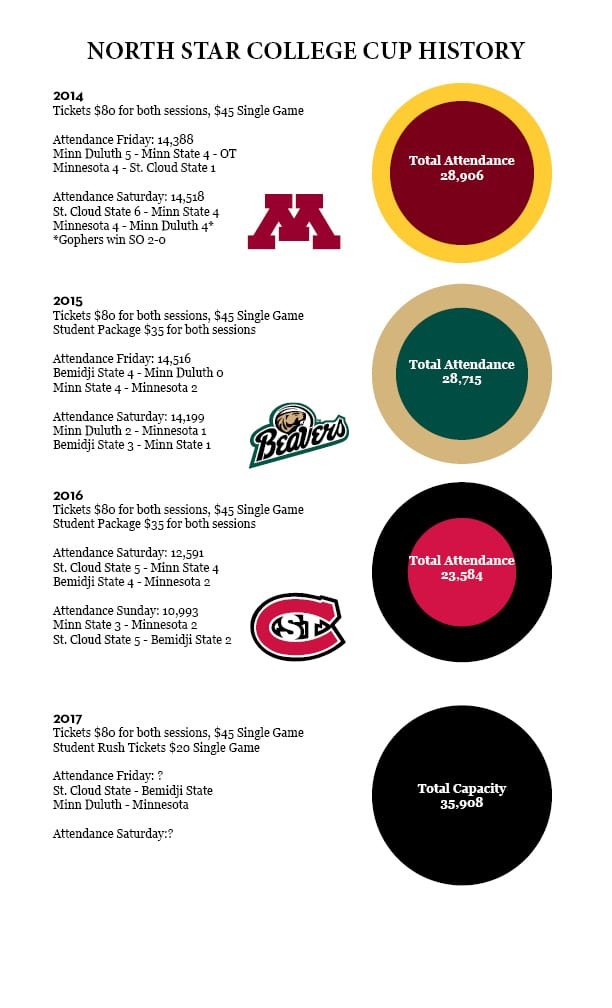 "The concept was good when the leagues split up. I think it was all set up, people were excited about the fact you could rekindle some of those rivalries with teams," Minnesota Duluth coach Scott Sandelin said at availability this week. "But financially it might not make a lot of sense for teams and apparently the attendance has been going down, so those are the reasons I've been given."
After opening AMSOIL Arena in 2010, the Bulldogs have been enjoying the benefits of their new facility, seeing revenues nearly double from $1.5 M in 2009-10 to over $3 M in 2011-12 according to data submitted annually as required by the Equity in Athletics Disclosure Act (EADA). The University of Minnesota Duluth has very publicly tried to get themselves out of budget crisis and keeping energy on campus with men's hockey games at their own arena appears to be a priority mirroring that of other Minnesota D-1 hockey programs.
The financials of the North Star College Cup certainly benefit the tournament host, Minnesota, since they include the weekend as part of their season ticket package. However, each year the other teams have been able to sell their own packages during an initial round of ticket sales that each participating institution gets to keep. After the initial round of sales, tickets are then sold through Xcel Energy Center and each of the participants gets an equal share of those revenues. Other revenues generated by the weekend were again split by the four tournament participants after the University of Minnesota expenses for running the event were covered.
Minnesota State athletic director Kevin Buisman told Shane Frederick in the Mankato Free Press that there had been financial concerns almost from the get go and that the event wasn't successful enough to make-up for a weekend series at home.
When the Mavericks moved one of their home games to Xcel Energy Center in 2006, the decision benefited them with $135,000 profit. The game drew 17,009 fans to see them play against the Gophers and the school partnered with some local business providing free round trip transportation with 17 buses of fans. None of the schools made those kinds of efforts for the NSCC despite the ability to directly benefit from initial ticket sales and share in revenues from secondary sales.
While memories of the WCHA Final Five drawing attendance averages over 17,000 sticks out to nostalgic fans, even that event could have attendance issues such as a three-year period from 2010 to 2012 where average attendance for the event was between 14,307 and 14,600.
"I thought it was a good concept but to be honest it never really caught on like we hoped it would, especially when got a lot of teams giving up home games and home dates for their fans," said Don Lucia. "I think the idea was to really hopefully get the alumni involved and replicate what the old WCHA Final Five Playoffs was like, but it just never seemed to happen. It wasn't worth giving up the home games for so many people… the four years is over, the cycle went through, we'll just have to do away with it unfortunately."
Just because the event is coming to an end doesn't mean that the Gophers won't continue to face the Bulldogs, Huskies, Mavericks, and Beavers. Minnesota has a scheduling agreement with Minnesota Duluth that locks in four weekends over a five-year period through 2022-23 and Minnesota is set to have series with St. Cloud State and Minnesota State in 2017-18. Lucia said he hopes to use his 10 non-conference games to continue playing in-state teams and North Dakota while still getting out at least once a year to play eastern teams like Boston College, Boston University, Northeastern, St. Lawrence, and Clarkson like they've done recently.