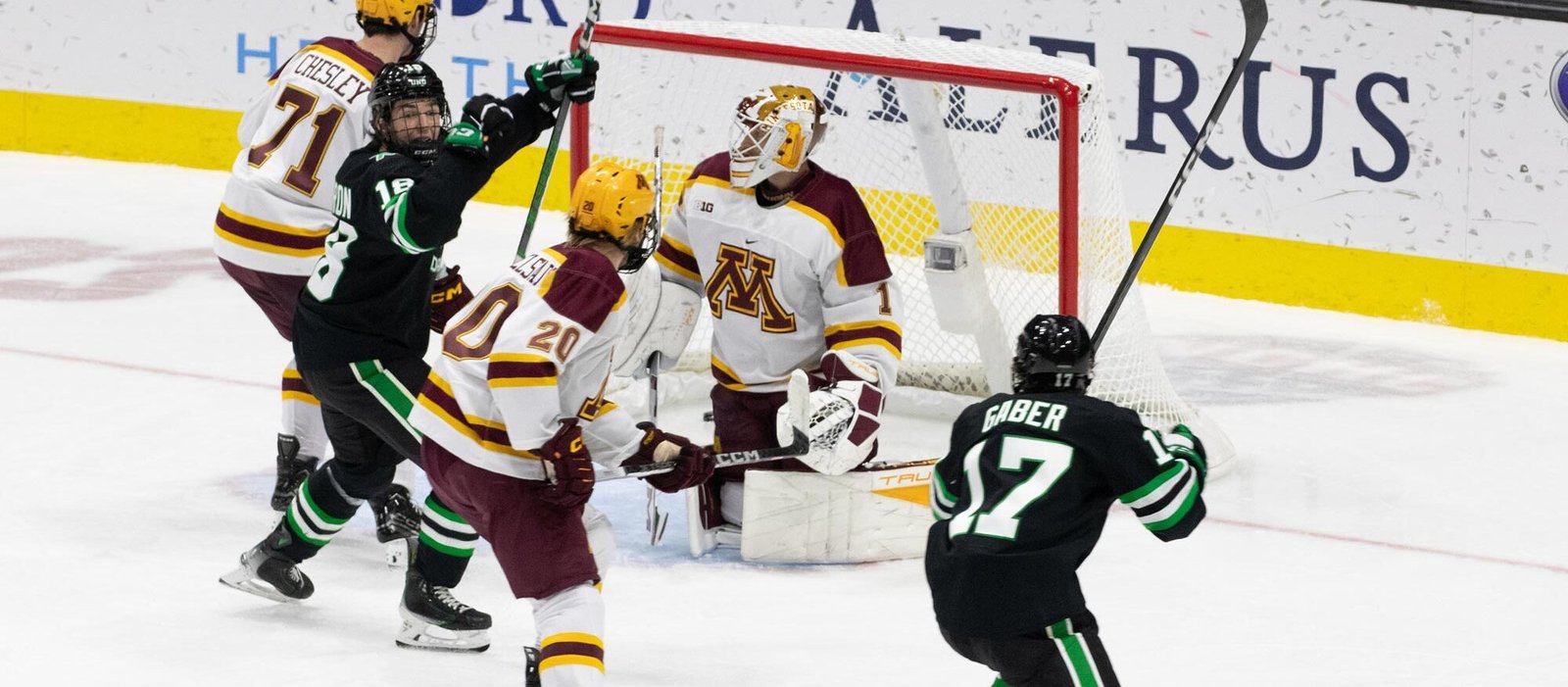 Grand Forks — During the GPL Podcast Thursday night all three of the crew predicted splits for the weekend. Was it the easy way out? Maybe, but sure enough that's what the 11,636 fans at Ralph Engelstad Arena saw Saturday night when No. 5 North Dakota salvaged the weekend with a 2-1 win over No. 1 Minnesota to split.
North Dakota came into Saturday night with a different game plan trying to create chaos and traffic in front of Gophers goalie Justen Close. Especially on the power play opportunities, the Fighting Hawks weren't looking to seam pucks through the penalty kill or look for pretty one-timers. Cameron Berg planted himself on top of the crease as an option for redirects, battling to take away the goalie's eyes and ready to outnumber Minnesota for any loose pucks around the net.
The Fighting Hawks have now won the last six Saturday night contests between these two programs as they've responded strongly each time after losing the previous night. The more aggressive team out there established control of the pace and drew six penalties.
"The biggest thing was we've just got to compete. We kind of took two periods off there and we know we can't do that. So we just got to start competing and we did that for a bit of the third, but it just wasn't enough at the end," said Ryan Chesley. "They got the crowd into it and they fed off that, they played good night. We can't take any periods off. Every team in college hockey is really good and you can't take two periods off like we did and end up winning. It's not gonna happen so we've just gotta learn from that."
While North Dakota didn't score on the four power play opportunities on Friday or the six power play chances on Saturday, they got momentum from them on Saturday that wasn't there the previous night.
"They've got a really good kill at the end of the day and we were trying to put pucks into areas where you have a chance to out number them in front the net and get secondary and third opportunities," said North Dakota coach Brad Berry. "Close made some unreal saves tonight, even late in the game."
The Gophers penalty kill was tested Saturday often because of some stickwork and poor positioning against a much more aggressive Fighting Hawks squad. It was a tough lesson for Minnesota because they lost Max Rud to injury during the first period and the defensive corps got fatigued spending so much time in their own end.
"That's pretty simple, we can't take the penalties we took. There were a couple questionable calls too on top of us being really dumb tonight that put us behind the eight ball," said Minnesota coach Bob Motzko. "We didn't recover until the end of the second period. We started on the penalty kill and had to kill two more and then they got momentum and our D got really tired. We lost Rud right away at the start of the first and we mustered an attack too late."
North Dakota got their first goal of the game 5:48 into the second period a s 5′ 9″ Jayden Perron stood tall in front of Close and redirected a point shot from Garrett Pyke. The puck was going wide until Perron got the back of his blade on the puck to pull it back to the net. The goal ended a streak of 153 minutes and 58 seconds of shutout hockey by Close.
North Dakota got their second goal from Jake Livanavage streaking down from up high in the zone, throwing a backhand into Close's feet and the puck found its way five-hole 59 seconds into the third period.
The Gophers get one back making it 2-1 as a player of their own redirected a puck going wide into the net — Ryan Chesley shot was going wide until Jaxon Nelson got his blade on it to pull it back towards goal 8:04 into the third period.
Minnesota's schedule doesn't get any easier moving forward, they'll welcome Wisconsin to town next weekend and then face Minnesota Duluth and Michigan. Nelson said that his team needs to turn the page as soon as they get on the bus tonight.
"We've got to take something away from it and digest it on Monday," said Nelson. "But Wisconsin with Mike Hastings there is a good coach and he's going to have them ready to go for a rivalry weekend, so we gotta be ready to go."