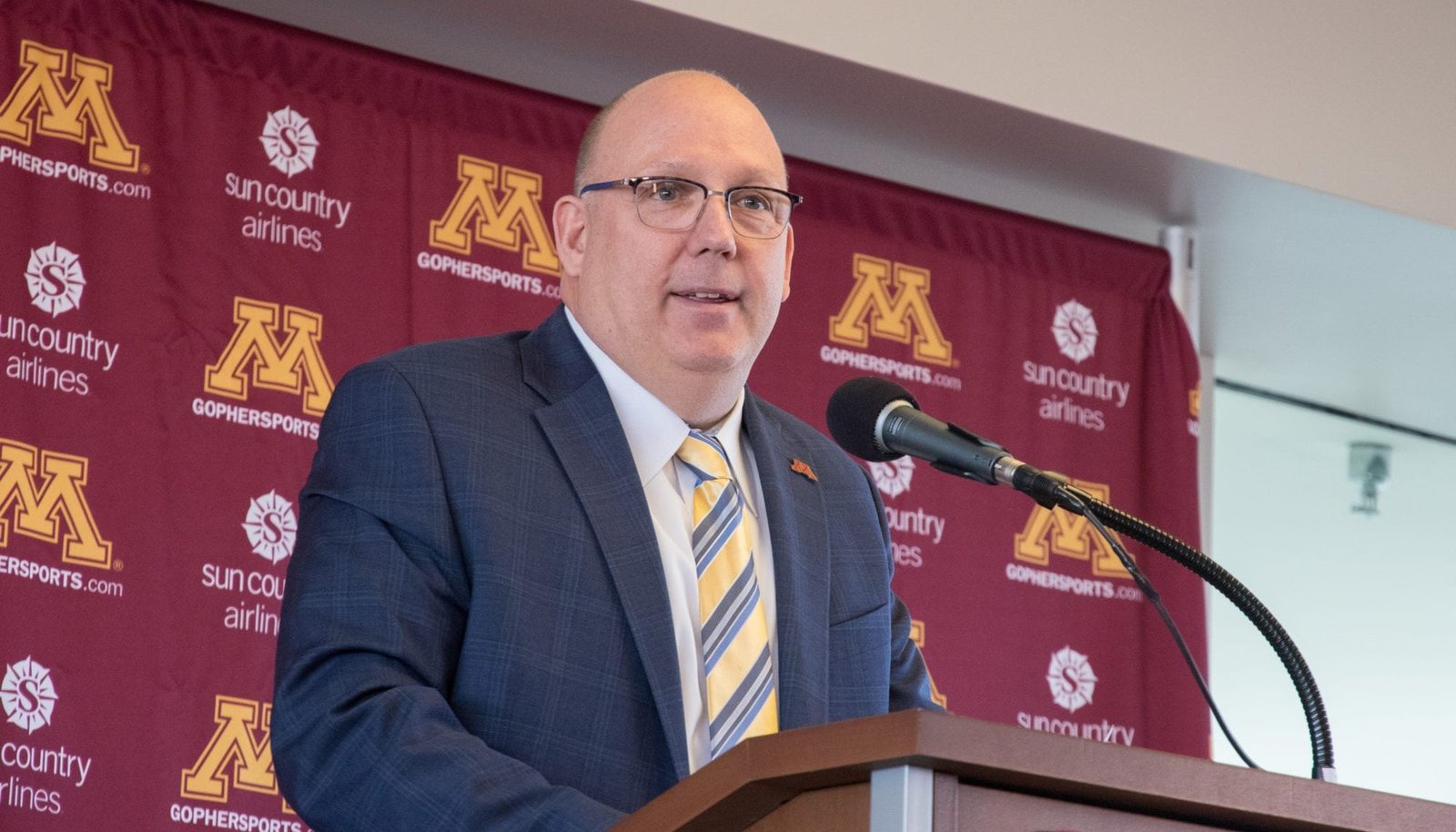 Minneapolis, Minn. — Gophers men's hockey coach Bob Motzko has joked this season anytime when questions about the NCAA Tournament come up that the media should let him know when they hear something, because no one is asking him for his opinion or telling him what's going to happen.
This week NCAA Division I Men's Ice Hockey Committee Chairman Mike Kemp, also Omaha's associate athletic director, made the rounds of the college hockey media landscape appearing on USCHO's Jim Connelly's podcast and sent out a memo to teams with some information on how the tournament will function during Covid.
The positives are that he affirmed a 16-team tournament is going to happen, he noted a fourth regional site announcement is pending over the next couple days and that the Frozen Four in Pittsburgh is still the plan. They're also hoping to allow some fans in attendance for these games subject to local guidance for each venue.
Now what did Motzko take from it?
"I got nothing out of it," Motzko said. "Except they're gonna try their best not to put teams on planes. That was the only thing I got out of it… I mean everything else that was said you pretty much would know."
The coach admitted that he's not following it real close and that he's just focused on taking care of his own team as they prepare for their series with Michigan State. The Gophers are on top of the Big Ten standings with 39 points ahead of Wisconsin at 37 points and Michigan with 26 points — the Badgers and Wolverines are the two teams that also seem to be in tournament contention.
Minnesota faces the Spartans and then Penn State and Michigan to finish the regular season and then expect to be headed to South Bend to play in the Big Ten Tournament where they could play three games in three days ahead of the NCAA Tournament–although Motzko hinted on his Monday radio show that the schedule as-is could be adjusted.
"The NCHC is going to put on their tournament, they're an eight team league, over six days–that's giving them ample rest and time inside that," Motzko said. "And now our conference is running the same tournament… we're doing a three day deal and beating the snot out of each other and not spreading it out. There's still some decisions to be made on our league on moving forward."
Regardless of how the Big Ten season finishes, Kemp's announcement puts some guardrails on how to expect the selection process to operate. He indicated that they will still use some math to help them pick teams, but subjectivity will come into play relying on a regional advisory committee of a coach from each conference to provide recommendations to the national committee. Notre Dame head coach Jeff Jackson is the Big Ten's representative — maybe a good sign for Minnesota considering the play he just saw from them this past weekend — Bentley head coach Ryan Soderquist, Brown head coach Brendan Whitten, New Hamsphire head coach Michael Souza, RPI head coach Dave Smith, St. Cloud State head coach Brett Larson and Lake Superior State head coach Damon Whitten are the other advisors.
While the PairWise Ranking traditionally used across college hockey is meaningless as the gold standard for selection, it's something that they'll be able to use to compare teams within the same conference. The season has been a challenge for everyone to play balanced schedules and identifying some sort of metric like the PWR is something Hockey East has said they'll rely on for their conference tournament as one of their traditional powers Boston University has only played 10 games so far and make using traditional points or even point percentage difficult.
I'll leave the ongoing regular projections up to the experts at USCHO who abandoned their weekly bracketology this year and CHN who have a power 16 thing going in place of bracketology. Conferences will still have the option of giving their automatic bid to either a regular season champ or conference tournament champ, but here is just one look at where things are at right now using some math to guide us.
Atlantic Hockey is going to have a tough argument to get more than one team into the tournament this year despite the lofty PWR of Canisius, AIC and Robert Morris who in traditional years would seem like locks because of their top ten status of the raw metric. Since intra-conference play is incredibly limited I think just the traditional tournament champ will get a bid unless the committee gets really wild in the smoky room.

The ECAC is another conference that's going to have a tough argument this season as just five of their schools are moving forward with playing hockey since the Ivy League schools pulled out. Quinnipiac has established itself as the favorite, but then again during their six games against Clarkson the teams each won two, lost two and tied two. I think their automatic bid is the only team that will get a tourney ticket.

The WCHA is going to be one of the more interesting conferences to assess for the tournament and I don't envy Whitten's role as the advisor from this conference. Minnesota State had their best roster last year under Mike Hastings and were poised to break their curse of losing every NCAA Tournament game in the program's history, but Covid took that chance away. Four-year forwards Marc Michaelis and Parker Tuomie are gone from a team that won 31 games in 2019-20, but they still have goaltender Dryden McKay who is chasing Ryan Miller's shutout record of 26 with 24 so far in his career. Regardless of how the AQ gets handled, the Mavericks pedigree and performance should get them in the tourney.

Once you get past the purple and gold, it gets muddy quick on if the WCHA gets another team. Michigan Tech, Bowling Green, Lake Superior State and Bemidji State probably all have legit arguments to be considered, but it's not often the conference gets two team that are in at-large territory like 2019 when the Mavericks were No. 3 overall and Bowling Green were No. 15 to sneak in or in 2015 when the Mavs were No. 1 overall and Michigan Tech finished No. 7. I think the committee lets them get two bids, but it'll be a heated discussion and the PWR within the conference is probably going to be used here.
I think Hockey East is another league where it's unclear what will happen for bids. Clearly Boston University and Boston College have talented rosters that on paper look like they should be in the tournament. The Eagles have proven it on the ice this year and should be a lock at this point to be in the tournament. The Terriers also look good, but they've only played 10 games so far this season and have to get to 13 games played to be eligible for a bid.

NCHC Commissioner Josh Fenton did some legwork earlier this season on historical bids conferences have garnered since realignment in 2013-14. The exercise favored his league to get approximately four bids as one might expect since he was the one putting out the results, but Hockey East also shined in it as they've earned an average of four bids as well. Are there four worthy teams this year out east? It's hard to tell, but it looks like at least three if you include Massachusetts for bids.
Now Fenton's league has done one heck of a job the past eight years not only promoting themselves as the best conference in college hockey, but backing it up in the NCAA tournament by claiming four championships. Again here is a league where it seems pretty clear at least three bids are deserved with North Dakota almost certainly a favorite for a No. 1 seed and probably will get a fourth.

I've seen arguments that Denver is a tournament worthy team, but it's hard to even argue that case without them proving themselves outside the meat grinder schedule of the NCHC — heck if you go by the PWR here, then Western Michigan is ahead of them.
Finally the Big Ten and if you've followed all along here then you deserve a GPL Podcast Beer of the Week tonight. Minnesota has had some stumbles so far this season to the Badgers and Fighting Irish, and maybe put themselves in a precarious position after being swept by Wisconsin, but their entire season has shown they are firmly one of the top teams in their league.

It gets really hard to imagine how the league will be perceived by the smoky room though. Certainly watching Wisconsin and Michigan the 'eye test' tells you they are teams that you think are NCAA tournament worthy–they have some of the top talent in college hockey, but the league historically has been a two bid league and it's difficult to argue for more without intra-conference play to back it up. I think it will come down to how the AQs shake out in the end if the Big Ten gets three, but certainly think they are worthy since the ECAC is light this year.
So to recap–Atlantic gets their AQ bid, ECAC gets an AQ and maybe Quinnipiac, WCHA gets Minnesota State and either their No. 2 PWR team or AQ, Hockey East gets Boston College, Boston University and Massachusetts or AQ bid, NCHC gets North Dakota, Omaha, St. Cloud State and Minnesota Duluth or AQ bid and bottom team misses out and Big Ten gets Minnesota, Wisconsin and Michigan. That's essentially 15 teams that lead the way, so there is room for Hockey East to get a fourth team, the WCHA to get two or even three and the NCHC to argue for five teams, but the committee has at least given fans something to chew on with the regular season winding down.