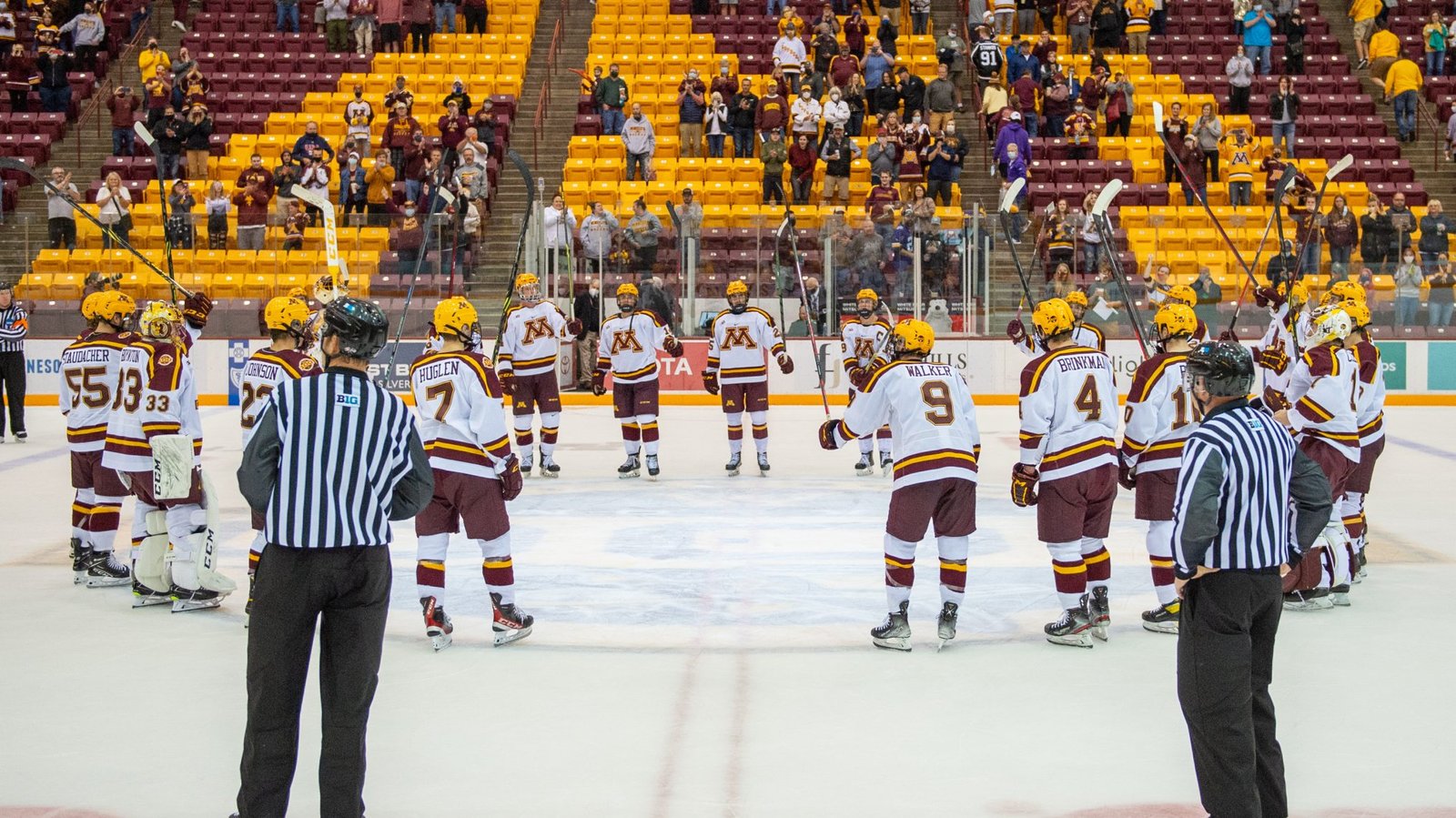 Motzko knows he has some work to do with his team to prepare and surely knows he'll be leaning on them as an emotional series comes up in St. Cloud next weekend.
Minneapolis, Minn. — The first weekend of the college hockey season meant the return of a few familiar routines to 3M Arena at Mariucci. The rouser rang out through the rafters following each of their 12 goals. The student section got to practice their funnel chants both nights. Longtime public address announcer Jamie Verbrugge reminded everyone that a five goal output meant Culver's for fans the next day. And the weekend finale was the Battle Hymn of the Republic playing to celebrate the Minnesota men's hockey team sweep of Mercyhurst with 7-4 and 5-3 wins. 
Announced crowds of 6,372 on Friday and 6,396 on Saturday saw the Pride on Ice show some of the potential of the nation's fourth ranked team, but also saw a highly touted defensive corps struggle during their first weekend of live action.
"Sometimes you can start a year, where you had a lot of success a year ago and you just think, 'Well not only are we going to pick up where we left off, we're even better,' and then you forget that this is a hard game to play," said coach Bob Motzko. "You've got to play honestly, you've got to play hard and this was a reminder. We needed to get punched in the nose. This is kind of a punch in the nose for us."
While the team took a few punches from the Lakers, they certainly responded in kind and were led by some of their veteran forwards. Bryce Brodzinksi got his season off to a hot start by scoring the first goal Friday and adding two more on Saturday. Blake McLaughlin led the team in points scored with a goal and four assists, Sammy Walker scored a goal and added two helpers and Ben Meyers found the back of the net once and two of his three assists were on goals by Matthew Knies who made an impression in his debut.
"Honestly, I can't really put it into words, it was so exciting. Kind of stepping out on the ice I had chills, I didn't want to trip over my stick," said Knies. "It was a really exciting experience for me and for the team, so I was really happy to get a win."
The Gophers saw 16 of their 19 skaters register points against Mercyhurst as every line had a player get on the scoresheet. Meyers and Knies each generated 10 shots on goal to tie for the team lead during the weekend and it looks like Meyers will have a freshman running mate going forward this season. Knies impact wasn't a surprise to his coach who said the good ones usually show up from day one and look good.
"He's looked good from day one. And so what you saw tonight, we've seen from the first moment he started practicing," Motzko said. "He's a big kid with a lot of talent, plays hard, plays the game the right way — it's great for him to get rewarded. I was real happy with our freshmen. I thought they all played very well."
The Gophers have five new freshman forwards and saw another two of them, Chaz Lucius and Tristan Broz, get their first points. Aaron Huglen was held off the scoresheet during the weekend, but saw regular ice time and centered a line on Saturday. Rhett Pitlick was held out of the weekend series as he's recovering from an upper body injury and could be available for the St. Cloud State series.
Jack LaFontaine's numbers from the series weren't what many expected from the 2020-21 Mike Richter Award winner as he made 37 saves on 45 shots, but his coach felt like his goalie might have been the team's best player on Friday to give his team a chance to eventually pull away and the coach noted Saturday that the goalie covered up a lot of mistakes when they needed him to down the stretch.
The wins helped stave off any negative PairWise Ranking concerns as a bad loss to an Atlantic Hockey team like Mercyhurst hurts more than any wins over NCHC teams help. The wins also encouraged the faithful fans who came to the arena for the first time since March 8, 2020.
"It was great to have people back in the building and the student section was awesome," said Motzko. "The guys were so fired up. So that was a great feeling to have, it was much needed for all of us throughout the country to have that back in college hockey."
It especially was a welcome feeling to be in the college hockey routines after what's been a challenging season not just for everyone going through the COVID pandemic, but for the Motzko family dealing with the loss of their son Mack Motzko and their daughter Ella's boyfriend Sam Schuneman whose lives were taken by James D. Blue in a car accident during the summer.
Before the start of the season LaFontaine shared that he doesn't think he has even met someone as strong as his head coach to endure what's been a very difficult situation.
"I can't even wrap my head around it because I don't even have kids, but for Bob to be here, for Bob to be as strong as he is, I mean he's a special, special human being," said LaFontaine. "He's still the same coach I had three years ago, he's still the same guy that recruited me… I just know that all our hearts go out to him."
The tributes around the college hockey world have shown up with the start of the season. Mack's junior team, the New Mexico Ice Wolves, will be remembering him on their jerseys this season and the Gophers will be wearing a sticker on their helmet to support Mack's memory.
"You know people are going to talk about doing something special for his cause, but coach is an individual that doesn't want to make a big deal of it, he wants to keep things private. And that's something for the team and for others to respect," said LaFontaine.
"We're always going to be here for coach, because coach has always been there for us. We're a family, he's big papa bear, so we listen to him. It's funny how life works. Sometimes he needs us and we'll definitely be there. We definitely have the leadership to kind of pick up on those days where he needs to be himself and be 100%, we get that. Obviously I don't know the full picture of what's going on with him and with his family, but he's our dad. My parents always ask about him and my heart just goes out to his family."
Blue was charged with two counts of third-degree murder and four counts of negligent and drunken driving. While the hockey season goes on, the fate of the 51-year from Orono will be an ongoing ordeal. A recent Zoom court appearance held on Oct. 11 and viewed by the Motzko and Schueneman families suggested that this case will stretch out for many weeks.
The heartache of the loss is something that will be impossible to get away from for Motzko except perhaps by immersing himself into hockey. Davis Love III shared with John Feinstein in The First Major, The Inside Story of the 2016 Ryder Cup that after losing his father in a plane crash he was inundated with questions about how he was feeling. It was an experience that he considered analogous to a US Open winner getting questioned about how it felt to win the US Open, but that question is fun to get every week and being asked about his father's death every week wasn't.
The hardest part though for Love was that every week when he got to a tournament, he had to steel himself for people coming up and telling him how sorry they were.
"Every single one of them meant well. They were grieving too and wanted to let me know they understood how awful I felt and that they understood the loss I'd suffered," said Love to Feinstein.
"But that made it almost impossible for me to move on. Most of the time when a tragedy like that happens, there's a period of mourning you go through and then you have to move on with your life. The person you lost is always there in your heart, but people aren't coming up to you a year later to tell you how sorry they are. I had to go through it all over again week after week."
Motzko will unfortunately be dealing with that experience often this season and perhaps no tougher week lies ahead than a trip to St. Cloud State this weekend. The Herb Brooks National Hockey Center has a seat dedicated to Mack where he used to sit when Bob coached the Huskies and the family has strong ties to the community where Motzko coached for 13 years. Yet, the coach knows that coming to the office, being around his players and any distraction is good for him right now.
"The world that I had before no longer exists. And we have to do a lot of rebuilding, but when I come to the rink, and we get on the ice and I get around my staff… it's familiar territory," said Motzko. "I've been doing this a long time. There might be times this year I need my players more than they're gonna need me and especially early in the year and we're getting through. I'm comfortable coming to the rink. When you get out on the ice, you can close things down and put your focus with your players. Young people have such great spirit and enthusiasm. And they've done remarkable and it's a great outlet for me right now."