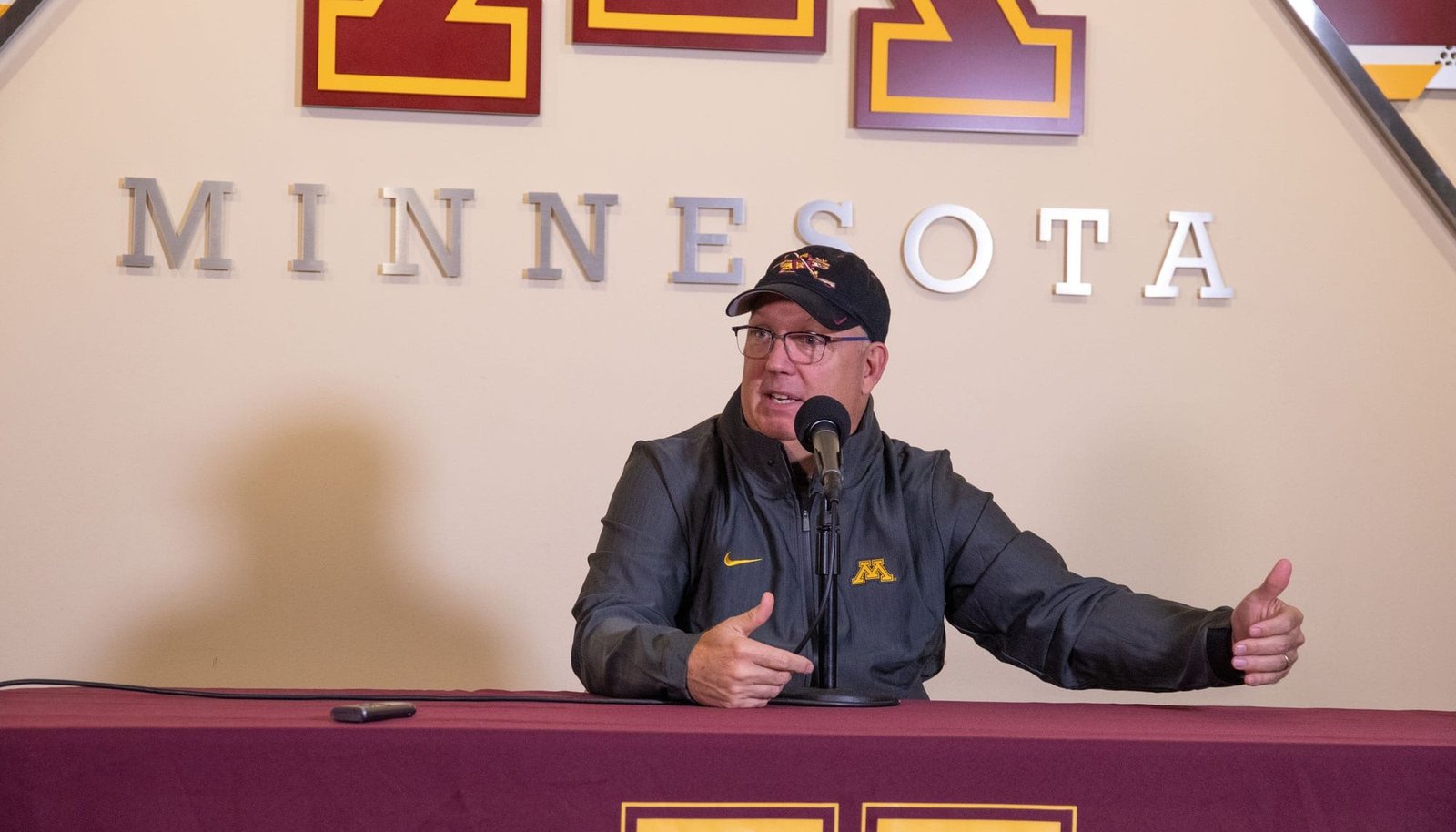 Mistakes During Alaska Loss Drops Minnesota to No. 12 in PWR
Minneapolis, Minn. — Bob Motzko's crew seemed ready to stay the course this past weekend despite dealing with a tidal wave of unexpected news. The Minnesota men's hockey team played a solid game against Alaska Friday night in a 4-1 win. However, undercurrents that frustratingly have yet to disappear grabbed ahold of them Saturday when a crucial early mistake forced them to chase the game from the first minute and they were never able to pull ahead in a 3-2 loss Saturday.
The second half of the season started right for the Gophers with their third sweep of the year in East Lansing, Mich., but coming back they were dealing with a litany of issues including an injury to Jaxon Nelson that will keep him out until at least mid-February, an injury to Rhett Pitlick that will keep him out at least until the Notre Dame series later this month, a COVID outbreak that spread to seven people in the program and of course losing their graduate goaltender Jack LaFontaine to the Carolina Hurricanes. Oh… and they know more complications are coming when they will be losing three of their most consistent players Ben Meyers, Matthew Kniews and Brock Faber for at least six games in February to the Olympics.
"We were going in a good solid direction, and then all of a sudden in a 24 hour period with COVID and the Jack stuff going on and the Olympics, it was like a tidal wave came over and it kind of knocks on your heels a little bit. And now we just got to get back to work," said Motzko. "Maybe the good thing is that it just was a tidal wave. It came over, maybe it's over and now we just start plowing by plowing forward."
The only issue keeping them from plowing forward though was that on Saturday the team that their coach says is good six days a week, had their off night. Mistakes that stubbornly haven't disappeared the past couple years showed themselves again and gave Alaska enough energy to keep Minnesota from never getting ahead. It was a penalty-filled game for Nanooks as they put the Gophers on the power play seven times, but the Minnesota man advantage group couldn't solve Alaska goalie Gustavs Grigals despite 15 power play shots.
Motzko was not happy after the game.
"Well one line was minus three, we conveniently were good when it was convenient for us today and then when it wasn't convenient we lost a little interest," said Motzko.
And what did he mean by his players losing interest when the game isn't convenient?
"Like when you're forced to have to get pucks deep and go to work. Like when you just have to… you know there's nothing there in your shift, so let's just go to work… if we have a chance to score, we will conveniently work hard then, but [we don't work hard] when we want to get our energy going and turn our energy up and get pucks deep."
These issues have been there off and on for the Gophers for a long time and while it's not isolated to just one player, the line that was minus three on Saturday was Sammy Walker, Blake McLaughlin and Bryce Brodzinksi. The trio are among the team's top five scorers behind Meyers and Knies, but their minuses seem to pop up in losses. Plus/minus can be a deceptive stat and they haven't played together the entire year, but they are -21 in the team's nine losses and +31 in the team's 13 wins.
The talent is clearly there among those three as you can see the speed from Walker on the rush nightly that makes him one of college hockey's most dangerous players in transition. Against Alaska the captain was able to wind up his speed and catch the Nanook defense flat footed a couple times. Especially early in shifts, Walker is incredibly dangerous if he has space to get going like in this clip to start the second on Saturday.
Especially early in shifts, Walker is incredibly dangerous if he has space to get going like in this clip to start the second on Saturday.
McLaughlin has shown an ability to make his mark on the forecheck winning pucks and can make plays in tight spaces like his goal Friday night that left the Grand Rapids player even a little surprised what he pulled off. And Brodzinski has shown the ability to bury pucks in the right situations.
The pace that Walker and McLaughlin can play at are a big reason they are relied upon to be the second pair of forwards over the boards on the penalty kill as their pressure can overwhelm a power play unit that extends their shift too long. The pace Walker shows early in shifts allows him to get second chances when he backchecks hard and quickly.
The captain set the standard of what he can accomplish Friday when after a high turnover he was able to recover, breakup a rush, stay committed to playing in-zone defense to regain possession and then get back on offense
The problem facing this team is that these good habits disappear. Maybe it's falling behind. Maybe it's playing a rival. Maybe it's trying to put the team on their back. Maybe it's taking too long a shift to chase offense, but regardless, it shows up in the losses.
Saturday during the second shift of the game, defenseman Mike Koster stepped up in the neutral zone in what ended up being a low percentage play that was high risk and low reward. He was on the wrong side of the Alaska player and the Gophers forwards weren't in great position to support the decision. After losing the puck it turned into an odd man rush for the Nanooks against Ben Brinkman, but Minnesota had Walker pressuring the puck carrier and McLaughlin pressing the other forward.
As the play progressed to the net on this rush chance against, no one finished the play and Alaska took an early lead Saturday.
The Gophers were able to tie the game later on a great indirect stretch pass from Matt Staudacher to McLaughlin for a goal in transition, but gave the lead right back after the next faceoff when the gap between the forwards and defense stretched and Staudacher tried to force a pass up the gut that got transitioned right back into his own net.
The Gophers seemed to press as the game went on and you could sense a little bit of frustration creeping in as Grigas was able to stymie Minnesota's attack. Late in the period, the Walker line got caught on a long shift and turned the puck over. It started with a lost draw that forced them to spend time defending and then a failed rush opportunity. Instead of playing percentage hockey and calling it shift when they got the puck back a second time, they pressed for another scoring chance. That rush resulted in another turnover and then a 5-on-2 rush that Alaska capitalized on to take a 3-1 lead.
As the Walker line chases offense late in shifts, they expose themselves to scoring chances against that Motzko called out on Saturday.
Motzko shared this week at availability that it's a difficult problem to solve when his team on one night is playing very solid hockey and they're getting the results, but they don't the next night. He also admitted at availability that he doesn't want to create a storm in the locker room making big changes, just wants to get them back to playing really good hockey and then wish for it to happen twice.
They'll need it facing Michigan this weekend and with some unknowns in goal, following through with Motzko's three points of emphasis will be crucial.
"We have to stay committed to backcheck. We have to stay committed to d zone coverage. We have to not turn pucks over," said Motzko.