Minneapolis, Minn. — The University of Minnesota has routinely led the nation in generating revenue with its men's hockey program, but Boston University topped all schools for fiscal year 2017 with $8,567,700 in revenues and the Gophers were second with $5,872,921 in revenues.
Minnesota saw ticket revenues at its lowest level in the past six seasons at $4,677,246, but received $1,181,404 in contributions which include amounts received from individuals, corporations, associations, foundations, clubs or other organizations designated for the operations of the athletics program, funds contributed by outside contributors for the payment of debt service, lease payments or rental fee expenses for athletic facilities in the reporting year, and amounts received above face value for tickets. Minnesota's highest reported revenue from ticket sales in the past six season was in fiscal year 2014 with $7,039,172
The Terriers are a private institution and are not subject to open records requests, but they are required to submit revenue and expense data to the Department of Education for Equity in Athletics Data Analysis. The Hockey East program indicated they received $4,446,629 for revenues in fiscal year 2016 which was fourth in men's college hockey.  The school has boosted their fundraising efforts recently and have celebrated back-to-back record fundraising totals, which may be the main reason for the increased revenue reported.
Expenses for Minnesota were reported at $4,495,451 in fiscal year 2017, which was up from fiscal year 2016 when they reported $3,175,517. The expense reporting calculated to the Department of Education differs from the numbers reported to the University's Board of Regents as those numbers were $4,520,357 in fiscal year 2017 and $4,406,467 in fiscal year 2016.
Minnesota reported an excess in funds for fiscal year 2017 of $1,377,470 and is just one of three schools with Boston University $5,128,736 and Minnesota-Duluth $1,359,672 reporting excess funds over $1,000,000. Revenues and Expenses for other local schools include Wisconsin $5,798,444 in revenue and $4518,289 in expenses, North Dakota $5,245,254 in revenue and $4,436,452 in expenses, Minnesota Duluth $3,917,938 in revenues and $2,558,266 in expenses, St. Cloud State $2,744,430 in revenue and $2,127,944 in expenses, Minnesota State $2,083,661 in revenues and expenses, and Bemidji State $1,321,036 in revenues and expenses.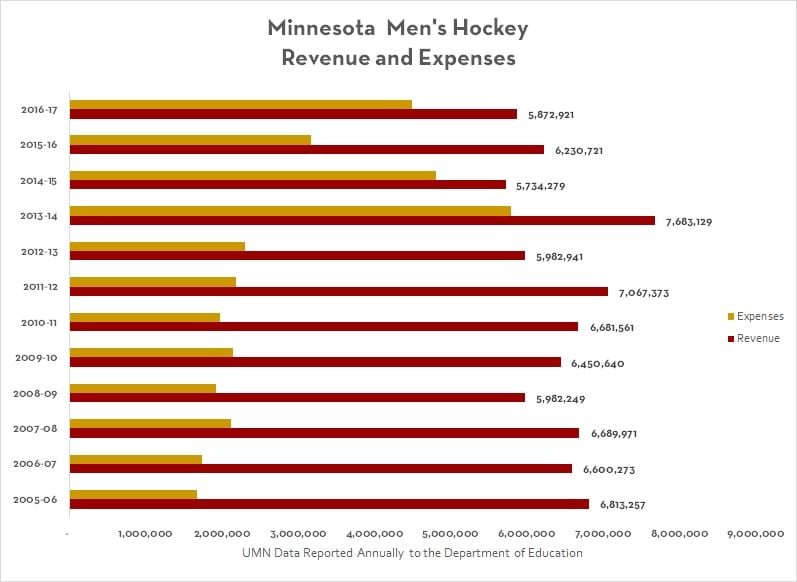 #GPLMailbag as Promised
What were the @GopherSports thinking when they came up with the new seat prices? Only lowering prices on 20% of the seats and keeping it the same for 8,000 seats. With the current climate, I was expecting much more then what they did. #GPLMailbag

— B1GMISTAKE (@B1GMISTAKE) February 15, 2018
evegoe: Looking at the slight decline in ticket sale revenue in FY 2017, it's not hard to anticipate there to be a bigger decline in FY 2018 when all is said and done. My article in The Athletic last week showed the decline in season tickets, which will impact gift revenue, and the lowest announced attendance since the move across the street will have an impact on ticket sale revenue. I think if their goal was to increase the number of season ticket holders, this was too little too late.
I do think the early renewal process is being done to get a faster gauge on the heath of their season ticket base. Athletic Director Mark Coyle is open to suggestions on the program and while it would be difficult to wipe the scholarship seating donation requirement after allowing people to pay it early for tax reasons, they might have to make another cut to it again next year.
Without the new BIG10 tournament setup would anyone care about the conference standings? Notre Dame ran away with title but now a home series is a nice incentive to get in top 4 #GPLMailbag

— SufferingSotaFan (@PeterJavorski) February 15, 2018
evegoe: Great point Peter! Not only have the Fighting Irish run away with the league and top seed, but teams are fighting for more than just PairWise Ranking in the Big Ten again. The Gophers need eight points in their final four games to clinch home ice, although I don't think it'll take that many. Ohio State needs just a final point in their final four conference games for home ice. Michigan needs six points and a sweep with two games to play for home ice. Michigan State is locked into last place and Wisconsin/Penn State need help.
This weekend is crucial for the Gophers to have a shot at hosting Michigan State, the easiest team to play in the first round.
Is Minnesota still going to play UND for the first round? Was the goal outburst this past weekend due to bad play by the badgers or is was this a moment that the gophers found there firepower

— John Kandels (@captainkandels) February 15, 2018
evegoe: This is a tricky spot in the season to predict where the Gophers will end up for the NCAA Tournament. I think there is a strong possibility right now that Minnesota can rise to getting a No. 2 seed in a region and North Dakota is going to end up being a No. 3 seed in a region–put those together and the reward is Sioux Falls, SD. I think their only hope to avoid the Fighting Hawks in a first round match-up in Sioux Falls is if North Dakota ends up a No. 4 seed and they both need to win to advance.
The goal outburst might have been because the Gophers were playing to win a 2-1 game, were in such good position that they were able to turn a lot of Badger mistakes into rushes the other way. Minnesota has plenty of skill once they get into the rush–they just haven't been able to do it very often this season. Steve Johnson said at availability this week that a big key to their transition is having four guys low to start the breakout, said earlier in the season they got too stretched out before they made the first pass.