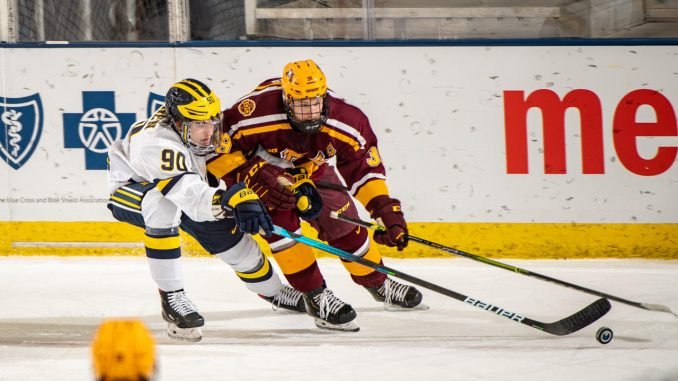 During a 2020 where things have been far from perfect, No. 4 Minnesota has a chance to head into their winter break without a blemish on their record. The Gophers haven't trailed in any of their games so far this season against Penn State, Ohio State, Michigan State and continued that trend against Michigan. Even dropping off three of their top young defensemen, Ryan Johnson, Jackson LaCombe and Brock Faber, for USA Hockey's World Junior Camp didn't slow them down during a 3-1 win over No. 5 Michigan in Ann Arbor at Yost Ice Arena.

"If anyone looks around, older teams in college hockey are the ones that do well," Gophers Head Coach Bob Motzko said. "And we've got older guys that are leading the way for us. So am I surprised? I'm not surprised how we're playing."

"I knew we could play this way. We did it last year and we're out in a good spot right now. We're not going to run the table, it never happens in hockey. We just want to keep getting better and pushing forward."

Minnesota, like a lot of the top programs in college hockey, has to balance acquiring the best talent they can recruit and building the best roster to win. The past decade, they've skewed towards being young and it's certainly still true this season with the fourth youngest roster in college hockey at an average age 21 years – 2 months.

However, Motzko has been trying to get his team older where he can. One of the first players who joined the coach at his new job was Ben Meyers who had been previously connected to Maine and to Nebraska-Omaha. Motzko took the job in March 2018 and Meyers, who captained Delano to their first state tournament appearance, decided he would rather be a Gopher for Motzko in April.

Meyers was the type of player that Minnesota typically didn't always have room to add. Meyers matured during his two-year junior hockey experience to be an assistant captain for the Force where he was named second team All-USHL and won a Clark Cup.

Now the 22-year-old old center is a key cog for the Gophers and was named the number one star against the Wolverines Tuesday night after scoring a goal and two assists.

"He's a phenomenal player. He's always been a staple for our team, that's why we voted him assistant captain this year," said linemate sophomore Bryce Brodzinski. "It's always big when our better players step up in games like this."
Meyers has certainly been one of the players stepping up this season as he will head into the first half finale leading the team in scoring with eight points (four goals, four assists) in seven games, tied for the team lead in plus/minus at +4 and has established himself as the go-to in the faceoff circle leading the team with 76 faceoff wins.

Motzko often goes to Meyers as one of the first pair of forwards for every penalty kill with Jaxon Nelson, will go to a Meyers' led power play unit to start a man advantage opportunity and relies on him at the end of the game to hold onto leads.

"He's going to be one of the better players in the country as just a sophomore and people are seeing that. He's such a terrific skater, he's strong on draws, he's so strong on the puck, he's got great feel individually to make plays and confidence," Motzko said. "We could see it coming last year and we kind of had a feeling this could be a big breakout year for him. He has sure proven that… he's pretty good in all areas… penalty kill, power play, center… he is a versatile player."

Meyers was a player that became dependable in all deployments last season for the Gophers to make smart plays all over the ice while he tallied 10 goals and 16 assists in 37 games while being named to the Big Ten All-Freshman Team, but he so far has taken it to the next level this season despite the long layoff.

"We had guys working out on the lawn of the hockey house. It looked like Gold's Gym outside, it looked like Venice Beach. Benny Meyers looks like a silverback gorilla and all he's been doing is push-ups in his room," said senior goaltender Jack LaFontaine heading into the season. "A lot of guys took ownership this summer for how they were going to get better, whether that was on the ice, whether it was off the ice, we did a phenomenal job of making sure that nothing, not even a pandemic, was going to stand in our way of getting better and preparing ourselves for this season."

It's a season with a lot of unknowns ahead, like the second half of the schedule that hasn't been released yet, but it's not hard to imagine that one of their players will approach it just like he did during game one against Michigan.

"I just stick to the game plan. Same thing we've done every other game up till now. Try to get pucks deep and make plays if they're open, but if not, just keep it simple," said Meyers.