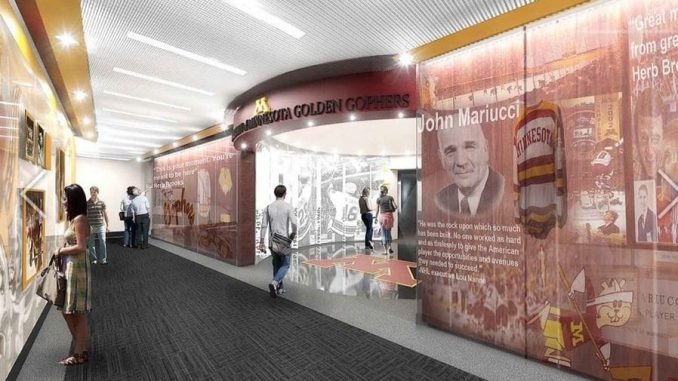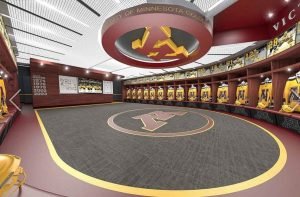 This fall the University Of Minnesota Board Of Regents approved a list of upgrades to Mariucci Arena renovating the locker rooms, training rooms, player lounge and film room. The $4.3 M for updates was approved this fall, but won't begin until April 2016 and should be complete by the start of the 2016-17 season.
"The area from when you walk in the double-doors, all the way to our locker room is going to be Gopher Hockey," said coach Don Lucia. "We'll move the visitor locker room to the other side, put a lounge down here, a kitchen, some hydro tubs and things we needed to do."
Additional renovation phases within Mariucci Arena have been identified for the future, but the project included in the UMN capital budget is the only one fully funded and ready to begin construction. This means that after the initial phase, updates will happen to the weight room and shooting stations, but any changes to the rink size are on hold.
"The rink size is the last phase as far as I'm concerned," said Lucia "Everything we want to do first is for the players, their development and their comfort. That's why this area has to be done first. The weight room will be second and everything else down the line."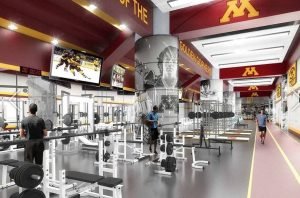 Mariucci Arena opened up in 1993 and the first updates were adding 300 seats via suites in 2002. The scoreboard and audio/visual equipment was then modernized in 2012. The newest updates will be done by JLG Architects who have done similar updates for Herb Brooks National Hockey Center, UNO Arena, Ralph Engelstad Arena (TRF), Sioux Falls Arena, Dubuque Arena, Roseau Memorial Arena, Marion Sports Center, Buccaneers Arena, Hockey Hall of Fame, Ralph Engelstad Arena (GFK), College of St. Benedict, and the Boston Bruins Practice Center.
The $4.3 M in funding for the project is funded completely through donations and gifts and not from public funding.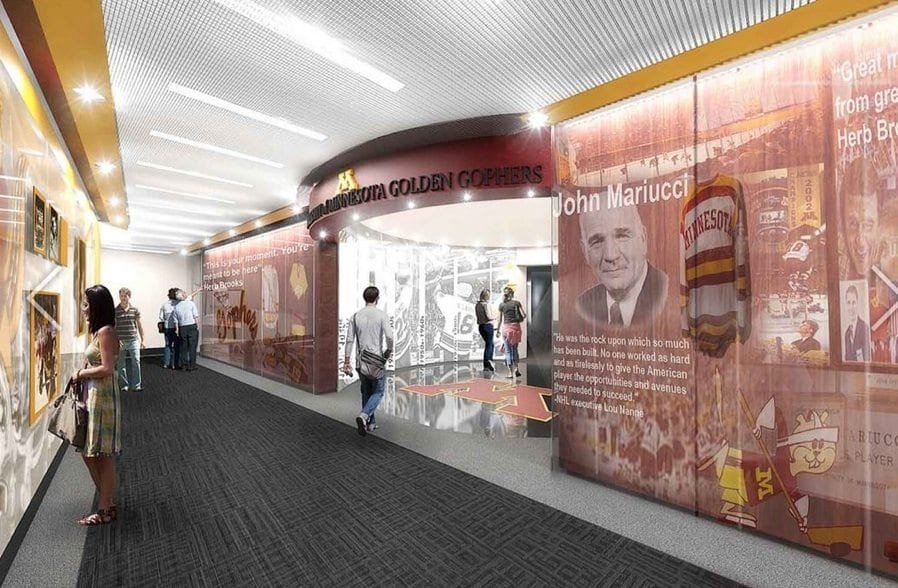 The lower level will eventually be completely reconfigured "to create a linear path from public to private locker spaces, showcasing a Hall of Fame, media room, team lounge and video rooms, coaching lockers, athletic trainer and equipment spaces with improved in-out loading access. Visiting team locker room is moved so ice access stays away from the home team areas. Finally, the main locker spaces take advantage of top-of-the-line finishes, technology, and arrangement to place the players and coaches in close proximity for discussions and interactions" according to JLG's website.
"Mariucci was built in '93, there's been a lot of facilities built and upgraded since that time. We need to do our upgrades too," said Lucia.