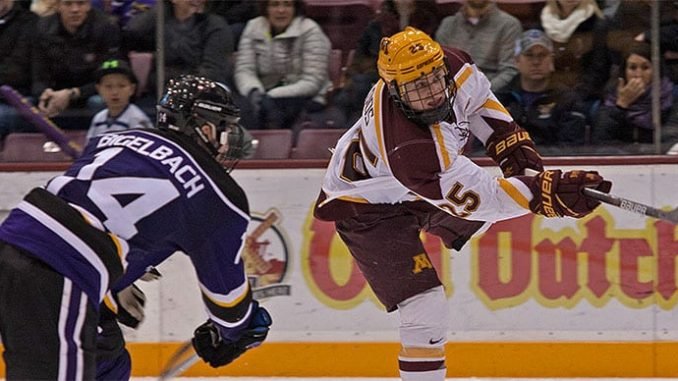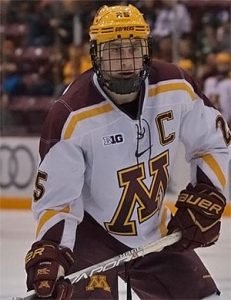 Minneapolis, Minn.–The Gopher's struggles against in-state teams continued Friday in a disappointing effort and 4-1 loss to Minnesota State. Don Lucia responded by shuffling his entire forward lineup to spark his captain Justin Kloos, but stuck with the goaltender he pulled after two periods in Mankato. Both decisions paid off as Kloos scored the only goal of the game, Eric Schierhorn delivered a 23-save shutout, and Minnesota defeated the Mavericks 1-0 in front of 9,323 at Mariucci Arena.
"Just unacceptable some of the things that happened last night, I took it to heart," said Kloos. "I only have so many more games here wearing the 'M' and losing to in-state rivals hurts. It was good to come out here and win one."
The captain's goal came 2:46 into the second period as Minnesota's power play got the puck to the net and Mike Szmatula barely connected on a one-timer just outside the crease. The Gophers swarmed the net, Tyler Sheehy got the first chance at the rebound, and then Kloos connected for his third goal of the season.
"They have pride, our captains have pride, and it's starts with Justin and he scored the big goal tonight," said Lucia. "That was a battle goal where it was a second, third, fourth chance around the net."
#7 Minnesota (5-3-2) controlled play throughout the night out-shooting #15 Minnesota State (8-5-1, 5-4-1-0) 38-23, but Maverick goalie Jason Pawloski kept his team in the game by closing the door on numerous odd man rushes and one-timers.
"We played a good game, felt like we were pretty much in control from the start," said Kloos. "They made a pretty good push in the third, but we just came out with good jump and we felt good. Their goalie was playing great, he played good last night and obviously we didn't get as many chances last night… but we had a lot and he played good and he gave his team a chance to win for sure."
Minnesota State coach Mike Hastings thought Minnesota defended a lot better than Friday night and didn't allow his team second and third efforts like there were the previous night. The Mavericks had four power play opportunities during the game, but they had a hard time getting pucks to the net.
Lucia noted that Minnesota's rotations on the penalty kill weren't very good last night, but said Schierhorn being on his game was the biggest part of the penalty kill's success on Saturday.
"Guys were just selling out [on the penalty kill], they made my life easy," said Schierhorn. "We cleared guys out in front of the net and I was able to look around a couple screens which I didn't do last night."
The shutout was Schierhorn's third of the season, sixth of his career, and the goalie said that he felt like he was going to be put on waivers after Friday's game, but that the team played Saturday just like they did in their Saturday game against North Dakota, and that's what they need to be night in, night out.
The Gophers head out east for another road trip next weekend, playing at Northeastern Friday at 6 pm and then #5 Boston College Sunday at noon.
Golden Nuggets: Lucia felt that the Connor Reilly-Kloos-Sheehy line and the Leon Bristedt-Tommy Novak-Jack Ramsey line were the best two combinations coming out of the weekend… Joey Marooney made his Gophers debut Saturday in place of Ryan Norman and Lucia said the freshman's speed was noticeable on the ice. The freshman drew a penalty in the offensive zone late in the second period… Jack Glover was in the lineup for Ryan Collins at defense and Lucia said that he's starting to figure out who his top 12 forwards and top 6 defensemen are going to be this season. "If we have a guy that's not scoring, not hitting, not blocking a shot, he's not going to play, it's simple as that," Lucia said.