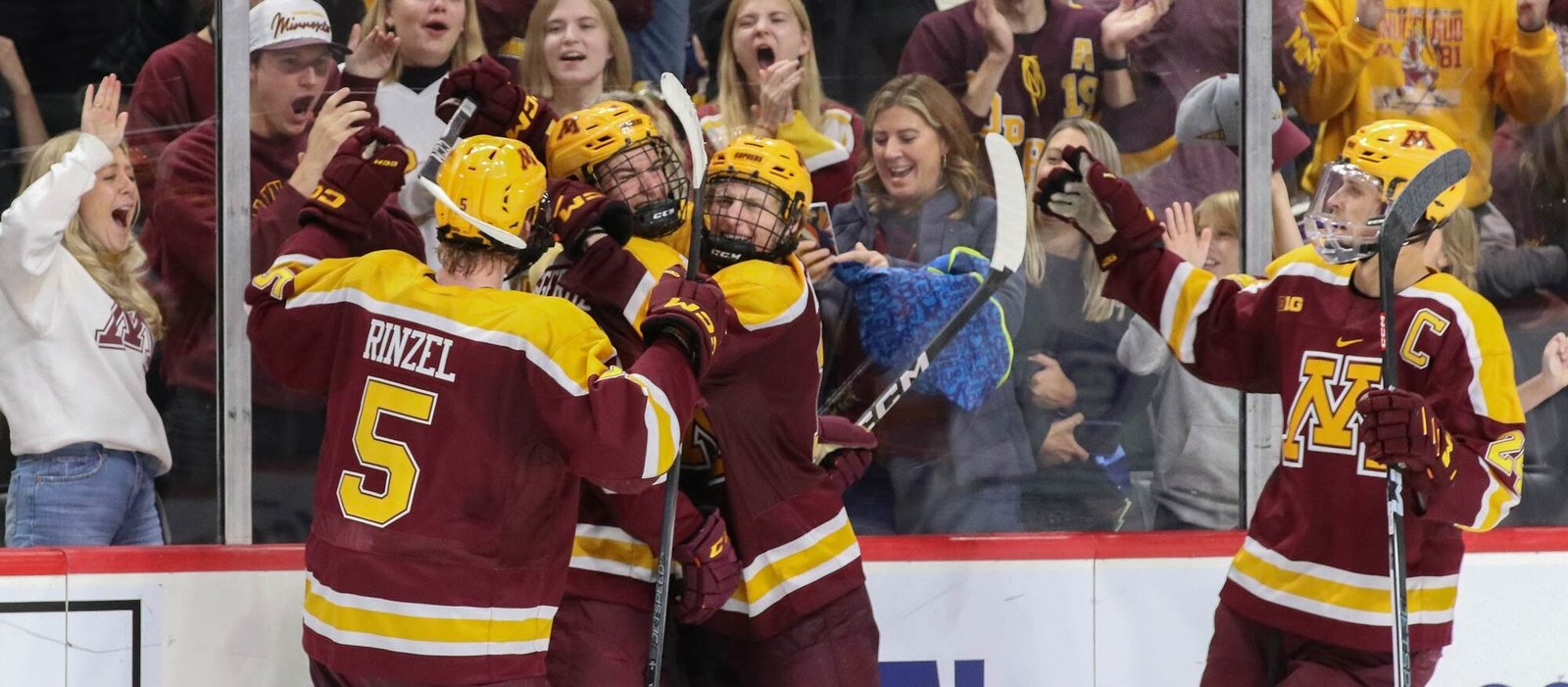 St. Paul, MN – With the Frozen Four at the Xcel Energy Center this season, the Minnesota Gophers hope to win the final game of the season in St. Paul.
Winning the first game of the season there is a step in the right direction.
After four straight St. Thomas goals turned a 2-0 Minnesota lead into a 4-2 Tommie advantage, the Gophers (1-0-0 Overall) struck back in the third, scoring three times to take the lead and once in overtime to prevail over St. Thomas (1-2-0) by a 6-5 margin at the Xcel Energy Center.
Aaron Huglen scored the Gophers' first goal of the season at 7:45 of the first period. Huglen missed last weekend's exhibition game against Bemidji State, but he was healthy enough to lace up the skates tonight, and a healthy and productive Huglen is a huge boost for this Minnesota team. The Maroon and Gold extended the early lead to 2-0 on a Jaxon Nelson powerplay tally at 18:24 of the first. Nelson was set up by Oliver Moore and Sam Rinzel, with both freshmen earning their first official point as Gophers on the late period marker.
St. Thomas showed grit, fighting back in the second period and early in the third to turn a two-goal deficit into a two-goal lead. Goals from Mack Byers (SH), Liam Malmquist, Luke Manning, and Lucas Wahlin (the last just 27 seconds into the third) put the Tommies in the drivers' seat with less than 20 minutes left in regulation.
Jimmy Snuggerud, the sole remaining Gopher from last year's all-world line with Logan Cooley and Matthew Knies, turned the tide. His cannon-blast one-timer just 20 seconds after Wahlin's goal brought the Gophers back to within one goal at 4-3. Brody Lamb, a new face on the top line alongside Snuggerud and Moore, scored on two beautiful wrist shots in the span of less than four minutes to bring the Gophers back into the lead at 5-4 with 6:05 played in the final frame.
Again, St. Thomas fought back, with Wahlin scoring his second of the night on a seeing-eye tip-in at 13:14 to tie the game at 5-5 and eventually send it to 3×3 overtime. In the extra session, Minnesota's offensive leader Snuggerud again struck for the Gophers, this time on the rush. Snuggerud skated the puck up the left wing, blowing by two St. Thomas defenders before hoisting the puck up over St. Thomas goalie Aaron Trotter's right shoulder and into the back of the net to give Minnesota the 6-5 overtime victory.
The series shifts from St. Paul to Minneapolis tomorrow, as the Gophers host St. Thomas at Mariucci Arena. The puck drops at 6PM, and the game can be seen on Fox9+, streamed on BTN+, and heard on AM1130 / FM103.5.
Videos