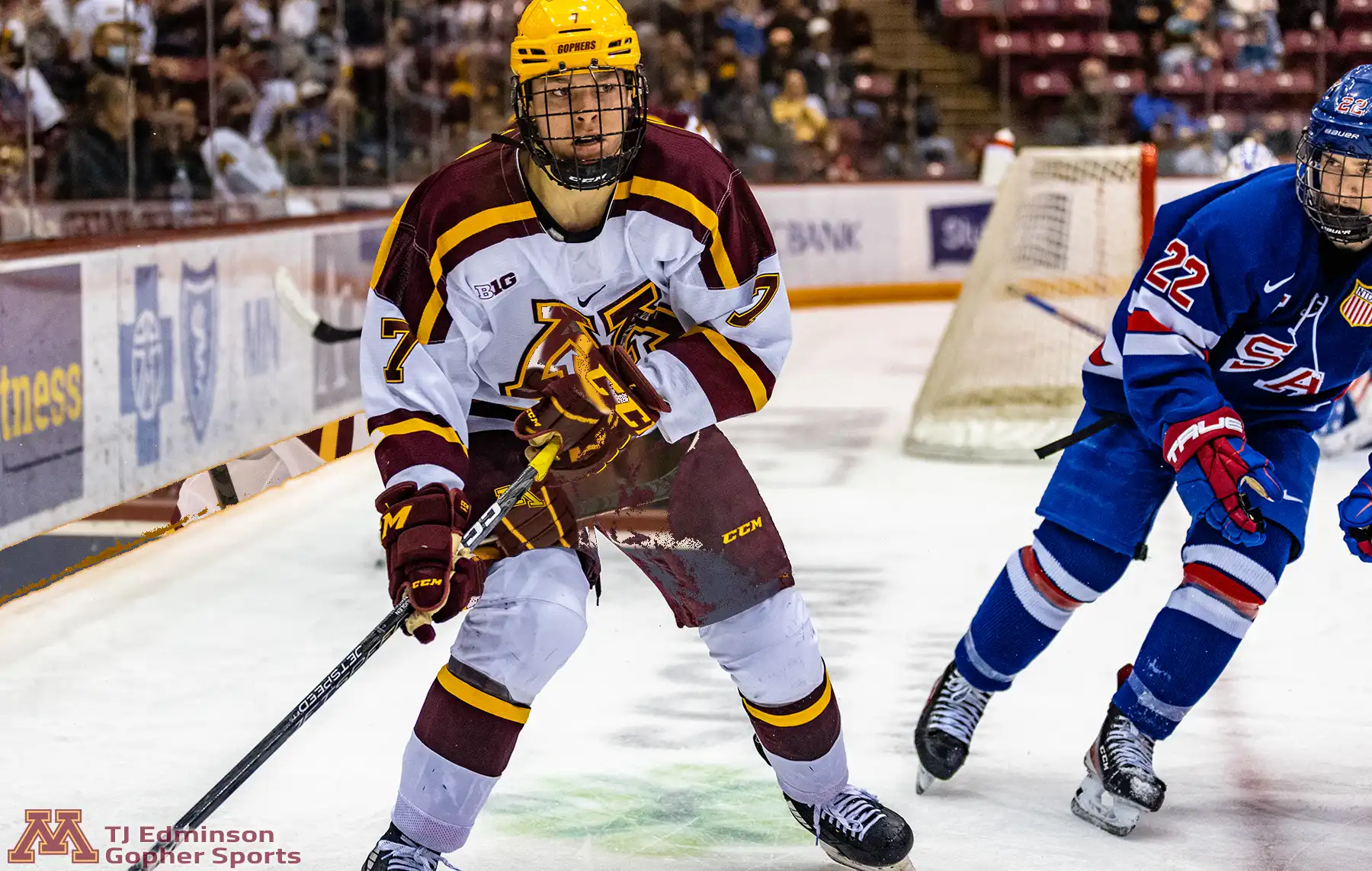 Minneapolis, MN – Minnesota coach Bob Motzko has elected to fill the late December portion of the schedule with exhibition games the last several years, and with four Gophers at the World Junior tournament, this year is no exception.
The Gophers scheduled two exhibitions in late December, with Minnesota hosting the US National U-18 Team Thursday before traveling to Bemidji to face the Beavers on Saturday.
Gopher fans in attendance for Thursday's contest against the USA Under-18 Team were treated to a great hockey game. Gone are the days when the U-18 team is a pushover for college squads. A testament to how much better US junior hockey is, the U-18 team has been very good for the past several years. Playing a mixture of USHL and NCAA opponents, the U-18 team had gone 24-5 coming into the game against the Gophers, with D-I NCAA wins against Michigan State, Notre Dame, Lake State, Michigan Tech, St. Thomas, RPI, Army, RIT, Boston U, and Yale.
It looked to be a well-played hockey game, and it was. The Gophers scored all three of their goals in the first period, with Rhett Pitlick opening the scoring on a breakaway at 1:04 of the first. Team USA answered back, with future Gopher Oliver Moore scoring just past the halfway mark of the first to tie it up at 1-1. Minnesota took the lead back later in the first, with Matthew Knies scoring on a wrister at 14:01 and Rhett Pitlick scoring shorthanded at 16:47 to put the Gophers up 3-1 after one period.
The teams traded scoreless second periods, and halfway through the second Gopher starter Justen Close made way for backup Owen Bartoszkiewicz, who finished out the game between the pipes for Minnesota.
Team USA was able to score with the goalie pulled with 1:52 left in the third to draw within one at 3-2, but they couldn't score again, and the Gophers held on for the 3-2 victory.
Team USA has games lined up against North Dakota (12/31) and Michigan (1/6), so we'll see if the U-18 team can give those schools a run.
Up next for the Gophers is their second exhibition at Bemidji on 12/31, which is being shown on Fox9+ at 5PM Saturday. After that, the Gophers have a home-and-home with St. Cloud January 7th and 8th before getting back into the second half of their Big Ten Conference schedule. Minnesota currently has an eight-point lead over Penn State (30 to 22) in the conference title race, and is first in the Pairwise rankings.