Rem Pitlick Pockets First Gopher Hat Trick in 6-3 Win
Minnesota's pursuit of a record sixth consecutive conference title got a boost Friday night as the Gophers pulled away with a 6-3 win over the Nittany Lions in front of 6,137 at Pegula Ice Arena.
Rem Pitlick scored a goal in every period, Ryan Norman and Taylor Cammarata each netted their fourth goals of the season, and Justin Kloos scored the game winner during a key third period power play. Eric Schierhorn made a season high '40 saves' on the night against #9 Penn State (18-7-2, 7-5-1-0).

"We talked about the goal coming in was to make sure we stay ahead of them," said Gophers coach Don Lucia in his post-game
on ESPN 1500. "Now we've assured ourselves of that, and now we have a great opportunity tomorrow."
The victory ensured the Gophers would enter the final three weekends of the regular season atop the Big Ten standings with a home series against Wisconsin, a trip to play Michigan at Yost, and a home series against Michigan State remaining.
Penn State coach Guy Gadowsky has a lot of respect when talking about #5 Minnesota (19-8-2, 10-3-0-0) noting his team couldn't focus on any one aspect of the team coming into the weekend, and that the Nittany Lions needed to play a complete game.
Penn State got off to a great start by controlling play throughout the first period, out-shooting the Gophers 15-8. The Nittany Lions capitalized with a 5-on-3 power play goal by Andrew Sturtz after Mike Szmatula took an offensive zone penalty to end a Minnesota power play and then Brent Gates Jr. was sent off for the rest of the night because a major hitting from behind call. Penn State almost got a second goal from Vince Pedrie midway through the period, but it was later waived off during review due to goalie interference. The Gophers were steadied with nine blocks during the period, including six by their forwards, and Lucia felt lucky to escape from the period tied 1-1.
Penn State's Nate Sucese made it 2-1 as Denis Smirnov forced a turnover on Minnesota's breakout and then found his line mate breaking in on goal all alone 5:49 into the second period. The Gophers found answers with two goals to close out the second, nearly thought they had another by Kloos before it was disallowed, and then another three goals answering Kris Myllari's goal for Penn State in the third.
Lucia said the overturned Kloos goal was a tough call because he felt the long review meant a lack of indisputable evidence. He added that if it would have been called no goal, then it probably would have been just as hard to go the other way, and that what was called on the ice should have stood.
"I thought we did a good job around our net and being able to take a punch a bit," said Lucia. "Whether it's disallowed goal, whether it's five minute major, whether it's falling behind 2-1, we just found a way to punch back tonight."
Lucia was please with how his team surrounded Schierhorn throughout the game, with how his goalie did what they asked of him, and with how Norman, Pitlick, Sheehy, and Cammarata embraced the extra ice time after the Gates Jr. was DQ from the game. He said those forwards got double-shifted at times because they weren't involved on the penalty kill.
The only thing the coach wanted to see more of was his forwards getting pucks behind the defense when there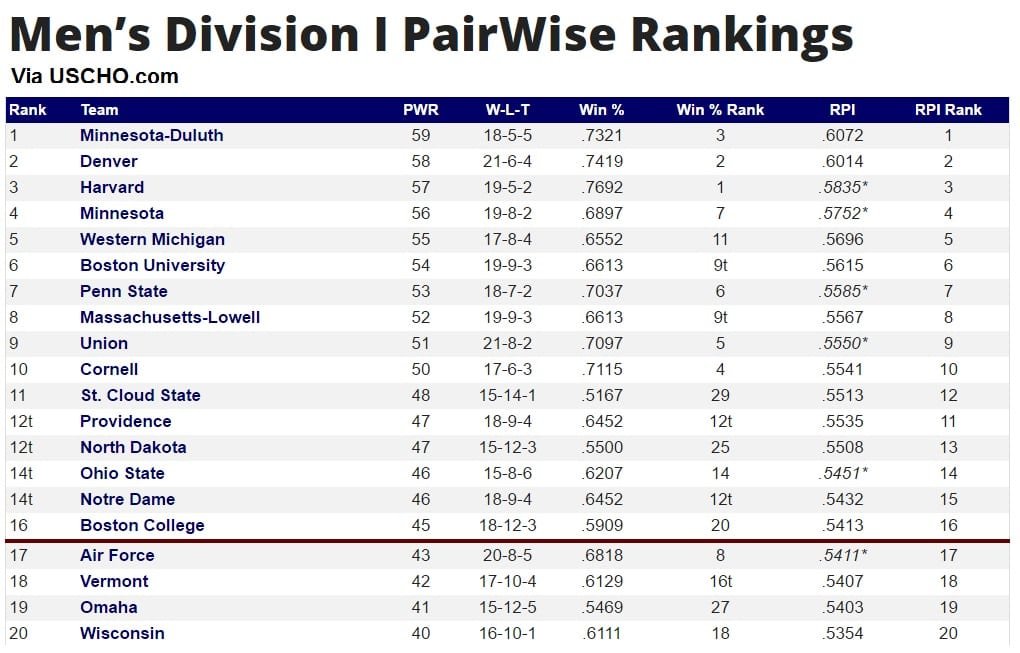 weren't plays to be made–although they followed through on that game plan late in the second and throughout the third.
Gadowsky said Minnesota's quickness gave his team trouble, but the "outcome of this game doesn't reflect tomorrow, so we will be ready to go." Penn State only fell from sixth to seventh in the Pairwise Rankings, but Saturday's game could have big implications on the Nittany Lions conference tournament seed and opportunity to stay high enough in the Pairwise Rankings to keep an at-large bid alive.
The Gophers have a chance for a regular season sweep Saturday at 7 PM, the game will be carried on BTN and ESPN1500, as the Gophers seek to maintain their #4 Pairwise Ranking and extend their conference lead.