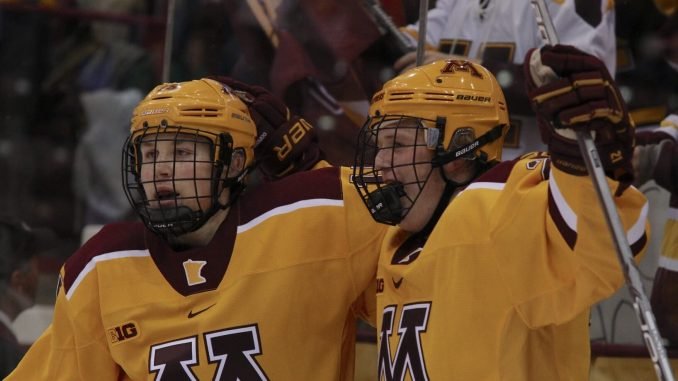 McManus Hat Trick Propels Gophers Past Penn State 6-3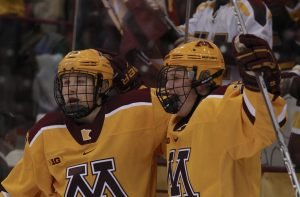 Minneapolis, Minn. — The 10-minute game has been getting a lot of attention early this season when assessing Minnesota's play. The No. 7 Gophers (2-2-0, 1-1-0-0) once again showed the bad on Friday, but responded with the good in their second game of the weekend with a 6-3 win over No. 11 Penn State (2-2-0, 1-1-0-0) in front of 8,114 at 3M Arena at Mariucci.
"Right off the gate today we put an emphasis on just getting it on net. [Friday] was embarrassing with one shot in the first 10 minutes," said assistant captain Tom Novak. "It's more of a mental thing at the beginning of the game to just get it on net and go from there."
The Gophers outshot the Nittany Lions just 7-6 in the first half of the first period, but they stayed out of the penalty box, played with greater intensity, and got all five players involved in the offensive zone. Casey Mittelstadt scored his second goal of the season as the Gophers got the puck deep in the zone, moved it to the point for a Jack Glover shot, and the freshman tipped it giving Minnesota an early lead 13:34 into the first. Brent Gates Jr. got his first goal of the season in last minute of the first by capitalizing on some hard work below the dots by Jack Ramsey and Mike Szmatula, and finding a wide open space in front of the net.
"We feel like we're getting ready for games, but come out trying to be too cute the first 10 minutes," said Gates Jr. "If you watch teams that have good games, the first 10 minutes they're hammering pucks on net, they're getting over pucks, there standing on them, they're playing the body on guys–it's just a mentality more than anything and we didn't have that on Friday."
Minnesota coach Don Lucia had to shuffle his lineup a bit on Sunday because captain Tyler Sheehy missed the weekend due to an injury he picked up in practice early last week, Scott Reedy was nicked up in Friday's game with an upper body injury, and Leon Bristedt was suspended for a checking from behind penalty on Friday. The coach decided to spread out his 'blue line' Ryan Norman, Darian Romanko, and Jack Ramsey among his top nine, dress Cullen Munson and Joey Marooney as spare wingers, and give Sam Rossini his debut as the seventh defenseman. The moves paid off as the blue collar mentality spread throughout the lineup and Rossini chipped in with his first Gopher goal by joining the rush 15:28 into the second.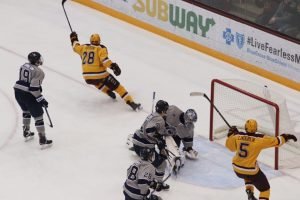 Lucia noticed the blue collar ethic on all three lines, and said that's something he is going to have to look at as they head to North Dakota next weekend. Lucia leaned heavily on his top nine forwards throughout the game, which meant extra ice time for Brannon McManus playing with Novak. The California freshman made the most of the opportunity by tallying a third period hat trick.
"That's what he is, he's an offensive player, he's been that way his whole life going back to Shattuck, he was going to get more minutes. I told him after the game when we took him out against Union that probably the reason we took him out was not that he played poorly, but Ramsey, Romanko and Norman played so well I couldn't take them out, and so you're a freshman that's the way it works. He just said I don't want to come out again, he knew today was more of an opportunity, and he really came through," said Lucia.
"Those are goal scorer's goals, some guys slot pucks in, but when you're coming in and picking corners from distance that's when you know you have a good shot–not everybody can make those plays."
Eric Schierhorn picked up the win in his 79th-straight start for Minnesota by making 23 saves, passing John Lothrop for the school record for consecutive games played by a goalie. Schierhorn has a .918 save percentage so far this season, a tenth better than his career .907 save percentage.
Looking ahead to next week Lucia said the team needs to focus on their specialty teams play as they're just 3 for 20 on the power play and 12 for 18 on the penalty kill, and in particular they need to be better in the face-off circle where they're 46 percent early in the season.
"We're not doing a great job on winning draws, especially in specialty team situations–it becomes so important to start a power play or on kill to win those draws," said Lucia. "And our penalty kill and power play are making some mistakes we shouldn't be making with veteran guys."
The Gophers make their first trip to Grand Forks since the 2011-12 season to face the Fighting Hawks next weekend. The games will not be carried on television outside of Middco as the rights rest with the NCHC, UND, and the local broadcaster. A stream will be available on NCHC.tv and radio coverage will be provided by Frank Mazzocco and Wally Shaver on 1130 AM and 103.5 FM.
"Obviously [slow starts] are not what we want to be doing on Fridays, but we definitely got it in us on Saturday," said Novak. "We have the ability, we've just got to find that consistency, come on out Friday with a different mindset, I think you'll see it next Friday in North Dakota."
Post game video with Gadowsky, Novak, Gates and Lucia
[facebook=https://www.facebook.com/GopherPuckLive/videos/1226972604074011/]