Novak feeds Fasching for OT winner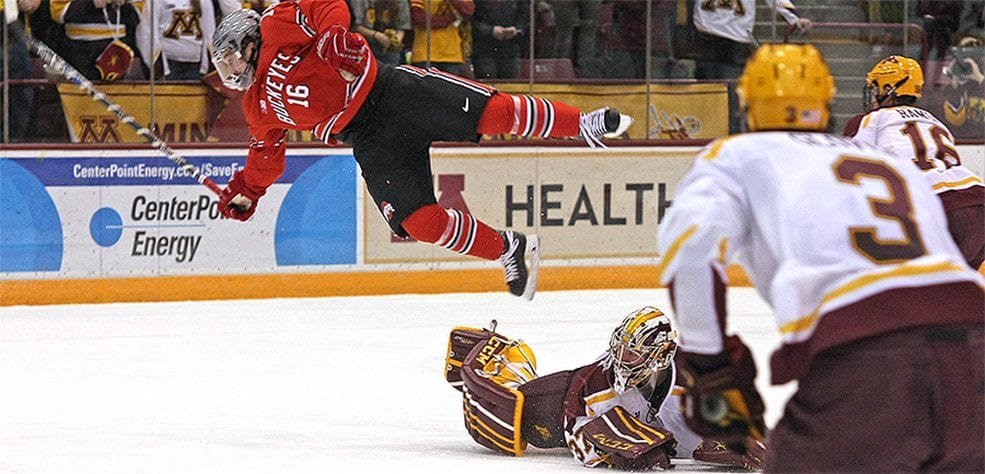 Minneapolis, Minn.—A two goal Buckeye lead after two periods, had Gophers saying 'Oh no, not again.' But Don Lucia reunited his forward lines, got goals from Tyler Sheehy and Tommy Novak to tie the game in the third period, and then an overtime winner from Hudson Fasching earning Minnesota (5-7-0, 1-0-0-0) a 3-2 win over Ohio State (3-10-0, 0-1-0-0) in front of 9,296 at Mariucci Arena.
"Obviously when we get down a couple goals, that [oh no, not again] mindset is always in the back of your head," said Fasching.
The junior is one of five forwards in his class that have struggled to get Minnesota over the hump this season. The Gophers have struggled getting on the board first this season, only four times in 12 games, and have struggled closing out games, most recently losing leads and games to rivals Minnesota State and St. Cloud Sate.
Ohio State's Josh Healy scored at 8:53 in the first on a long-range shot from the blue line and Nick Schilkey scored his eighth of the season with a power play goal at 3:06 in the second to give the Buckeyes a 2-0 lead.
Minnesota went back to the locker in the second intermission, reunited its regular lines after trying out some new combinations during the first two periods, and started to put the pressure on the Buckeyes.
"We're at zero, so we had to get some guys going. I thought that there were two or three guys that probably play in out top nine that looked sluggish," said Lucia. "So we thought we put the lines back the way they were and see if that could give us some spark. We obviously had a really good third period."
The Gophers defensemen also became significantly more active throughout the third winning puck battles, holding the offensive zone, and allowing Minnesota to maintain some consistent pressure on Ohio State as they out-attempted the visitors 29-9 in the third.
"The way we forecheck, we want [the D] in our in-zone offense as much as we can. Get them in the play and they made a lot of plays today," said Fasching. "They can see the whole ice, they can kind of see the play develop. When they jump in, they keep that pressure, we hem them in a bit, and really wear them out. You can kind of tell they were dying in the third period–we just kind of wore them down."
The pressure lead to two Minnesota power plays during the third, and the Gophers converted on both of them. Sheehy got the first goal by tipping a Steve Johnson shot at 6:10. Novak got the second goal at 15:33 to cap off a dominating man-advantage opportunity—a goal Lucia said was inevitable based on the number of scoring chances they generated.
Then in the overtime, the Gophers most consistent line of the season made an above average play.
"I had some speed, it was a good pass from Stevie, so I took it wide and luckily I got around the D there," said Novak. "I don't know, I just was trying to make a play and Fasch got open really well."
"I saw Tommy wheeling and I know he's just sneaky. I was like, "he's going to make it around the back of the net,'" said Fasching. "I just kind of slowed it down, and kind of parked it out on that high slot area and just moved down there. He made a perfect pass right in the wheelhouse—so great play by him."
When asked if that's the best game Novak has played, Lucia said, "Third period… I can't say the first two."
Minnesota and Ohio State go at it again Saturday at 7 PM. The game will be carried by ESPNews with Clay Matvick and Sean Ritchlin on the call and of course on ESPN1500 with Frank and Wally.