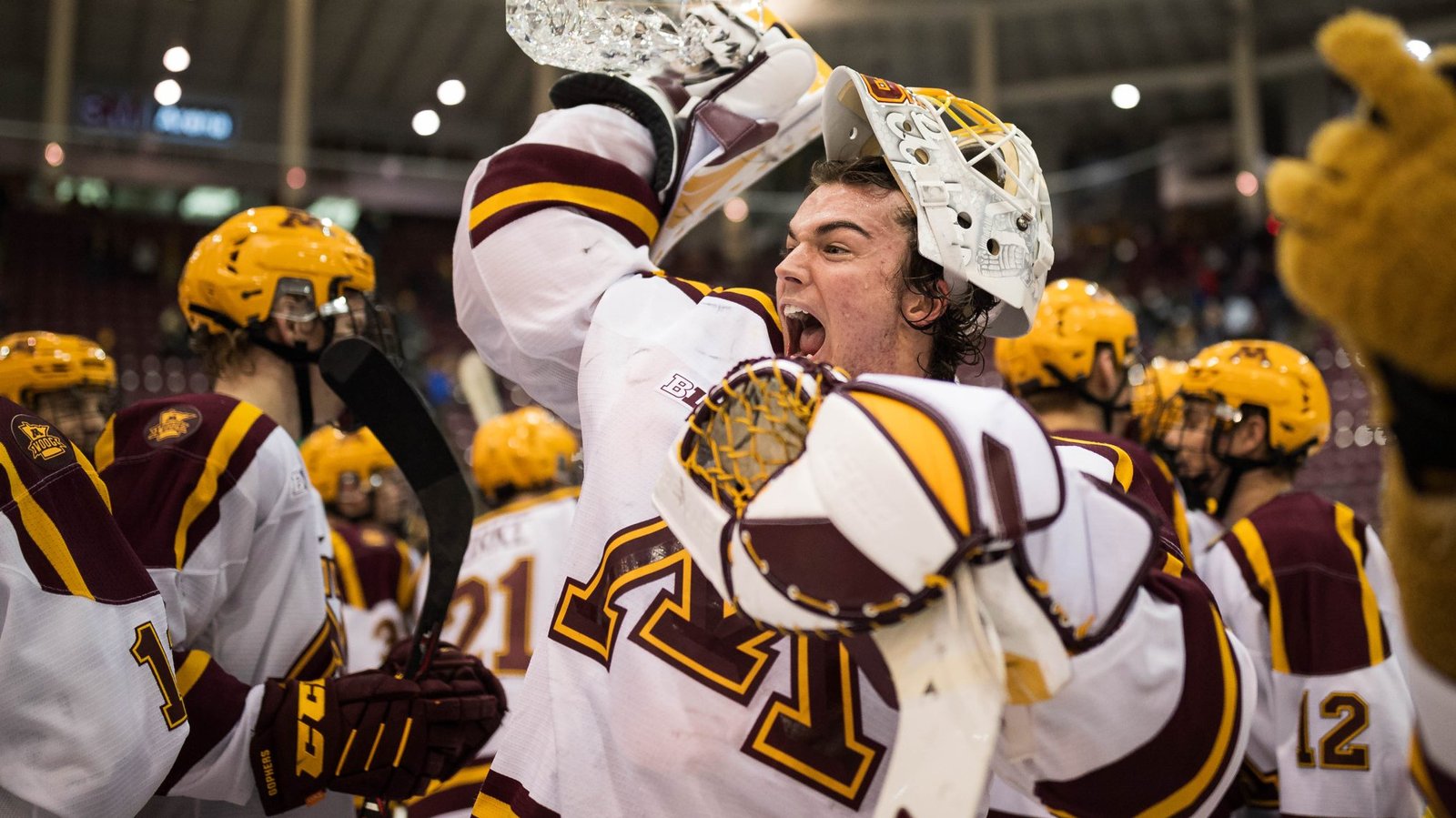 Minneapolis, Minn. — When Bob Motzko first took the men's hockey head coaching job at Minnesota he said that before his program could get older, they'd have to get a lot younger. Motzko will still start his third year behind the bench of the Gophers with the fourth youngest roster in all of college hockey, but he boasts the most returning point scorers in the nation with 87.2 percent coming back. He also has a returning trio of goalies that posted the fourth best save percentage (.935) during the second half of last year. Those two factors are a big reason Big Ten coaches tagged the Pride on Ice as favorites to win the league title.

"I've always thought coaches polls to pick a season are silly, but I know it's tradition, I know it's for fans and it really comes from the fact that we had a strong second half," Motzko said. "Last year, we were knocking right on the door and we've got a lot of returning players. It's kind of a tag, you're it and we get it. You can't hide that we've got a good hockey team returning. We still have another big step to take though."

The Gophers faced challenges in Motzko's first year when the program seemed stuck in a rut, but also returning a lot of veteran players used to playing a different style waiting for opponents to make mistakes. During his second season, the coach had a very young recruiting class and pushed 19 freshman and sophomores into key roles with lots of ice time under his aggressive structure forcing the play.

Motzko now will look down the bench knowing what he has to work with including eight double digit point producing forwards from last year, plenty of returning depth at center where senior Scott Reedy, junior Sammy Walker, sophomore Ben Meyers and sophomore Jaxon Nelson learned on the job during 2019-20 and maybe one of the most talented defensive corps the maroon and gold have seen since new undergraduate assistant coach Paul Martin played.

Motzko never used the term 'developmental program' when talking about his team, but his roster took their lumps during the first half of last season. Talented, but inexperienced players were thrust into new situations as the coach placed underclassmen at center throughout the line chart, skaters without any specialty experience played on the power play or penalty kill and three new goalies with no track record at Minnesota battled for the net.
Seems like the same story the past couple years for #Gophers against #HockeyValley as their F1 and F2 players are hard on the strong side. Then F3 cuts off any chance to reverse the puck. Can't be slow getting back, can't be slow getting out. pic.twitter.com/AwRpklZviI

— Eric Vegoe (@evegoe) November 16, 2019
The growing pains glared while the Gophers were swept by Minnesota Duluth 5-2 and 2-0 during a home and home, after giving up 14 goals to a veteran Penn State squad in a series that wasn't close and watching North Dakota score 12 goals at 3M Arena at Mariucci as the Fighting Hawks continued to capitalize on careless mistakes in front of a crowd with perhaps more green than gold.

The lessons were tough for the coach and for fans of the program to watch, but there were signs of progress during the second half after Minnesota beat Bemidji State and St. Cloud State in the Mariucci Classic and climbed from being an unranked team into a contender slugging it out in a tight conference with a chance to make the postseason by finishing high enough in the PairWise Rankings. Then the Gophers blew a couple of third period leads at Penn State in the last series of the regular season forcing a tougher road to the NCAAs. Minnesota played a much better style against the Nittany Lions than in the previous series in Hockey Valley where weaknesses in the program were exposed, but they still came up short.
Minnesota felt like they were on the rise at the right time last season to end a drought of a couple missed postseasons by getting past a structured Notre Dame team in the first round of the Big Ten tournament and headed to Hockey Valley playing for a spot in the NCAA tournament against a Penn State team that had been waiting for weeks between games.

"One hundred percent we as a team felt, I'm not going to use the word cheated, but I feel like we left some good hockey on the table last year," said senior goalie and assistant captain Jack LaFontaine. "Penn State was going to be the team that was in our way of our goal of making the tournament and eventually winning a national championship. There was that belief in that room… we had a strong belief that we had the team, we had the personnel and we had a great group of guys to get there."

Minnesota and Penn State were set for a one game semi-final on March 14, 2020, but the pandemic that hardly anyone could see being as big as it became caused the season to be cancelled two days before. Now, Penn State is the team that is one of the most inexperienced in the Big Ten, finished to pick last in the league by coaches and Minnesota is the team heading into the season-opening series with veterans who are looking to put themselves on the winning side of a 15-15-1 all-time record against Guy Gadowsky's program.

LaFontaine got votes for captain even during his first year with the program and is one of the rare goalies to wear a letter for his team. And it's not just a case of a guy leading by example as he is not afraid to be a vocal player inside and outside the locker room.

"We have a couple new freshmen, but it's [basically] the same team this year [as last year], and everyone understands what's at stake and everyone understands the issues we've had with Penn State." LaFontaine said. "We have a little bit of bad taste in our mouth with Penn State–there's some unfinished business there for sure and we're not going to be holding back any punches."

Struggles by defensemen under the relentless and consistent pressure the Nittany Lions put on their opponent was one of the issues that has held back the Gophers back in their recent battles against Guy Gadowsky's program. Any lack of confidence on the breakout or in the neutral zone turns into transition opportunities putting a defense on its heels. Motzko hopes that his current roster might be able to negate that strategy.

"The last handful of years, we felt we were closing the gap. I did watch our games recently with them from a year ago, and we were closing the gap, but we hadn't closed it. They were a better hockey team than us," said Motzko. "A year ago they rightfully were the Big Ten regular season champ, but I'll tell you, we wanted to play that game, we felt we were ready."

A big reason for that confidence was the growth of two defensemen Ryan Johnson and Jackson LaCombe who will be sophomores this season. The pair were thrown to the wolves like many of the underclassmen during the first half of the year, but by the end of the season they were finding confidence when to make plays with the puck and when to be safe. Motzko wanted to make sure those two developed from October to March, but was wary of giving them more than they could handle. It's expected they'll be given more opportunities on speciality teams this season and will be massive factors in how big of a leap Minnesota can make this season.
Penn State committed forwards to the puck against UW last weekend, look at how they have three players below the dots and on the same side of the ice to control the offensive zone. Later in shift their D throws a puck to the net.

Get used to seeing this again tonight. pic.twitter.com/cStC2UJpJw

— Eric Vegoe (@evegoe) February 21, 2020
Adding to that mix of talented defensemen just starting to shine in the spotlight will be sophomore Matt Staudacher who brought consistent grit and sound decision making as an older incoming player, two young incoming freshman defensemen Brock Faber and Mike Koster who are highly touted with their skating and skill, two returning juniors Ben Brinkman and Robbie Stucker who bring a mix of steady defense and offense respectively and depth players junior Matt Denman, senior Sam Rossini and freshman Carl Fish who could play larger roles than expected during a pandemic.

"We still have another big step to take right now, but if we get off to a start like we finished last year, we will be in a good spot — but I can tell you that right now in the Big Ten, all seven teams think they can win the league and all seven teams have a chance," Motzko said. "I haven't ever been a part of that before. Usually, every year in the old WCHA and the NCHC there was an order to that year. I've been in this league two years, Penn State last year was the best team, but it was a fight to the end. It's crazy how this league is going to operate and it's buckle up, stay healthy, stay in front of COVID and let your players develop and you're gonna have a shot at the end."