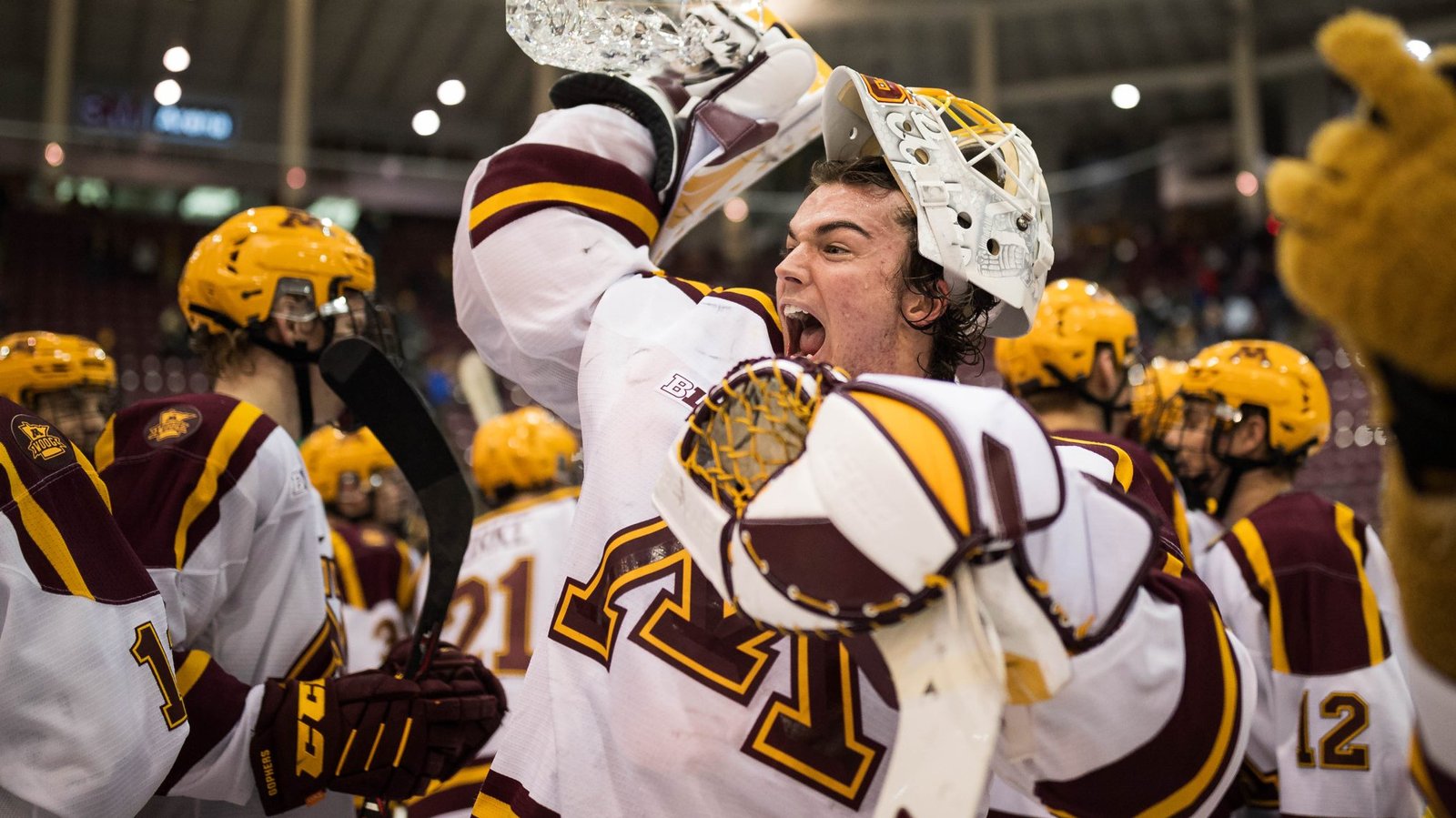 Fifth-year goalie will immediately join Carolina taxi squad
Minneapolis, Minn. — Gophers men's hockey coach Bob Motzko was watching the Minnesota Vikings wrap up their season Sunday when his phone rang and it brought the type of news that usually doesn't come until after his own team wraps up their season — fifth year player Jack LaFontaine informed him that he was signing a professional contract with the Carolina Hurricanes.
"According to him, he got a call in the morning that they're down a bunch of goalies and promised him some good things and it's an opportunity that he wanted to take," said Motzo on his weekly radio show. "Do I agree with the decision? I do not. Am I mad at Jack? No. Jack's a big boy. Just the timing is not good. We're just living in crazy times. They've got COVID going on there, he's a draft pick of theirs, they've got decisions that they need to make to protect their team… I get it. It happened very fast and it's over."
The contract LaFontaine signed is a one-year, entry-level contract. The deal will pay LaFontaine $750,000 at the NHL level and $70,000 at the AHL level through the end of the 2021-22 season. LaFontaine will receive a signing bonus of $88,500 — which is the maximum signing bonus allowed in the NHL's CBA for entry level players — and he was named to their taxi squad. LaFontaine will be headed to Raleigh on a flight Tuesday, Carolina is working on getting their new goalie a work visa as he currently just has a student visa, LaFontaine will go through physicals and the plan is for him to start practicing on Wednesday.
The Gophers move ahead for the time being with two goalies on their roster, junior Justen Close who has yet to start a regular season game and freshman Brennan Boynton who has yet to see any game like action with the program. Close did start and play 60 minutes during each of the Gophers exhibition games earlier this month against the University of St. Thomas and the United States National Development Team Program U18s. Close made 38 saves on 43 shots during the weekend and the back to back SJHL goalie of the year looked ready to fill the need.
"Our team has tremendous confidence in Justen Close. He is a special young man, he's going to get an opportunity," said Motzko. "Boynton had a whole lot of medical issues and sickness the first half and he's a veteran of the USHL. We'll pick up the pieces, move on and wish Jack the best… I mean that's all you can do."
"More than likely we are going to add a goaltender, whether we bring in one from outside or we look at the club team which a lot of schools have done," said Motzko. "You look at kids that are on your campus and I know there's a lot of former hockey players that are here… we're just looking at all that."
Minnesota has two 18-year-old committed goaltenders verbally committed to the program right now in Owen Bartoszewicz (pronounced "Barta-SKAY-vitch") playing with Youngstown in the USHL and Gino Pichora playing with Cedar Rapids in the USHL. Neither have had especially great seasons so far with Bartoszewicz's 3.32 GAA and .889 Sv% and Pichora splitting time between the NCDC and USHL and posting a 2.89 GAA and .889 Sv% in four USHL games.
LaFontaine won the Mike Richter Award last season with Minnesota after season by posting a 22-7 record, a NCAA fourth ranked 1.79 goals-against average, a second ranked .934 save percentage and second ranked five shutouts in 29 games. It was a leap in performance after his first season with Minnesota as a junior when he went 9-9-6 with a 2.55 GAA, .919 Sv% and zero shutouts while splitting time with freshman Jared Moe.
When LaFontaine announced that he was going to use an extra year of eligibility allowed by the NCAA due to a COVID impacted season, he said that there was unfinished business for him in college and that it was something that would really prepare him for the next level.
"This is the best decision if I want to play in the National Hockey League," LaFontaine said last April.
"It was just plain and simple for me. You know, this year broke my heart a lot, but I made sure I made this decision not on emotion but on logic. I felt like, and my family felt like, that if I wanted to play in the National Hockey League, then this would be the best decision moving forward."
After a preseason September skate LaFontaine shared that Minnesota was his home and the Gophers gave him a second shot in college and it was kind of a saving grace.
"I haven't had a lot of experience being the number one goalie and here I am, first time I'll have the opportunity to play a lot of games in a full season so that's definitely something that you can't take for granted, especially at the next level," said LaFontaine. "So, this is my home. I know in my heart of hearts that I made the right decision and I'm just pumped to get back on the ice and kind of have some normalcy with the upcoming season."
What changed?
Canes Goaltending Development Coach Jason Muzzatti had conversations with LaFontaine after the Gophers Friday night win over Michigan State and then shared with Carolina GM Don Waddell that there might be an opportunity for the Canes to sign LaFontaine. Muzzatti had another conversation with LaFontaine about that possibility following Saturday's game and then Sunday after talking with the goalie's advisors a deal was offered and agreed upon.
The Hurricanes are currently going through a roster crunch for goaltenders. Their number one goalie Frederik Andersen was recently on the COVID protocols list, their backup goalie Antti Raanta was listed as unavailable with an upper-body injury and their minor league teams Chicago (AHL) and Norfolk (ECHL) are scrambling to suit up goalies signed to tryout contracts that included an emergency backup goaltender from a senior 'beer' league team. Baudette, Minn. native Alex Lyon recently got called up to take an NHL start Saturday after being named to their taxi squad Friday. Lyon was originally signed as a depth goalie for Carolina's system this year after splitting the last five years bouncing up and down between the AHL and NHL for Lehigh Valley and Philadelphia.
Waddell shared Monday that he thinks his team is a serious contender for the Stanley Cup this season and that while they have pretty good depth at other positions the last thing you want to do is get caught short in goal. The Metropolitan leading Hurricanes have the highest point percentage in the NHL with 50 points in 33 games played, have the best goal differential in the league at +42 and the lowest goals allowed at 73.
The goaltending numbers for LaFontaine haven't quite matched the numbers during his Richter Award Winning season with a 12-8 record, a 2.69 GAA and .900 Sv%, but Motzko leaned on him to start all 20 games so far this season and Waddell wasn't concerned.
"We thought it was important for us to take this opportunity. We had lots of conversation with Jack last summer, respected his decision to go back to school," said Waddell. "Saturday and Sunday morning I watched I think every game he's played this year… we all felt that he was ready for this next step. If a guy was not ready, it wouldn't be the smartest decision. We all feel like he's ready to take that next step."
If LaFontaine had not signed with Carolina by July 1 this next off-season, he would have become a free agent this summer, but now he'll be tied to the Canes as an RFA after this year and could become their backup to Andersen next season. It seems at least for the meantime, LaFontaine will most likely be assured a role as either on the active roster or taxi squad throughout the rest of the year.
Carolina head coach Rod Brind'Amour knows that the new addition to his roster had taken a unique road to get to this point after starting out as a 18-yr-old at Michigan with high expectations as a third round pick, losing the net to less highly touted players, having to find his game in the BCHL with Penticton, landing at Minnesota to find success and now leaving midseason for a spot in the NHL.
"We've got to give him a lot of credit for the steps he's taken. Obviously it's easy for us, we think he's one of the best goalies around in that kind of amateur level and we've got to see what we get in him. Obviously, the situation with our organization right now with goalies, kind of precipitated making this move. We're happy to have him," said Brind'Amour.
"He's played in college for a long time. It's not like a freshman or sophomore, he's been around a long time. I guess it's not normal, but a kid wants to play in the NHL, you know? Can't stop him from wanting to do that. And I think this is as good a chance he's going to have as ever to really get a chance to play."
The last time a high profile player left the University of Minnesota during the season was when New York Islanders seventh overall pick Kyle Okposo departed midway through his sophomore season in 2007-08. There was certainly some tension for Okposo with the Gophers and commentary from then Minnesota coach Don Lucia on the pressure the Islanders put on the forward to sign was pitted against the Islanders GM Garth Snow comments that he wasn't developing.
LaFontaine brought up Monday that he's been on an emotional roller coaster dealing with the decision to turn pro, it wasn't something that he had been pondering all season, was aware that Okposo was the last player to make this kind of decision and knew the magnitude of this path.
"I've been working towards the goal of playing in the NHL since about the age of seven. All my actions, all my sacrifices, all my work have been to the common goal of playing in the NHL, saying that, I just got a ticket to the dance. So now it's really time to work even harder. Do what I know I can do. And like I said earlier, help this team in any sort of way that I can keep them on the path to the Stanley Cup," said LaFontaine.
"I was drafted as an 18 year old and here I am six years later, as a 24 year old, more mature, more understanding of the demands of the position. And I think that's all you can ask of your goaltender is to understand the demands mentally and emotionally."
Meanwhile the Gophers left behind will be left dealing with a difficult stretch ahead as they already knew that they'd likely at least be missing forward Ben Meyers, forward Matthew Knies and defensmen Brock Faber for the first six games of February due to the Olympics. However, during the upcoming games against Alaska, Notre Dame and Michigan in January they'll be without a couple more skaters. Junior forward Jaxon Nelson suffered a lower body injury against Michigan State that will require a surgery which got delayed on Monday. Nelson will be out through at least until the Penn State series February 18 and 19. Freshman forward Rhett Pitlick is another player who picked up an injury during the weekend and will be out a couple weeks. And Motzko shared on his radio show that one player tested positive for COVID, so he has another problem to deal with this season.
"I told our team today the biggest concern I still have is COVID to derail us. An injury is not going to derail us and losing one player is not going to derail us, but COVID is the one that scares me yet," said Motzko. "With what's going on, Wisconsin couldn't practice last week, had 19 guys or something in quarantine, and then then they had to play a game on Saturday. We're dealing with that right now, too… We've got good hockey players here and we've got depth and we're gonna have to use it and need it to get through this season."