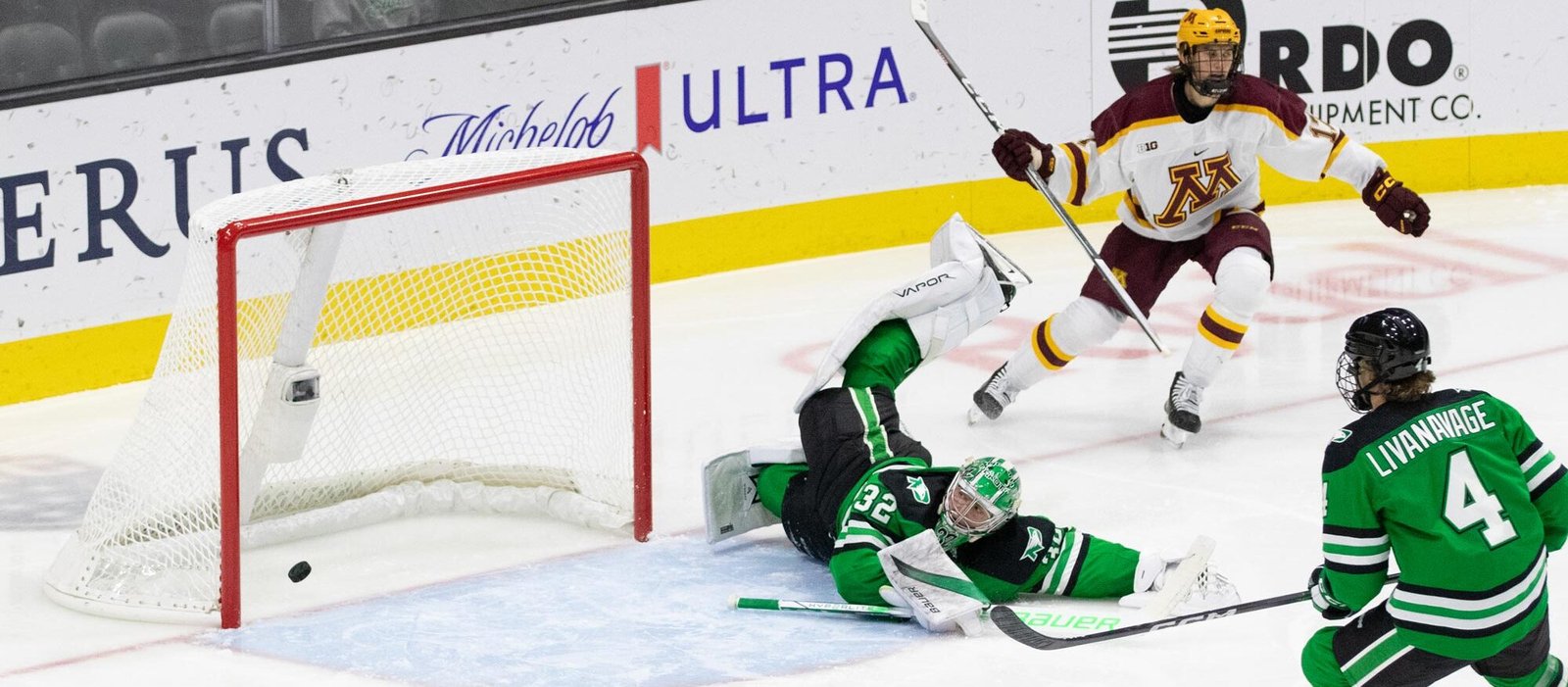 Grand Forks — Gopher hockey fans have lamented for years over the average age of their roster compared to their opponents. Almost every year, you could look at the College Hockey News almanac to see just how young Minnesota's roster was compared to the rest of the landscape and see a significant difference. This year's team still ranks as the 10th youngest roster, but two fifth year players were a big reason why the Gophers cruised to a 4-0 win over North Dakota Friday night.
"We watched so many teams around the country get the benefit of those fifth year players," said coach Bob Motzko. "So we jumped on board and said, 'Alright, let's try it.'"
Graduate Goaltender Justen Close earned his 11th shutout of his career and he is now only two shy of tying the team record of 13 held by Kellen Briggs and Adam Wilcox. Close made 25 saves tonight including a lot of big ones in the first period and currently has a 129:10 shutout streak going.
"I mean that guy is so good and as far as calming influence goes, he's by far the calmest guy I know," said Luke Mittelstadt. "In the net, he's calm. Off the ice, he's calm. We are so lucky to have that guy. He gets in there and he shuts it down for us every single time."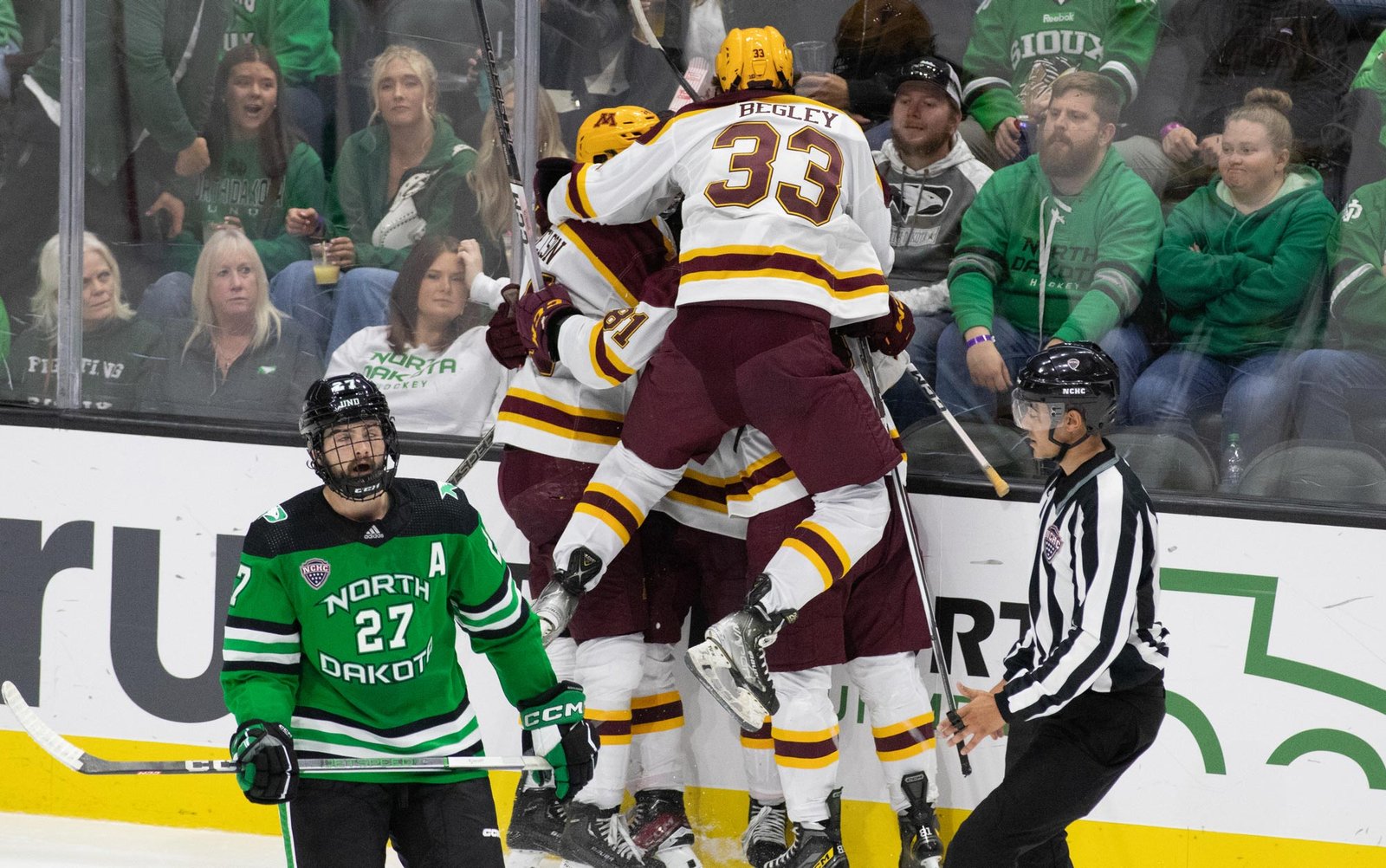 North Dakota had the better of the chances throughout the first period, but Close read the plays in front of him making 13 saves during the 20 minutes with his best coming against North Dakota's Jackson Blake when Minnesota was short handed.
"He moves laterally but it's only a six foot wide net and he doesn't waste energy," said Motzkol "When he's calm and cool and he reads the play, you know he's dialed in and he was dialed in."
The other key fifth year player for the Gophers was graduate captain Jaxon Nelson who won 13 of 22 face offs, played a big part in killing four penalties and ate up a lot of ice time finishing off the game. Nelson seemed to take every key defensive zone draw as the game went on and led a forecheck that took all the energy out of a sellout 11,616 crowd at Ralph Engelstad Arena.
"That was an excellent team victory tonight. Justen Close was brilliant tonight. We took a couple penalties you don't want to take on the road, that's something to learn from, but penalty killing was outstanding," said Motzko. "All of our lines really were contributing and giving us hard, heavy minutes. We just kept getting confidence as the game went on."
After a first period where North Dakota had a lot of early momentum, the Gophers got on the board first just two minutes into the second period after killing off an Aaron Huglen penalty. Brody Lamb broke free on a breakaway fed by Nelson, fanned on his initial shot which faked out North Dakota goalie Ludvig Persson to the ice and then finished up high.
Oliver Moore added another goal ten minutes later, his first offical goal as a Gopher by pulling off a toe drag and snipe on Logan Britt and making it 2-0 to quiet Ralph Engelstad Arena.
"He pulled it I think five feet from this way to this way, it was an awesome goal," said Mittelstadt. "He's probably done it to me a few times in practice, so I wasn't too surprised to see it, but that was a great shot."
Minnesota then started to grind away the game forechecking North Dakota, getting on top of pucks, frustrating the Fighting Hawks and finishing the game with Brodzinski getting his first goal of the season with an empty netter at 17:13 of the third and Jimmy Snuggerud getting his fifth of the season 28 seconds later by collecting his own rebound out front.
"What I liked most is from game one to game three… I mean, wow… we have made improvements," said Motzko. "And that's the biggest thing I wanted to see tonight is us taking another step. Tomorrow is another challenge and we know it's gonna be extremely difficult, but I liked our hockey team tonight and I hope tomorrow night I can say the same thing."
Game Gallery