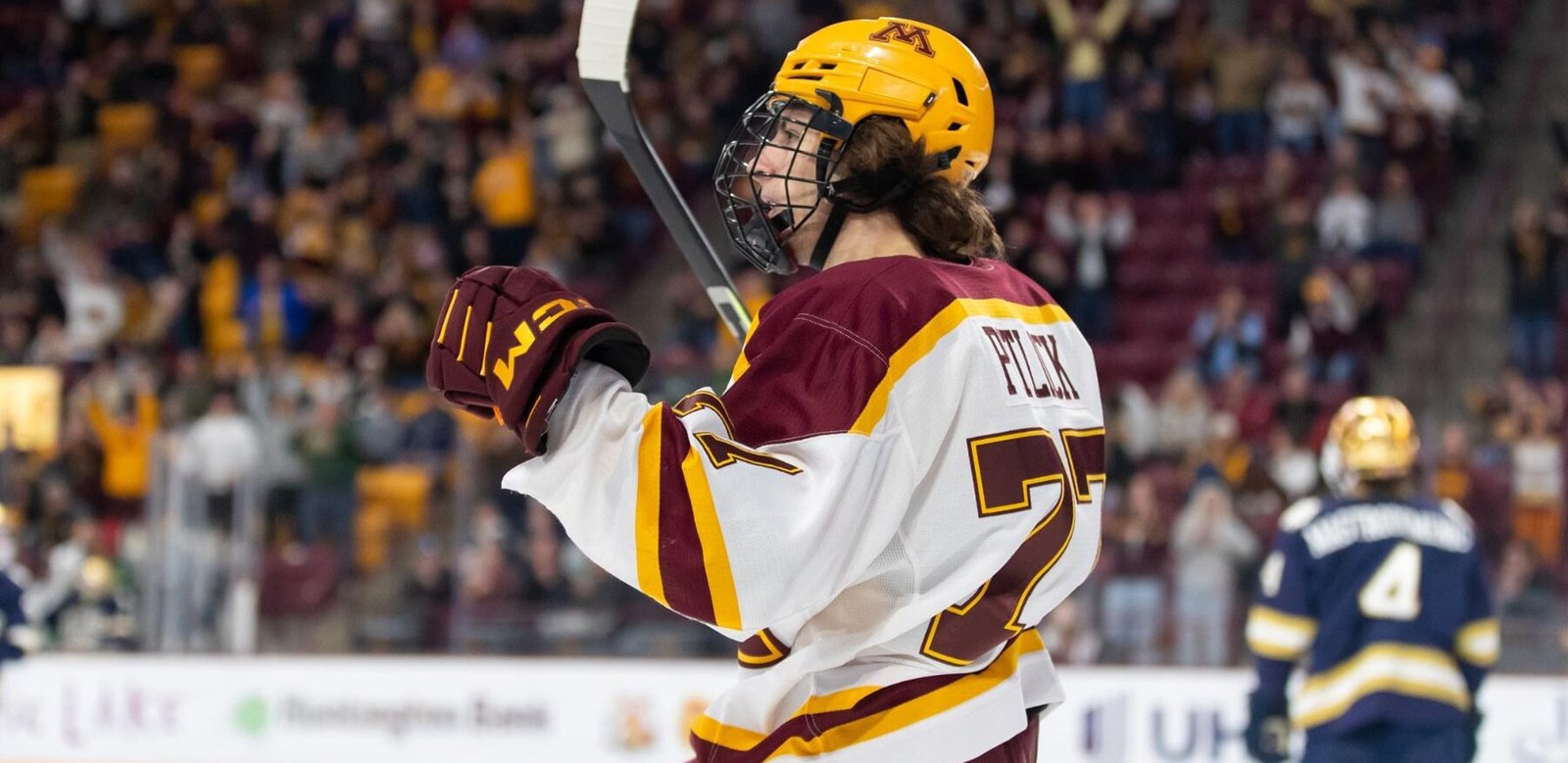 Minneapolis, Minn. — Gophers coach Bob Motzko challenged his team to be more mature Saturday after underclassmen made three immature mistakes to feed the Fighting Irish offense in Friday's 4-2 loss. No. 6 Minnesota's (6-4-2, 2-3-1) response satisfied their coach during their 4-1 win over No. 17 Notre Dame (7-4-2, 3-1-2). The Gophers got a pair of goals from Rhett Pitlick, one from Jaxon Nelson and one from Ryan Chesley to split the series with Notre Dame.
"We were okay last night, but okay doesn't cut it," said Motzko. "We made some critical mistakes last night on three of their goals and if you [make those mistakes] in a game, there's a really good chance you're gonna get scored on. I think they were all underclassmen and they have to learn that."
Minnesota came out with a perfect start against Notre Dame Saturday as they crisply moved the puck from zone to zone, played a physical brand of hockey and got the lead just 2:10 into the first period. Pitlick took advantage of a miscommunication between Ryan Bischel and Michael Mastrodomenico and used his speed to wrap in a loose rebound off a Connor Kurth shot that surprised Bischel.
The game looked like it might turn sideways midway through the first period as the Fighting Irish fought back to even the game 1-1. Notre Dame possessed the puck for over two minutes in the Minnesota zone at one point, putting a handful of pucks on net, tiring out the Gophers defense and Carter Slaggert capped off the play with a goal 16:38 into the first.
"There's times in hockey, you gotta defend tired. When you're playing good teams, they're gonna have their punches and we have a goalie that can take it. We have to battle in there and a lot of times not take penalties," said Motzko. "We had a chance to get the one out before they scored and we didn't get it out and that cost us. That's what we've got to learn, when you get your hands on that thing even if you throw it in the crowd, throw it down the ice, at least you get a little bit of a rest. The bigger games we continue to be in, our guys are going to learn from it and be able to handle those."
Minnesota got a goal from Chesley 8:27 into the second period when he took advantage of an opponent's broken stick to carry the puck all the way down from the point and scored from just inside the dot.
Then at 15:20 of the period, Minnesota gave Notre Dame a dose of their own medicine with Nelson getting Minnesota's third goal coming off a long offensive zone possession where the Jimmy Clark-John Mittelstadt-Garrett Pinoniemi connected a shift with the reunited Mason Nevers-Nelson-Bryce Brodzinski line. Nelson nearly had a two goal shift at this point of the game, but his tipped shot was waived off as being played with a high stick.
"Notre Dame had a little push there in the first and then we buckled in, and then in the second we had our push and then we continued with it," said Motzko. "We needed to be in a game and what I thought was really important, was we went up two to one and we didn't let Notre Dame back in the game."
Pitlick then made it 4-1 15:35 into the third after making a play at his defensive blue line to break up a Notre Dame possession, go on a rush with Mike Koster and one touched it in the net while driving the far post.
"He is a very smart player and he's very skilled," said Nelson on Pitlick. "I'm trying to get him to go to the net a little bit more and he went to the net twice tonight and he scored. We just got to get him to be able to do that consistently, it'll be really good for him."
Motzko was happy with his entire lineup Saturday as he shook up the lines quite a bit, reunited his "N64" line and played them against Notre Dame's top line most of the night.
"I gave that line a lot of credit, playing against their top line and shutting them down and then finding a way to get us a big goal," said Motzko. "All the lines were giving us energy up and down our line up… the older guys and the new guys [got a lesson on] how hard it is to create offense and how hard it is to hang in a game. Buckle up, we've got six to go to break and every one is going to be the same."
Those six games include home games with the surprise top team in the Big Ten, Michigan State next and then road series at Penn State and Ohio State. The Gophers haven't played back to back games very well so far this season and through six games are in sixth place for the league standings. The team hopes that tonight's game is a sign they can win in different ways.
"It just shows that we have it in us," said Koster. "We are a young team, but I feel like we've got 12 games under our belt and now we need to start making that next step and I think that comes with consistency. We can't just do it for one game a weekend."