Romanko Rips Game-Winner, Szmatula Scores Empty Netter, Robson Records 34-Save Shutout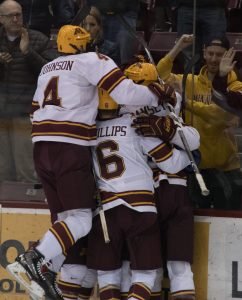 Minneapolis, Minn. — There weren't any WCHA points for grab this weekend, but Minnesota strengthened their PairWise Ranking with a 2-0 win over St. Cloud State at 3M Arena at Mariucci in front of 7,917 Saturday.
Darian Romanko took advantage of a sloppy Huskies play early in the third period by intercepting a zone exit play and picking a spot in the right side of the net for his second goal of the season and fourth goal as Gopher in 95 career games.
"It was a very defensive game tonight," Romanko said. "I had a feeling it would [hold up as the game-winner], and I knew we couldn't give up one because who knew if there was going to be another one."
The goal ended up the game winner for No. 10 Minnesota (13-10-1, 4-7-1-1) as they defeated No. 1 St. Cloud State (13-3-3, 7-2-1) for the first time since November 1, 2014, breaking a five-game losing streak to their in-state rival.
"In the time I've been here we haven't been too great in our state," said Romanko. "It feels good to get a Minnesota win."
The junior forward from Shoreview, Minn. is more known for his defensive skill than his shot, and said Associate Head Coach Mike Guentzel brought up the streak during penalty kill meetings this week as they reviewed what made them successful against the Huskies power play which came into the weekend as one of the nation's best converting at nearly 26 percent.
"St. Cloud's got a good power play, and you don't want to give them too many chances," said Gophers Head Coach Don Lucia. "I thought our killers were spot on tonight, and that's a credit to Mike [Guentzel]–cause he does a good job with that."
The penalty kill gave up one goal in Saturday's 5-2 loss, but extinguished all three shorthanded opportunities on Sunday with quick clears, good stick positioning, and forcing St. Cloud State into some tough positions coming through the neutral zone. Lucia was also pleased that his team wasn't taking undisciplined offensive zone penalties like they've had a tendency to do this season.
Perhaps one of the biggest differences between Saturday and Sunday though was the return of Ryan Lindgren from the World Junior Championships to the Gopher lineup.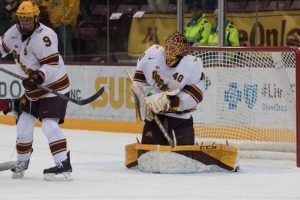 "Lindgren was a huge injection into their lineup tonight," said St. Cloud State Head Coach Bob Motzko, who also was at the helm for Team USA in Buffalo for the junior tournament. "He was the defensemen they needed to battle us down low, and I thought he was a big difference for them. They came to play, I'll tell you that."
Lindgren was slated to play both games this weekend, but his equipment didn't make it back with him in time for the first game of the series. The assistant captain was sent home to watch the game on television, recharge his batteries, and his didn't hold back his takeaways from watching Saturday's game during Sunday's team meeting
"He had some kind of biting comments for the team, based on his vantage point of the game last night, that's what a leader and a captain does," said Lucia. "Guys respect that out of him… I wouldn't have expected anything different from Ryan to say what was on his mind."
Lucia said the team was reminded of the expectations regarding puck management in the offensive during their Sunday pre-game meeting. The coaches saw those details implemented against a team Lucia called the best Minnesota had faced all season long while playing college hockey's toughest schedule. The Gophers weren't just throwing pucks to the front of the net initiating the Huskies breakout, and did a better job getting on top of pucks, protecting it, and getting their ground game going in the offensive zone.
Minnesota continued their goalie rotation of Eric Schierhorn the first game of a series, and Mat Robson the second game for the third weekend in a row. Robson was calm, steady and made 34 saves to earn his first college shutout. Robson put forth a clean performance, other than a goal that was eventually overturned for too many men after a lengthy video review, but also saw an energized defensive performance that included 20 blocked shots.
"It was all-in for the team. The culmination of it all was at the end there, you got five guys on a knee blocking shots, just eating them in chest, and they don't have on the equipment that I have, so that takes balls on their part," said Robson.
"We kind of got read the riot act a little bit for our performance yesterday, and rightfully so, we have a lot more to give."
Minnesota got an empty net goal to seal the victory from Mike Szmatula after Jack Ramsey denied a St. Cloud State zone entry with 39 seconds remaining in the game.
The win moved the Gophers non-conference record to 9-3 which includes a win over No. 1 St. Cloud State, a pair of wins over No. 3 Clarkson, and a win over No. 8 North Dakota. The win also extended their home record to 11-2 as they will face Michigan at 3M Arena at Mariucci next Friday and Saturday.
"We've played well at home," said Lucia. "Now, the next phase for us is we've got to be productive on the road if we're going to do anything, because when you get to the end, you're not going to be playing at home, so you got to do something on the road."